Italy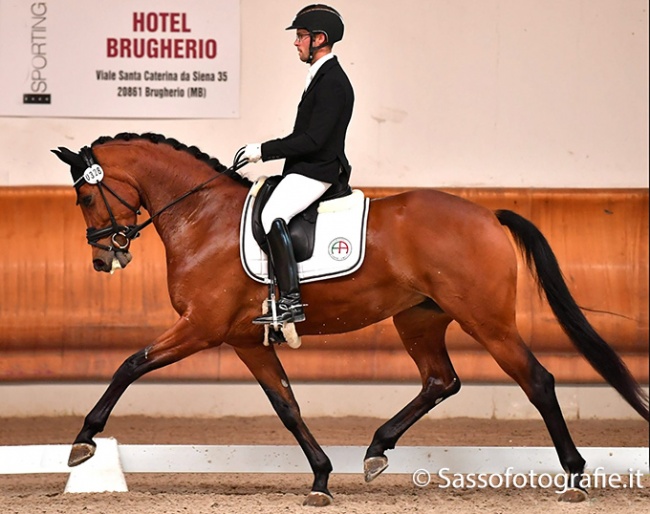 Happy Days di Fonteabeti, the 2022 Italian Young Dressage Horse champion in the 4-year old division, has sold to Helgstrand Dressage and moved from the rolling hills in Tuscany to Helgstrand's Germany base in Syke in October. 
For "Allevamento Fonteabeti" the sale of one of their home-breds to Andreas Helgstrand's prestigious horse dealing yard is the cherry on the cake of their breeding and dressage training programme. 
Italian Young Horse Champion
Happy Days di Fonteabeti is bred and was owned by Riccardo Volpi of Allevamento Fonteabeti in Sansepolcro, Italy.
The mare is by Valverde out of the KWPN mare Vittoria di Fonteabeti (by Wup x Partout).
Under the 32-year old Nelson Ramos Aleluia, Happy Days won the gold medal at the 2022 Italian young horse championships which took place in Ornago during the CDI at Stable Malaspina last September. The pair won the warm-up round with 85.800% and placed second in the finals with an impressive 89.200%. Her scores totalled made her the overall champion in the 4-year old division.
Impressed by a Video
Dr. Ulf Möller, managing director of Helgstrand Germany and U.S.A. since 2018, immediately fancied Happy Days when he first saw her on video.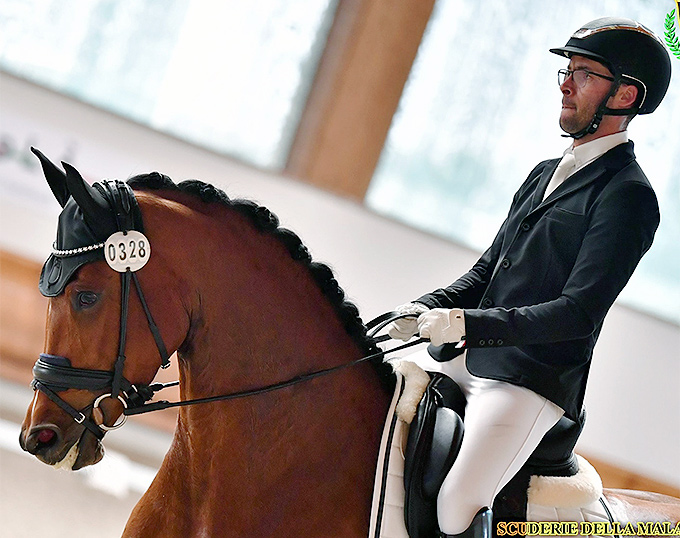 "Riccardo, with whom we already collaborated in the past, sent me a video, which I watched and showed to my boss," Möller explained. "Already from the video we were enthusiastic about the horse. So as soon as the World Young Horse Championships and Bundeschampionate were over I took a plane to Italy, tried the mare at Fonteabeti, and directly bought her."
It was a smooth sale for Helgstrand.
"We had already received the X-rays by mail," Möller added. "So when we tried out the mare, we directly did the clinical examination, did some more X-rays and everything went fast."
Happy Days moved to Germany at the beginning of October 2022.
Positive Sensitivity
"I can say,  now that the mare is ours, that she is a fantastic horse," Ulf said with a laugh. "We know sire Valverde very well. My wife Eva rode him and when I tried Happy Days, I could immediately feel many of his excellent characteristics in her."
When asked what these qualities are, the multiple Bundeschampionate and World Young Horse championship winner replied, "the positive sensitivity of the mare is exactly what we need in dressage horses. And then there is that super hindleg and the really, really good dynamic of motion and her great balance, as well as three very good basic gaits."
Möller continued,  "all these are for me the most important factors to look for in a dressage horse. The horse needs to move in balance and this mare does it naturally. Everything given by mother nature does not need to be created by us, the riders."
Aiming for Ermelo
Happy Days has settled in at Helgstrand and will slowly be produced for the L-level dressage horse tests in 2023.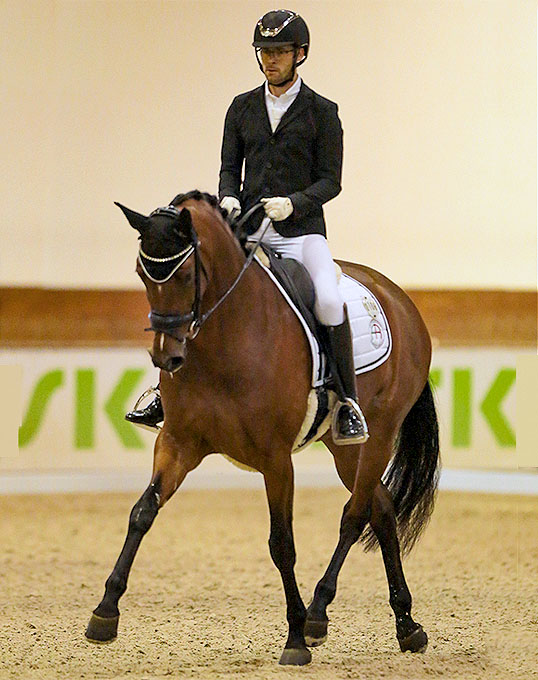 "First we will get to know the mare better. We want to see how she behaves at home and at competitions. but we are not worried as she has already been out and competed. She trusts her rider," Ulf explained. 
Ulf's wife Eva Möller has been allocated the ride on Happy Days because she has the most experience and type-wise is the best match for the mare. 
"We will work her during winter and then we start with the selection trials for the Bundeschampionate, more or less at the beginning of May," Möller stated. "From there we go in the direction of the World Young Horse Championships."
When asked if Möller will return to the Italian yard to source more future talent, Ulf replied "sure, but I must say that I have been spoiled this time. I esteem Riccardo, as a person and as a business man. He dedicates himself with passion and innovation to the breeding of dressage horses. To breed a future champion, you need that little bit of luck, as well."
Discover Fonteabeti and its dressage breeding programme at www.dressagefonteabeti.it
Related Links
Fonte Abeti, a Game Changer on the Italian Dressage and Breeding Scene
Daniel Pinto Appointed Sports Director of Italian Dressage Stable Fonte Abeti
Fonte Abeti's Fortuna, Ecuador, Darko and Claudia Win 2020 Italian Young Horse Championships
Fonte Abeti's Estroso, Dorado and Smile; and Feliana Win 2019 Italian Young Horse Championships