F.O.C.U.S.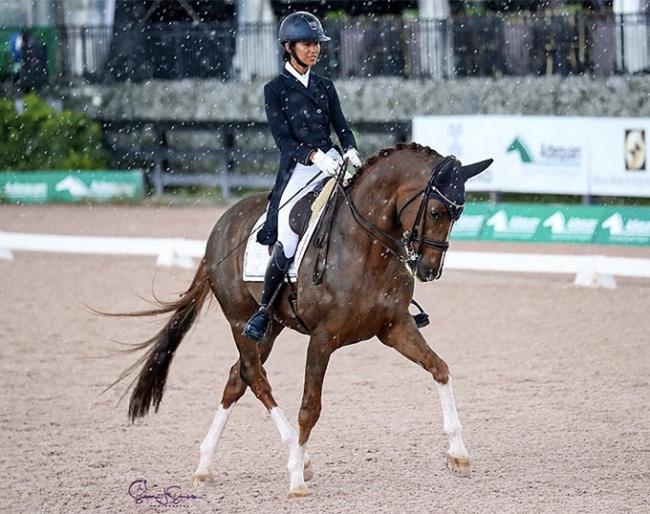 Philippine dressage rider Ellesse Gundersen was a familiar face on the global dressage scene in 2017 and 2018 with Grand Prix horse Triviant. Since then, the young professional has focused on her sales and training business in Wellington, Florida, and ended up selling every FEI prospect that came through her barn. However, the home-bred unicorn Quintessential is a keeper and a bright light in her life. 
Big and Orange, Born in Germany
Quintessential is an 8-year old Hanoverian gelding by Quaterback out of Corlette (by Cordoba x Wenzel). He is bred by Sennett Tzinberg.
Quentessential's story starts in Germany in 2014. Ellesse was working and riding with Ingo Menze at Walfried stable in Frankfurt at the time and competed at Young riders level abaord Jörn Kubelke's former Hanoverian mare Corlette. 
"Corlette sustained an injury in a trailer accident and it was decided that she would make a great breeding mare," Ellesse told Eurodressage. "I bred her three times and Q was the third and final foal before I sold her as a broodmare. The other two foals were also sold, but I decided to keep Q as he was the last one."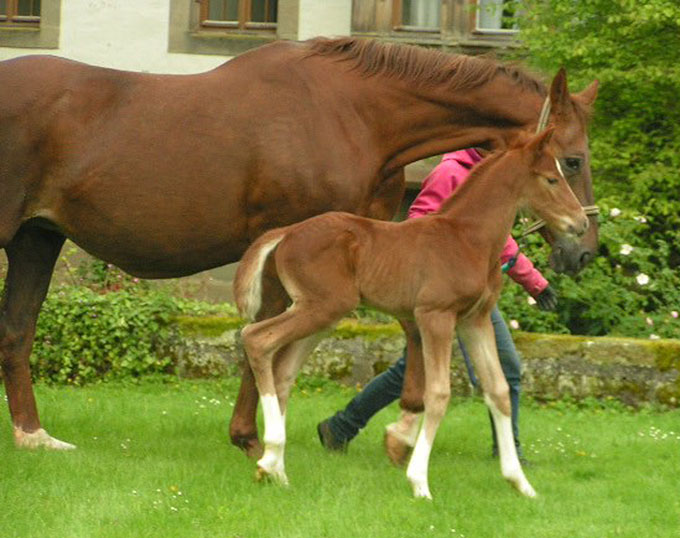 Born at a breeding yard near Kassel, Quintessential captivated Ellesse's heart from day one. 
"He is not the biggest horse but when he was a foal he always seemed on the large size because he grew up among Trakehners who were so small," Ellesse reminisced. "They were so cute and with the cutest seahorse heads and then there was Q, who was the orange, big head Hanoverian."
Ellesse's father Sennett is listed as the breeder. "I wanted this as a sort of tribute to all the support he has given me in the sport," she said.
Better than Just a Hunter/Jumper
Quintessential was reared at Thomas Dresler's jumping yard in Denmark, who also saddle broke the gelding. With Ellesse spending spring and summers in Europe, she stayed up to date with the first under saddle steps that Q took. 
"It was the first time in a long time for me to be involved in this process since my old days of breaking in racehorses and thoroughbreds," she said. "After a few months under saddle I actually posted a video and many people including my husband thought he looked like an American hunter horse," she said with a laugh. He was also very small so I decided it was probably best to let him mature more in a field at our friend's place."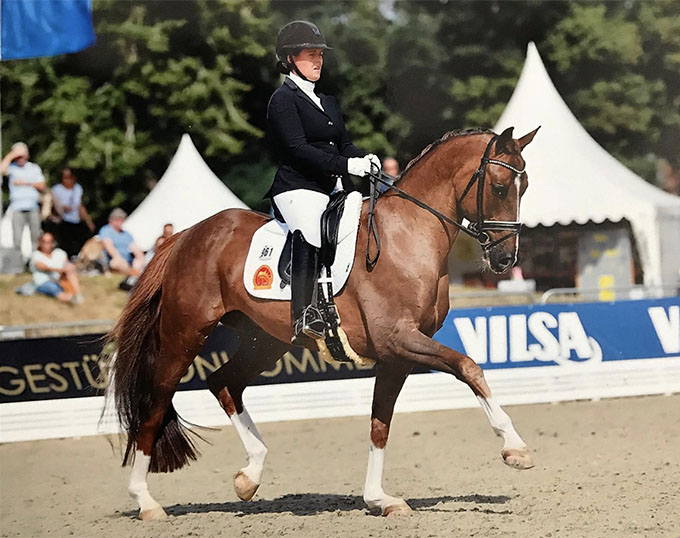 As Quintessential slowly progressed, Dresler knew there was more in the chestnut than a future as hunter/jumper 
"Thomas actually said I should show him to Helgstrand but I decided I wanted to keep him and see more for myself," said Ellesse. "When it was time for me to head back to Florida we decided to send him to Katrine Kraglund, who was not too far from the jumping stable. I always admired Katrine, how she first developed Dufour's Bohemian and she was a nice height for him. She really liked him and we both felt it could be something special."
Global Interest
Quintessential spent his young horse years with Kraglund in Denmark and she competed him in Germany in 2019, winning the Verden Bundeschampionate qualifier. At the 2019 German Young Horse Championships in Warendorf they gained mileage in the warm-up and consolation round for 5-year olds. 
His results in Germany drew attention to the horse. 
"Several times in the warm ups, after prize givings and across the globe I was approached about the horse," she said. "Figures I had never imagine were being thrown at us. I couldn't believe my little homebred horse was in the same sentence as some of the numbers or that some of these people even had my phone number.  I always discussed with my husband and Katrine what we should do and it seemed no one was quite ready to let Q go." 
Keeping the Unicorn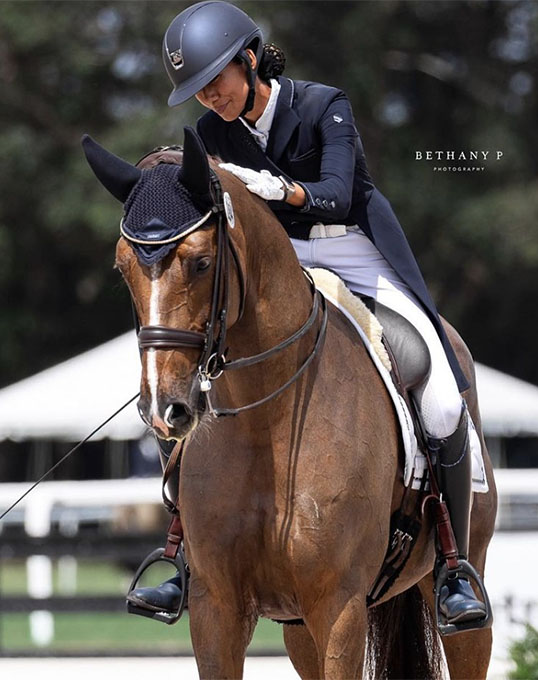 Ellesse and her husband, Danish jumping horse dealer Henrik Gundersen, run a training and sales yard in Wellington, Florida, and early 2021 Ellesse decided it was time to bring Q home. 
"Instead of campaigning him as a 7-year old in Europe, we made the decision to use that year for him and I to get to know each other and in our own time instead of just a few months a year. What an opportunity this was," she stated.  "As the summer progressed it was clear again to all who caught glimpses how special this horse is, but a long time student and client of mine wanted to step in and be part of his journey together with me. She believed in his talent, his story, our story and his heart she said. So now together with Unicorn Landing LLC we have a diamond."
Unicorn Landing's Marcia Radosevich, an entrepreneur and healthcare executive, decided to became a partner in Ellesse's journey on Quintessential.
Testing the Waters
In the 2022 winter season, Gundersen and Q tested the waters in different venues at small tour level, focusing on good experiences and giving him confidence in the ring.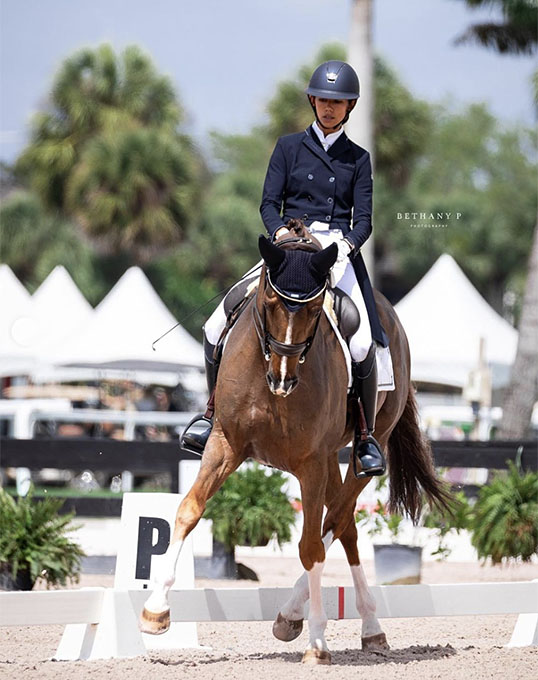 "His exuberance meant sometimes too many mistakes and other times wins by huge points, but again his talent drew attention with more phone calls coming in from around the world and topics of what country he would represent came about," said Ellesse who disclosed that she has been approached to ride for the U.S.A. instead of her native country, the Philippines.  "This time, I could breathe as I knew that his amazing co-owner gave me full control of any decisions and that this horse could be the one we go all the way with."
Last weekend, the pair competed at the national show in Wellington in their first Intermediaire I after a summer break from showing in order to focus on progressing the horse to Grand Prix level. They scored 74.264% to finish second.
"Today he is schooling the Grand Prix and not just like any horse," Ellesse said. "I plan to do some medium tour-developing Grand Prix before jumping in to the big leagues. He is so incredible and breathtaking the plan is to get him confident in the ring and in harmony with myself before asking for more. He's only 8 after all and exceeding all expectations already. I want to go in the ring and feel like he owns the arena.
A Unicorn Bringing Light to Life
Ellesse is proud of Quintessential's story from "mother to foal to Grand Prix" and glad that she can savour the journey with this unicorn. 
"I don't doubt it will be a bumpy unconventional road but it's true that the roads on a self-bred, self-made horse is something else. It"s an experience I wish everyone can experience," she stated. "It all wouldn't be possible without my village around us." 
Ellesse and Henrik certainly faced major obstacles along the way with Henrik battling cancer since 2019
"This last year has been a tough year," Ellesse confessed. "Every year we are told he doesn't have much time left, but every year he fights and proves them wrong. There is no cure for his type of cancer so we hope he can fight until something is discovered and approved."
Looking Ahead to 2023
The couple is building their own barn in Wellington and it should be ready to move into in 2023. 
"Henrik is an incredibly caring supportive person and never once misses the chance to encourage and support me. No matter what chemo or surgery he's going through he finds a way to be there to watch us ride and support me," she said. "As a family we run Horse Gym USA and the horse barn. His son works together with us and is a great help and a great asset to the company. I'm grateful his kids have been such a wonderful part of our family. This new barn will allow incredible opportunities for us both personally and professionally."
Over the past five years the couple has established its training and sales business of hunters, jumpers, and dressage horses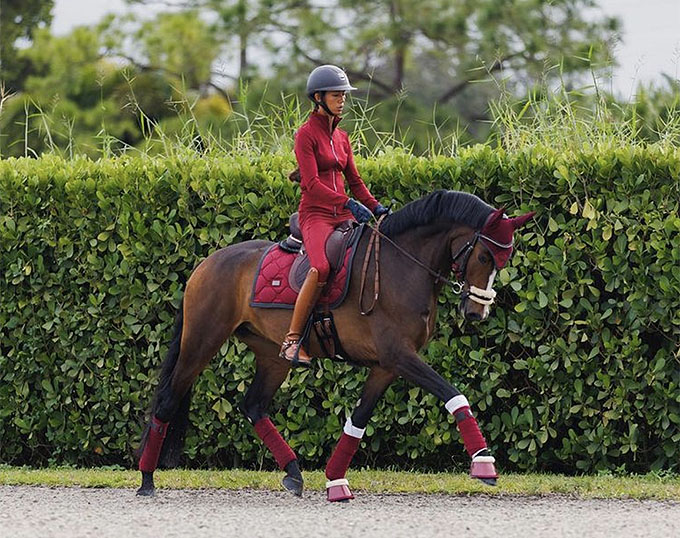 "These days if you can produce the horses and have owners to back you up its the best chance to have a diamond I think," she said. "I have accepted a select number of students and horses in training this year.  The years before I had a waitlist during season to work with jumpers on the flat so now I'm grateful I am lucky enough to be able to select a really kind and wonderful group of clients across the disciplines."
She concluded, "in my professional life, the past 3 years involved a lot of growing and maturing. I'm grateful for the new owners and support I have in the sport, the opportunities I have to train a variety of horses and riders, an exciting boutique business of sourcing and selling horses, and this opportunity to develop a top string of horses."
Photos © Ruchel - private - Bethany Pastorial - Lauren Pitylak
Related Links
Ellesse Tzinberg Braving Hurdles While Putting Philippine Dressage on the Map
Triviant Retired from Sport
Tzinberg Sells Small Tour Ride Villeroy Nord
Tzinberg Receives Second Extra Starting Place for 2018 World Cup Finals
Ellesse Tzinberg's Pavarotti Passed Away