Grand Prix Sales
The Grand Prix Sales embryo auction will start on the 12th of December at 10.00 AM and will end on the 13th of December at 07.30 (CET, Amsterdam). The embryos descend from proven famous German and Dutch dressage families.
Dressage embryos
Implanted embryo Extra Gold x Dante Weltino
The premium Westphalian champion stallion Extra Gold [Escolar x Apache] is combined here with the mare Dark Rose. Dark Rose [Dante Weltino x Florestan I] is the sister to the Grand Prix stallions Den Haag [Diamond Hit] and the superbe Grand Prix stallion Daily Mirror 9 [Damon Hill]. Daily Mirror 9 tops the podium at almost every CDI 4* and in the World Cup of Stuttgart with Benjamin Werndl.
Implanted embryo Vitalis x Krack C
The approved stallion RS2 Keano, half brother to embryo, won the VSN Trofee for 3-yrs-old, the PAVO Cup and the finals of the Subli Cup at Jumping Amsterdam for 4-yrs-old. Mom AJ Wendy [Krack C] produced, besides RS2 Keano, one PSG/Inter I horse and two ZZ-L horses. The dam lines goes back to Wendy (v.Amor), her legacy is outstanding think about the approved stallions: Asgard's Ibiza, Estados, Fürst Jazz, Charmeur, Zhivago, Zuidenwind and the Grand Prix horses: Arthur, Bon Passa, Endy BH, Godot SSF, Karmijn, Wish and Zorro.
Implanted embryo Sir Donnerhall x Don Frederico
Sir Donnerhall is combined here with a sister of another great Grand Prix stallion: Desperados FRH, winning Team Gold at the Olympic Games in Rio with Kristina Sprehe. Desperados FRH's dominance in the dressage scene with so many Grand Prix wins was outstanding,earning more than 450.000 euros price-money. Mom Danzmusik produced already the appproved stallion Frascino. Staatsprämie mares Wie Musik , dam of Desperados FRH, and Maskottchen make the pedigree complete.
Discover the five exclusive dressage embryos on our website: www.grandprixsales.nl
Jumping embryos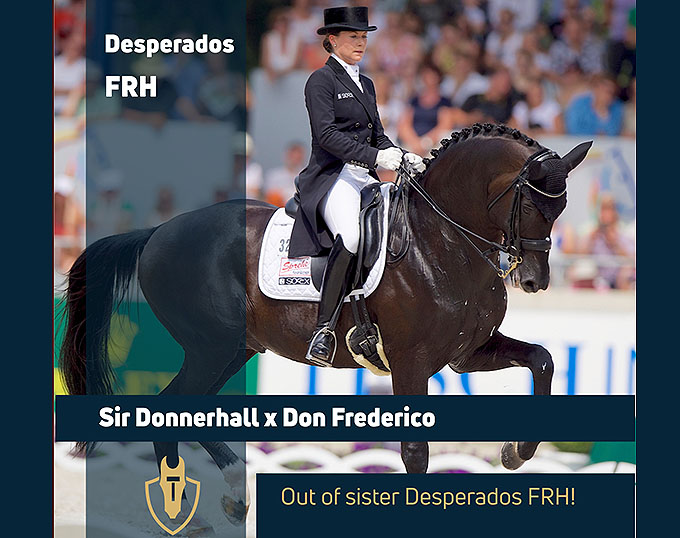 Grand Prix Sales auction sells also exclusive jumping embryos and one CSI5* 1.70m Grand Prix mare. Selected with an eye for actual sport and great mom's. Think about Urmina, Carthina, Fortune, Centa de Muze..
Online Embryo Auction:
December 12, 2022 starts at 10.00 AM
Decemebr 13, 2022 ends at 07.30 PM (CET Amsterdam)
For online bidding you need to register on our website first.: www.grandprixsales.nl. Bidding by Telephone is also possible.
The team of Grand Prix Sales