Belgium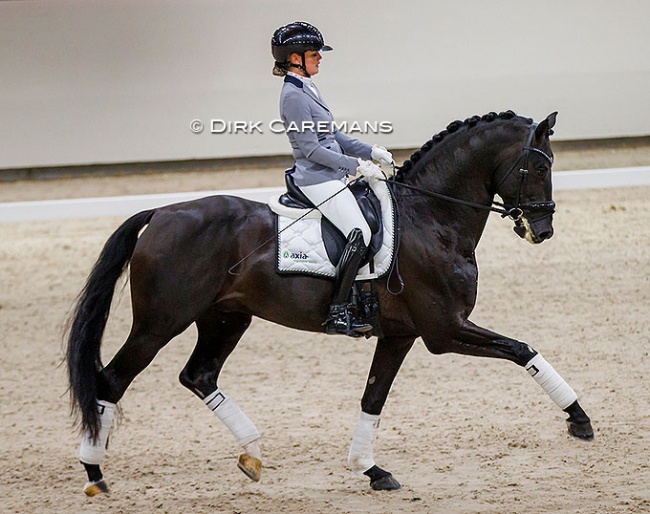 The 6-year old KWPN licensed stallion Ladignac has been sold to Belgium. He will continue his sport career under Belgian Grand Prix rider Alexa Fairchild. 
Ladignac is a 2016 born Dutch warmblood by Zonik out of Helianthe (by Apache x Democraat). He is bred by Nathalie Smeets. 
Licensed
The black stallion was licensed for breeding at the 2019 KWPN Stallion Licensing in 's Hertogenbosch.
Breeder Smeets sold a half ownership share to Dutch stallion keeper Joop van Uytert.
Ladignac became the second highest scoring stallion in the 2019 KWPN Spring Stallion Performance testing, earning 83.5 points. He got 8.5 for walk, 8 for trot and canter, 8.5 for suppleness and self carriage, 9 for rideability and 8.5 for potential.
In July 2021 he was Hanoverian approved at a home approval.
Sport
Under Renate van Uytert-Van Vliet, Ladignac competed in the Dutch team selection trials for the 2021 World Championships for young dressage horses but was not nominated on the team. At the 2021 Pavo Cup Finals in Ermelo he finished 20th in the 5-year old division.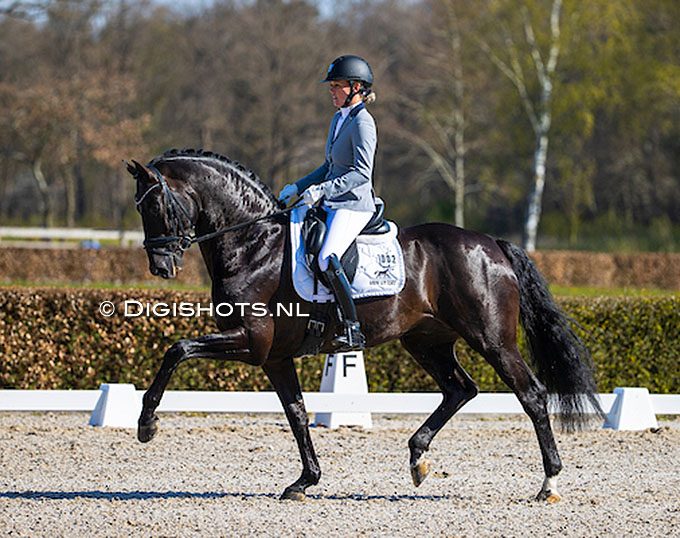 In the winter of 2021-2022 the pair competed on the KWPN Stallion Competition circuit, finishing fourth in the first leg and tenth in the second leg. He did not have sufficient starts to compete in the finals even though he was presented in them "hors concours" as a showcase for breeders.
At national level he showed up to Z1 level.
Belgium
The black stallion has now been sold to Belgian Alexa Fairchild as an FEI level hopeful. 
The 28-year old Fairchild has been a long-time member of the Belgian youth teams from ponies through young riders. In 2016 she moved up to Under 25 Grand Prix level with Vanita (by Jazz x Pion) after which a two year break from international showing followed. In 2019 she returned to the CDI Grand Prix arena with Romy (by Rousseau x Rotspon) and in 2020 with Dabanos d'O4 (by Abanos x Donnerschlag). Aboard Dababos she travelled to the 2021 Olympics in Tokyo as Belgium's team reserve rider. 
Fairchild has trained with Virginie Deltour, Anky van Grunsven and Wim Verwimp in the past. In the summer of 2022 she switched trainers and is currently based with Belgian Olympian and national champion Larissa Pauluis.
Photos © Dirk Caremans - Digishots
Related Links
Le Formidable, Champion of the 2019 KWPN Stallion Licensing
Livius, High Scorer at the 2019 KWPN Spring Stallion Performance Testing
Hanoverian Society Approves Eleven Van Uytert Stallions
Thirty-Nine Colts Accepted at First Two 2019 KWPN Licensing Pre-Selection Days
Horses Picked for Third Dutch Trial for 2021 World Young Horse Championships
My Precious, Las Vegas, Kadiene Win 2021 Pavo Cup Finals
McLaren, Las Vegas, Taminiau Win First Leg of 2021-2022 KWPN Stallion Competition
McLaren, Las Vegas, Taminiau Win Second Leg of 2021-2022 KWPN Stallion Competition
My Precious, Las Vegas, Kadiene in the Lead in 2021 Pavo Cup Semi-Finals
McLaren, Las Vegas, Taminiau Win 2022 KWPN Stallion Competition Finals
Dabanos D'O4 Returns, Grand Prix Schoolmaster for Alexa Fairchild
Alexa Fairchild Acquires Romy as New Grand Prix Ride
Alexa Fairchild to Helm Fashion Line and Horse Business for International Fairchild Sport
Alexa Fairchild Acquires Sunrise as Grand Prix Prospect