Words of Wisdom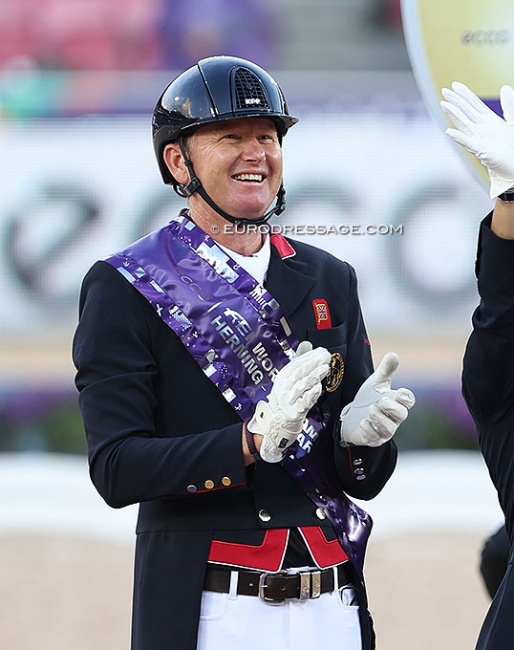 At the 2022 British Dressage Championships new national champion Gareth Hughes shared some great words of wisdom about how Grand Prix horses are made. 
The multiple medal winning British team rider said
Are Grand Prix Horses Born or Made?
"There is no Grand Prix horse bred, a good young horse is bred, a good Grand Prix horse is trained," said Hughes, "and so you have to enjoy riding them, you have to have an ability to create a very good partnership."
"These horses you find them and you think "ok this could be a Grand Prix horse," but you don't know. Nobody knows. It doesn't  matter what anybody says, you have no idea whether you have a Grand Prix horse until you do Grand Prix."
"Our job is to treat them well, treat them like horses, give them a good life, because they are there to fulfil our ambition. And then our job, on the training side is to give them as much information and really try nurture them and train them through. 
On the Choice over Snaffles or Double Bridle
In a recent interview with Horse & Hound, Hughes also expressed his opinion on whether riders should be allowed the choice between a snaffle or a double bridle in Grand Prix level competition. He answered
"Nice riding is nice riding whether you do it in a snaffle or a double," he said. "That's what we should be more fixed on; riding that produces horses nicely, and how the sport moves forward in terms of what the judges are looking for in the arena that stops other sorts of riding coming into the sport – and promotes that harmonious side to it. When you ride like that, it really doesn't matter if you have a snaffle or a double on."
Photo © Astrid Appels
Related Links
Joint Letter from IDRC/IDTC Sparks Controversy and Debate on Social Licence
Gareth Hughes is the 2022 British Grand Prix Champion
Corona Times: Hit & Run with Gareth Hughes