Prinsjesdag Foal Auction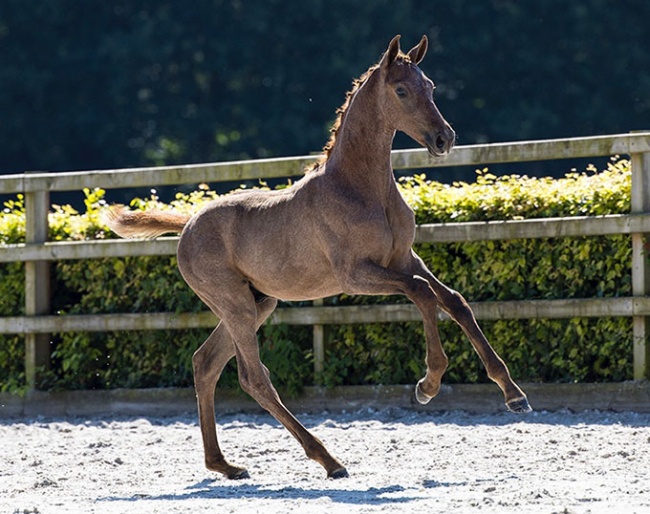 The chestnut colt  Sir Mowgli SVN van 't Studutch  became the price highlight of the 2022 Prinsjesdag Foal Auction, of which the online bidding concluded on 20 September 2022. 
A huge collection of 76 dressage and jumping bred foals was offered for sale and they achieved an average price os 13,756 euro for the dressage foals and 13,128 euro for the jumping foals.
Nexolia Foal Collection Expands
The best seller of the lot was Sir Mowgli SVN van 't Studutch (by Mowgli x Diamond Hit), bred by Stal Studutch and Stal Van Nobelen. Canadian Vicki Lavoie of Nexolia stud in Canada secured the chestnut for 55,000 euro. The colt is a maternal half brother to Frederic Wandres' rising Grand Prix horse Hot Hit. 
Lavoie has been seriously investing in young horse power this year with purchases in auctions in Germany, Denmark and The Netherlands. The amateur Grand Prix rider, who also supplies horses for U.S. Olympian Adrienne Lyle, purchased  Status Quo II, Sir Colorful,  Raspberry Pilekær, Fiorissimo, Strauss and Gammel Mølles Five Weeks.
Stallion Prospect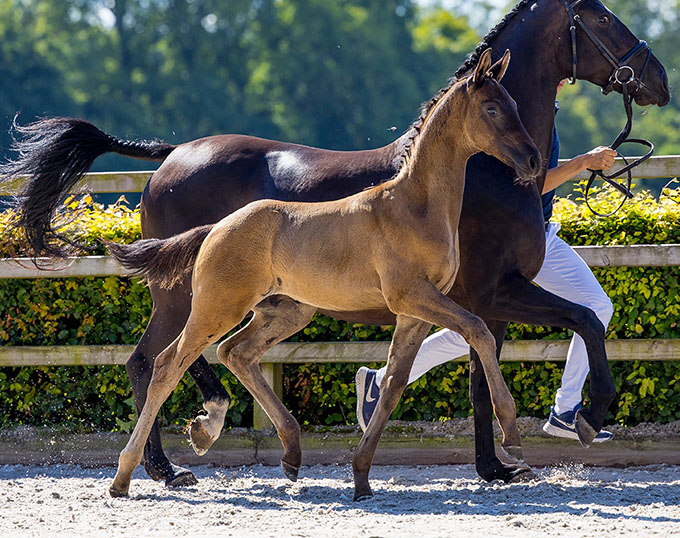 The second most expensive foal was Supérieur, a dressage colt by Vainqueur x Sorento, who fetched 44,000 euro and sold to an international stallion keeper.
Special Lady Texel (by Jameson x Ferro) found a new owner for 40,000 euro
Over 10,000 euro
Other dressage foals selling for prices over 10,000 euro were Skywalker (by Fynch Hatton x Furstenball), who went for 30,00 euro,  Si Diva Corieta Texel (by Hermes x Jazz), who sold for 26,000, Sybill Gwendy P (by Valdiviani x United) for 22,000, and Skylark (by Furst Dior x Chippendale) for 20,000 eurl?
Star on Firedale MCB (by Glamourdale x Wynton) sold for 16,000, Sr. MacFlor (by McLaren x Florencio) and Stien (by Sezuan x Millennium) for 15,000 euro, Surprise di Moné (by Jameson x Toto Jr) and Silverstone (by Next level x Rousseau) both for 14,000, Sandelwood Tarpania (by Franklin x Furst Romancier) for 13,000 euro, and Sheja (by Toto Jr x Silvano) for 12,000 euro.
International Interest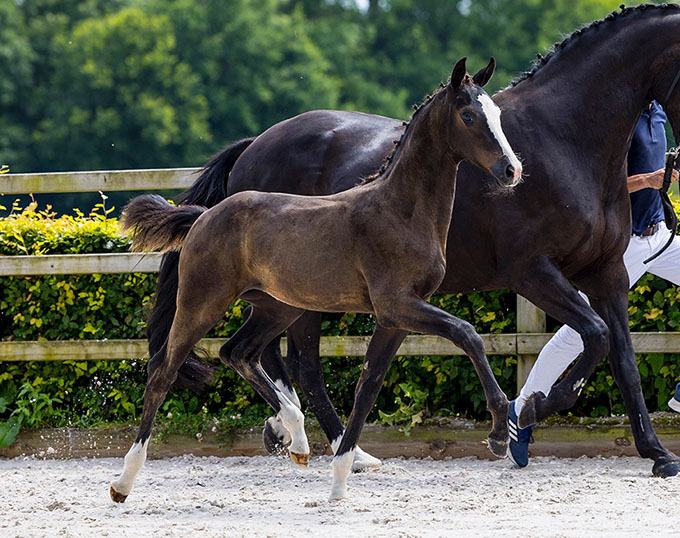 The most expensive jumping foal was Balou's Girl W (by Balou du Reventon x Kashmir van 't Schuttershof), who found a new owner for € 38,000. 
The half-brother of the KWPN approved Defender Z, Shamrock VDS (by Grandorado x Padinus) raised € 26,000.
"The auction got off to a slow start, but after the break the international buyers were able to appreciate the fantastic foals well," said Prinsjesdag foal auction chair Arjan van der Waaij. "The auction was well attended by an international buyers audience, both physically and online. A hybrid auction remains an attractive way to market foals."
Related Links
Collection Foal Auction Prinsjesdag 2022: World Championship Medallists Represented
Foal Auction Prinsjesdag Launches Spectacular Collection for 2022 CSI Ommen
Total McLaren x Apache In Utero Foal, Top Dressage Lot of 2022 Prinsjesdag Embryo Auction