Denmark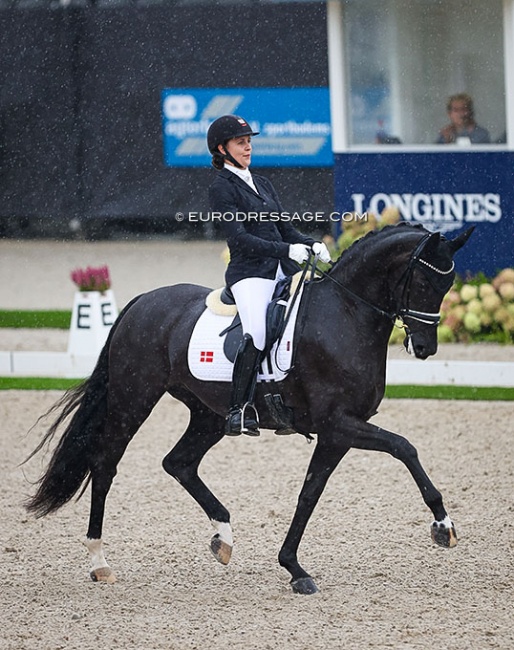 Ridehesten reported that Ingrid and Poul Thøgersen of Four Oaks brood farm have acquired an ownership share in the WCYH finalist and medal contender Lyngbjergs St. Paris.
Lyngbjergs St. Paris is a 5-year old Danish warmblood mare by Blue Hors St. Schufro x  Blue Hors Rockefeller. She is bred by  Bente Børjesson.
Scouted
Dressage rider Victoria Vallentin and her life partner Jesper Bisgaard discovered Lyngbjergs St. Paris in March 2020 at the breeders and decided to buy her in partnership with United Dressage, an investment company directed by Jesper Arent Jørgensen, Eskil Peter Lund, and Christine Arent Risager.
The mare was not tall at the time and despite a good saddle test got the silver instead of the gold medal awarded at the 2020 Danish warmblood elite mare show.
With Victoria in the saddle St. Paris finished second at the 2022 Danish Warmblood 5-year old championship in Herning. On Thursday at the 2022 World Young Horse Championships in Verden, she placed third in the preliminary round and is a strong contender for gold in the finals today. 
barely three years old at the time and not very big, but the young couple had no doubt that the mare was to be theirs.;
Together with their business partner United Dressage A/S, they acquired the mare, which the following year was saddled and awarded a breeder's medal in silver.
Thøgersen
Last week, United Dressage sold its 50% ownership share in St. Paris to the Thøgersen couple and secured the horse for a future under a Danish rider. 
The Thøgersens are owners of Danish Olympic team horse Heiline's Danciera (Carina Cassoe Kruth) and WCYH finalist Red Diamant (Carina Cassoe Kruth). 
Ridehesten broke the news of the sale of St. Paris to Thøgersen. "We sold our business and now have the opportunity to invest in good horses," Poul told Ridehesten. "Horses give us much more joy and greater experiences than stocks and bonds."
Ingrid and Poul are coached by Victoria's father Søren Vallentin and have known St. Paris for a while. Victoria will retain the ride in the future
Photo © Astrid Appels
Related Links
The Last Will be First - Wandres and Fashion Prinz OLD Win 5-Year old Preliminary Test at 2022 World Young Horse Championships
Ingrid and Poul Thøgersen Secure Diaz for Carina Cassoe Kruth
Heiline's Danciera Sold to Danish Brood Farm Four Oaks