2022 U.S. Para Dressage Championship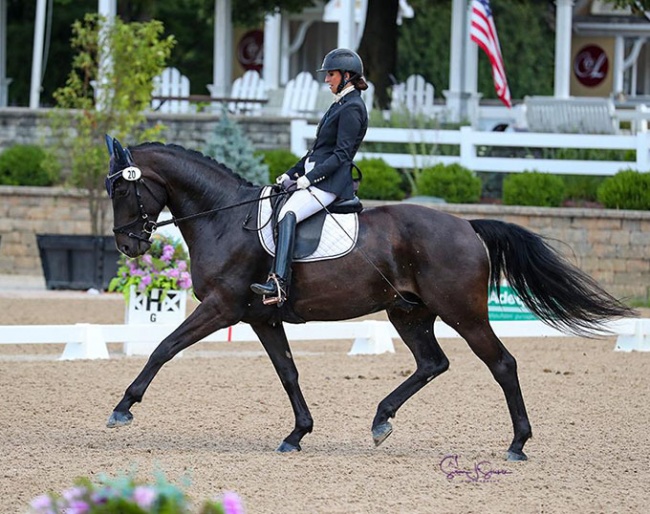 The first championship of the 2022 U.S. Dressage Festival of Champions was awarded on Wednesday 24 August 2022.  Mia Rodier-Dawallo and Jayden concluded the day by winning the U.S. Para Dressage Championship. The Nationals are being held at Lamplight Equestrian Center in Wayne, ILL, on 22 - 28 August 2022.
The Para Dressage Freestyle Test counted for the final 15 percent of the overall score. Monday's Para Dressage Team Test counted for 40 percent of the overall score, while Tuesday's Para Dressage Individual Test on Tuesday counts for 45 percent. 
Gold for Rodier-Dawallo
Three combinations performed their Para Dressage Freestyle Tests to determine the U.S. Para Dressage National Championship. They garnered the attention of judges and spectators with their harmonious rides set to music. The freestyle scores were extremely tight, and while Mia Rodier-Dawallo and Jayden (by Bordeaux x Sandreo) were third in the freestyle with a score of 69.288%, they clinched the National Champion title. Rodier-Dawallo (Santa Barbara, Calif.) and her 2014 KWPN gelding's consistent performances earned them the overall title with a score of 69.094%.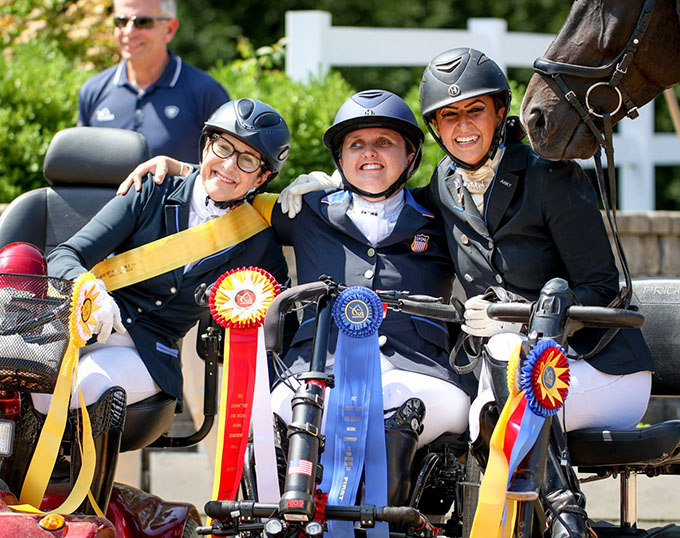 "It is surreal," said Rodier-Dawallo. "It's an honour. It is so validating that all of the blood, sweat, and tears that we put into this have come to fruition. In this sport in a matter of a week you can have a humbling of a lifetime or feel like you are on top of the world or everything in between. It is such an emotional roller coaster, mentally, physically, everything. When you get an opportunity to come out on a national stage, and first of all have the time of your life, and second of all, win."
Commenting on her freestyle, Rodier-Dawallo said, ""Freestyle is my favourite day in case that wasn't clear. We like to have a good time and smile our faces off then sob at the end. My freestyle was designed by Jessica Ash and Jelly Entertainment."
Jayden is nick-named "Pudding, because that is his vibe," Mia added. "He is like a big bowl of jiggly chocolate pudding. He is a very chill kind of guy. He came into my life about a year ago and he is the first horse I have ever owned in my whole life. I had never had the means to own my own horse [before]. We sort of do this flying by the seat of our pants, pinching every single penny that we can, driving across the country in our horse trailer from the 80s and our horse trailer from 2000. It was always a dream of mine to own my own horse since I was a baby when I caught the horse bug."
Silver for Sydney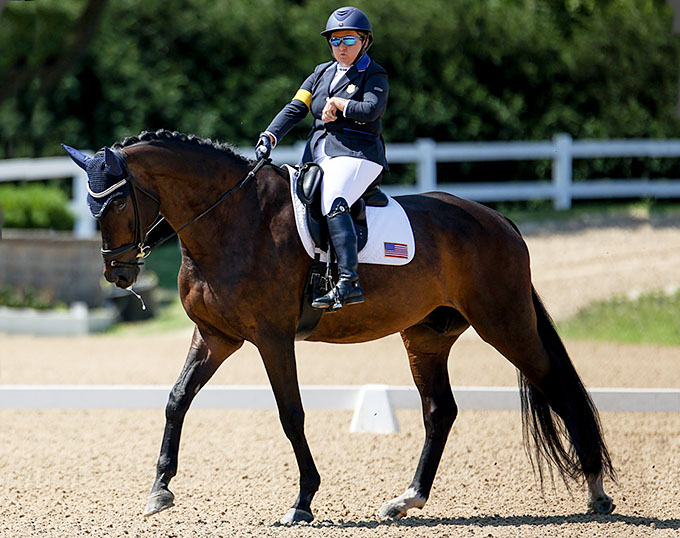 Sydney Collier (Ann Arbor, Mich.) and All In One, Going for Gold LLC and Georgina Bloomberg's 2009 Hanoverian gelding by Abanos x Dauphin, earned the Reserve Champion title with on overall score of 67.998%. The duo won the Freestyle with their ride to the Kung-Fu Panda music, scoring 69.455%.
"I first got this freestyle when I first started working with Alle (All In One) back in 2019," said Collier. "This freestyle is so close to my heart because as I have gotten to know Alle, I have gotten to know all of the intricacies of my freestyle and how to ride it so that the patterns really match up with the music and make it an aesthetically pleasing picture overall. This is really the first freestyle that has ever taught me how to do that. It is actually tells the story of my life through the trials and the tribulations with music from the movie Kung-Fu Panda, which is surprisingly accurate for the story of my life."
Sydney added, "from the day we first met, we were very all in one. Because he is actually blind in his left eye and I'm blind in my right eye, we are literally all in one. It is a super special partnership because we even each other out with one good set of eyes between us."
Bronze for Stanitski
Deborah Stanitski (Charleston, S.C.) and Heros, her 2004 Danish Warmblood mare by Hertug x Lucky Light, were third overall with a score of 67.149% and finished third in the freestyle with a score of 69.333%.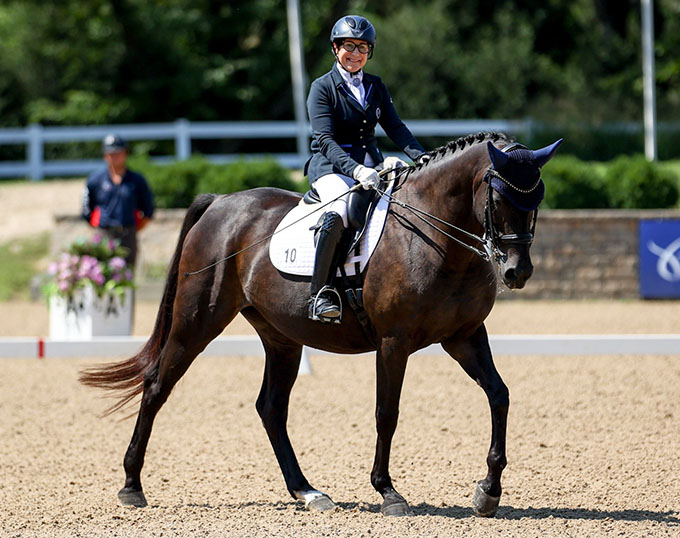 "I can't thank my trainer Michelle Folden enough for doing the choreography and Beth Hall for bringing it all together," said Deborah. "We were trying to figure out how not to make, as Sydney [Collier] would say, 'a walk test totally boring.' It has to be perfect, otherwise it doesn't work."
The 18-year old Heros was previously competed by Grade I para rider Margaret McIntosh and able bodied junior rider Camille Molten before Stanitski took over the ride. They made their CPEDI debut in Grade I in Tryon in 2021.
"I first met Heros in Wellington, Florida. At that time she was owned by Gigi McIntosh," said Deborah. "Gigi sold her to a girl in our barn. Just for kicks I rode her one day, but being a pretty short person I said I need a Heros but a bit smaller. I got my other horse Skovlunds [de Nice (by De Noir x Diamond)]. Unfortunately, Skovlunds's problem is that she is stiff on the left side and my left side sort of works. For Heros, her bad side is my good side. It turns out they look the same, but for me, Heros is much easier to ride. She is getting older, but she is great. She hasn't figured out it is time to quit yet, sort of like me. She is 18, and I'm almost 70."
Results - 2022 U.S. Para Dressage Championships
1. Mia Rodier-Dawallo - Jayden -  66.514% (40%) - 71.323% (45%) - 69.288% (15%) ---- 69.094
2. Sydney Collier  - All In One -  66.606% (40%) - 68.749% (45%) - 69.455% (15%) ---- 67.998
3. Deborah Stanitski - Heros -  64.999% (40%) - 68.332% (45%) - 69.333% (15%) ---- 67.149
4. Charlotte Merle-Smith - Guata - 70.735% (40%) -  EL (45%) - WD (15%) ----- 28.294
Text USEF press release, edited by Eurodressage -  Photos © Sue Stickle/USEF