2022 World Para Dressage Championships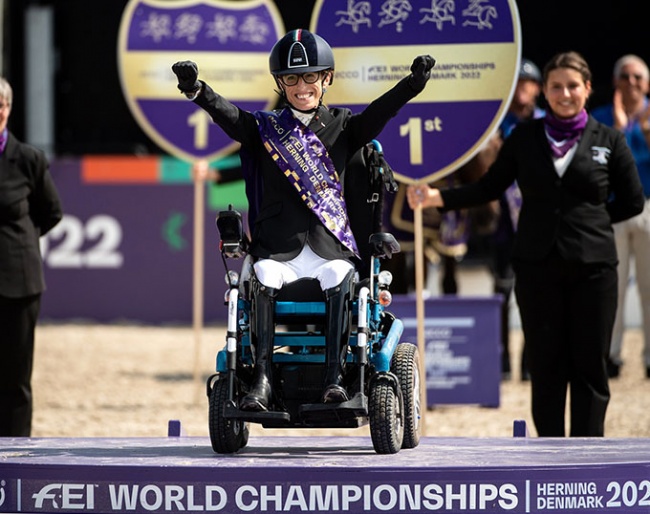 -- FEI press release by Rob Howell, edited by Eurodressage
Grade I rider Sarah Morganti, Denmark's home riders Katrine Kristensen (Grade II) and Tobias Thorning Joergensen (Grade II), Grade IV's Sanne Voets, and Grade V rider Michele George collected the final gold medals at the 2022 World Para Dressage Championships in Herning, Denmark, on 13 and 14 August 2022. 
For some, it was about retaining the title, for others it was about reclaiming it and for a select few, it was a whole new experience with the added bonus of their home nation cheering them on. 
Retaining the title…
Sanne Voets (NED) and Sara Morganti (ITA) both retained their Para Dressage Freestyle World titles in Grades I and IV respectively for the third successive time at the Orifarm Healthcare FEI Para Dressage World Championship 2022, in Herning (DEN) today. They did so in the same venue at which they both won their first major international titles nine years ago, at the FEI European Championships of 2013. 
On the 17-year old Rhinelander mare Royal Delight (by Royaldik x Don Primero), Italy's Freestyle queen Sara Morganti danced to a score of 80.653% to take gold in Grade I ahead of Latvia's Rihards Snikus with 78.400% on his 14-year old Latvian bred King of the Dance (by Kadilak LS x Kings LS). Just a whisker away from that, by 0.013%, was Ireland's Michael Murphy, who was able to finally put the lid on a disappointing Tokyo 2020 Paralympic Games with another bronze in Herning, on his 15-year old KWPN bred Cleverboy (by Vivaldi x Kennedy), with 78.387%.
"It is hard to say if I could have done more. I am very happy with because I did what I wanted to do," said Morganti right after her test. "I always say that if I leave the Field of Play feeling like I have giving it my all at this moment in time – then I am always happy. I felt that I was with my music today. Everything went really well here in Herning, it has been a fantastic week. "
After she won gold, Morganti added, "I can't believe it, it's just too beautiful to be true. I am delighted for three times in a row with Royal Delight. It really felt good with the music for the whole of the time. I couldn't have wanted more from this performance in this moment."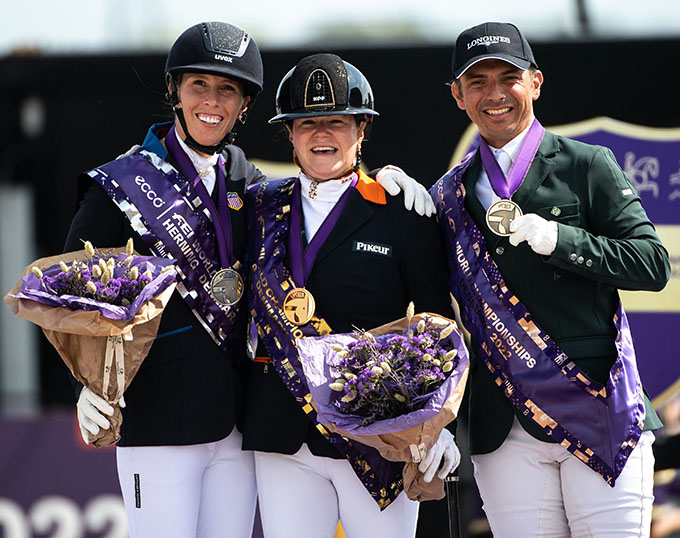 Having first won the title at the World Equestrian Games in Caen (FRA) in 2014, Voets rode the 14-year old KWPN bred Demantur (by Vivaldi x Elcaro) to score 82.485% in this year's Grade IV competition. 
The silver medal went to a delighted Kate Shoemaker (USA), on the 8-year old Rhinelander mare Quiana (by Quaterstern x Rubinstern Noir) with 80.275% while Brazil's Rodolpho Riskalla edged the bronze medal on his evergreen, 19-year old Hanoverian Don Henrico (by Don Frederico x Lauries Crusador xx), with 78.385%. His medal had extra emotion being his last ride on the soon to retire Don Henrico after a partnership which saw them pick up two World and a Paralympic silver medal, and two further bronzes here. 
"Usually I think of something to say when I get off the horse and come here but I'm pretty much speechless today," Sanne said. "There are a few moments in your career where you just enter the arena and raise your hand and from that moment on you are just in another dimension and don't really experience what's going on in that moment. Today was one of those days."
Denmark celebrates home successes
Katrine Kristensen and Tobias Thorning Joergensen (DEN) delighted their home fans by taking the Freestyle titles in Grades II and III, prompting a sea of red and white Danish flags to be waved around the arena in celebration.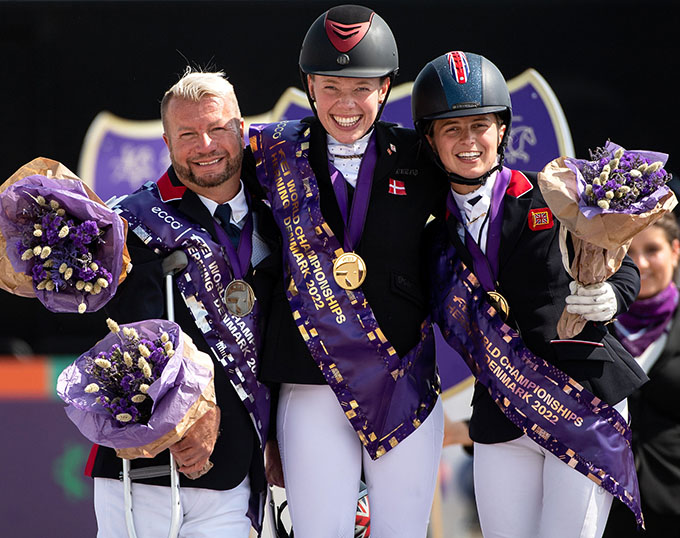 Katrine set the ball rolling by winning the Grade II Freestyle riding the 14-year old Danish bred Goerklintgaards Quater (by Quaterback x Don Schufro) to music dominated by Queen songs, and scoring 80.354%. Great Britain's Lee Pearson and his 11-year old British bred Breezer (by Bacardi) took the silver with 77.860%, while his teammate Georgia Wilson won a delightful but surprise bronze medal with the 8-year old British bred Oldenburg mare Sakura (by Supertramp x Rockstar) and 75.834%.
"It was a bit hard for me as I was a little bit in front of my music, I had to think really hard on what to do next," said Katrine after her freestyle. "I am so satisfied with Quater today because he was really calm, very much with me in the arena. I did some more difficult exercises in my floorplan, for example a half-pass. It has been an amazing experience for me with such a new horse. The medal ceremony for the teams was nothing short of amazing. This week will stay with me forever."
When she knew she won gold, Katrine added, "It's very exciting and I'm so, so happy with my second gold medal. It's fantastic. It has been an amazing experience for me with this new horse and he has developed through the days of the championships. I'm so, so proud."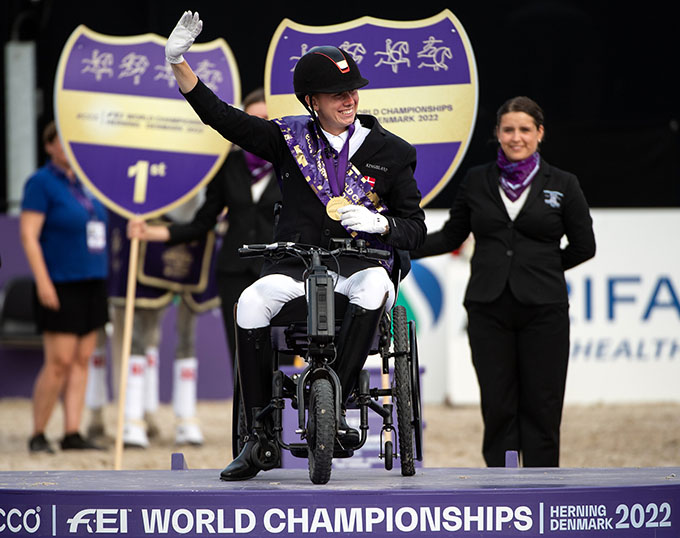 In the Grade III contest, a world record of 86.513% on the Danish bred Jolene Hill (by Schufro Hit x Windsor), put Tobias nearly 10 points clear of the silver medal, which went to The Netherlands' Lotte Krijnsen, on Rosenstolz (by Rotspon x Sandro Hit) with 76.673%. And breaking her World Freestyle jinx, Great Britain's Natasha Baker took the bronze, on the 11-year old British bred Keystone Dawn Chorus (by Dimaggio x Escudo), with 76.620%.
The 22-year old Jorgensen commented after his ride, "everything went exactly as I wanted it in today's test, I am so pleased. It is a new personal best, about two percent above my previous one on around 84 percent. I am so pleased with my ride. I am very proud of my horse, going in here in this heat, giving me more and more, being with me every step. She just kept going and going, such an amazing mare."
George seals third world title to round off magical day
Belgium's Michèle George reclaimed the Grade V Freestyle title she last won at the World Equestrian Games™ in 2014. On her amazing 12-year old Hanoverian mare, Best of 8 (by Bonifatius x Maurice), she scored 82.860% for gold. Frank Hosmar (NED) once again performed to a medley of 80s pop classics to take the silver, on the 17-year old KWPN bred Alphaville (by Sandreo x Iglesias) with 80.775% - his best score at a World, European, or Paralympic competition - while Great Britain's Sophie Wells was third, on the 13-year old NRPS registered gelding Don Cara (by Don Jovi x Rafurstinels) with 79.255%.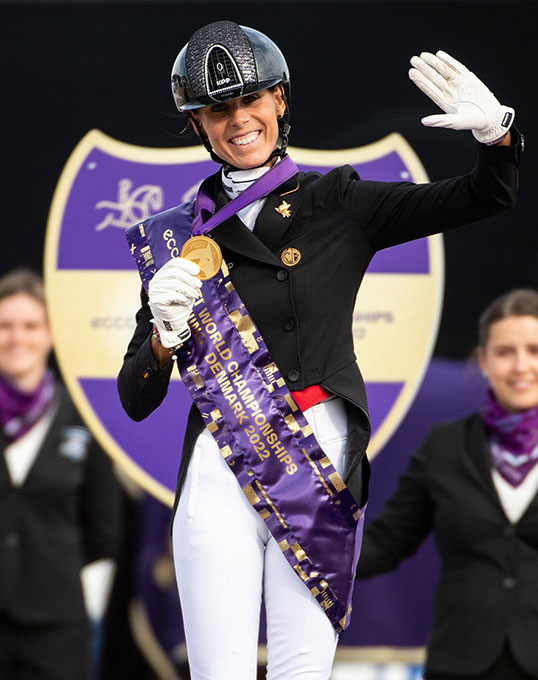 "I think it's a personal best with the mare. I am so proud of her," said Michèle. "My mare behaved like a queen, and it was very difficult with the show jumping going for medals, she was very tense, but I managed it and she settled. I am very proud to have shown the harmony and to be really dancing, I tried to convince the judges and it really worked. My first days here were very tense but my felt my mare growing every day. My main motto is to enjoy my horse and not think so much about medals, after all it is the reason why I started to ride way back when. I adore my horse."
This was her ninth World or Paralympic title. "I'm so happy I can do this again with another horse," she added, "because it's not always easy. It's not easy to get to the top, and it's more difficult to stay there. But I'm back, and this is only the start."
Denmark tops the Para Dressage medals table!
At the end of a brilliant World Championship week for Para Dressage, Denmark has topped the medal's table with four golds and a silver,. The Netherlands are second, with three golds, three silvers and a bronze, with Belgium in third place securing two golds.
Earlier in the week, the team competition was won by The Netherlands, with Denmark in team silver and the USA grabbing team bronze. 
Bettina De Rham, the FEI's Director of Dressage, Para Dressage and Vaulting summed up the week and said:
"I think it's been a very special event. Some athletes said the Team medal ceremony in the main stadium was the best moment of their Para Dressage life, so we're very happy about that. And today we saw some amazing Freestyles, the level is really going up and we can be very proud of our athletes and look forward to the future," said De Rham. 
Related Links
Scores: 2022 World Para Dressage Championships
Eurodressage Coverage of the 2022 World Para Dressage Championships