Oldenburg Auctions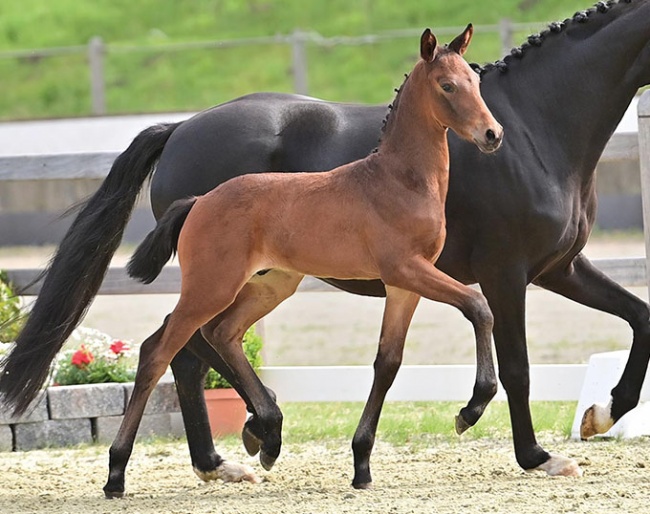 Just wow! An exclusive collection of foals is at the starting gates – secure your sweet little sunshine at the 7th Oldenburger Special Edition on Saturday 11 June 2022 at the Oldenburg Horse Center Vechta.
Strong-moving stallion prospect to open the auction: Fynn the Great (by Fynch Hatton - Florenz - Bordeaux).
Fynn the Great knows how to captivate the viewer right away. Grand dam Raskya already produced three Elite Auction foals in Vechta: Florieux and Floribeaux, both by Florenz, as well as Viteaux by Vitalis, and is the sister of the Intermediaire I successful Salisbury Hill by Serano Gold/Catharina Brüser.
Superstar from the family of Foundation: Titanium (by Total Diamond PS - De Niro - Sevillano xx).
This handsome stallion prospect presents himself as extremely typey and with strong movements, superior in all three basic gaits. Dam Dakati is sister to the licensed Force Majeur MN (by For Romance I OLD) and the auction price highlight D'arcy Diamond OLD/Intermediaire I with Louisa Lüttgen. Out of the dam line: Grand Prix star Foundation/Matthias Alexander Rath.
From the dam line of the Grand Prix winner Dzeko: Foreign Affair (by Follow's Him Schönweide - Florencio I - Depardieu).
Beautiful and strong moving ballerina who knows how to convince with swing and elegance. From the dam line: Auction price leader and World Championship finalist Francis Drake OLD, as well as the Grand Prix winning Donauprinzessin/ Brigitte Gerads and Dzeko/Katarzyna Milczarek, POL, and Mette Rosencrantz, USA.
From a renowned Grand Prix dam line: Salvatore (by San Amour I - Tomahawk - Fidertanz).
A self-confident and convincing stallion prospect. Granddam Fairness L is the sister of the licensed Wanthano H (by Wolkentanz II) as well as to Wölckchen (by Wolkentanz II), dam of the Grand Prix winners Fairy Dancer/Inger Jane Steen and Havalon/Laurence Vanommeslaghe, BEL. From the line: The Grand Prix successful Meggle's U.S. Latina/Hendrik Lochthowe.
Just click here to be taken directly to the collection of the 7th Oldenburger Special Edition
Consulting and customer service:
Dressage horses:
Thomas Rhinow: +49(0)172-9748487 or rhinow.thomas@oldenburger-pferde.com
Daniel Pophanken: +49(0)175-2930926 or pophanken.daniel@oldenburger-pferde.com
General information/telephone bidding orders/catalogues:
Elisabeth Gerberding: +49(0)4441-935512 or gerberding.elisabeth@oldenburger-pferde.com
Heike Arends: +49(0)4441-935531 or arends.heike@oldenburger-pferde.com