Oldenburg Auctions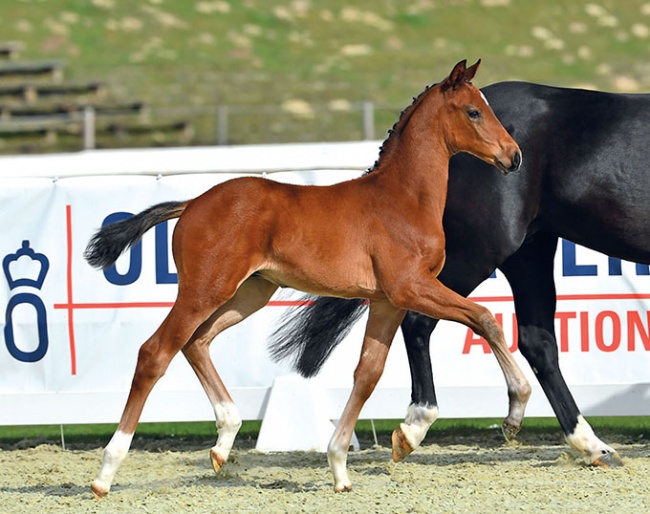 The beautiful stallion prospect Fyre Festival became the price highlight of the 25th Oldenburg Online Elite Foal Auction, which concluded on 7 May 2022. 
Fyre Festival (by Fynch Hatton - De Niro - Lord Liberty G), bred by von Merveldt and Feldmann-Moog family, sold for 50,250 euro to a dressage stable i Germany. His dam Rhapsodie Queen II is the full sister of the Grand Prix successful Rhapsodie Queen (Hayley Beresford, Isabell Werth) and the licensed European Championship team bronze medallist of the young riders Detroit (by Dimaggio) under Anna Zibrandtsen.
The best selling jumper foal was Crimetime (by Cornet Obolensky - Balou du Rouet - Diarado), bred by Vixo s.r.o from Slovakia. For 18,500 euro, the beautiful black stallion will remain in Bavaria. 
German buyers paid 11,500 euro for filly Daylight (by Debutant PS - Vitalis - Totilas), while 11,000 euro was paid for Victor (by Viva Gold - Totilas - Sandro Hit), and Saumur (by San Amour I - De Niro - Ponticello xx). The black filly Infinity (by Ibiza - Depardieu - Fürst Heinrich) fetched 10,500 €
Eight of 24 auction candidates have been acquired by customers from abroad Customers from Hungary (3), Italy (1), Sweden (1), Switzerland (1), Japan (1), and Belgium (1) will be taking talented Oldenburg foals home for the future. Especially show jumping bred foals sold abroad for good prices.  The dressage colt Vitancier (by Vitalis - Dancier - Wordly) sold for 12,000 euro to Japan
The average price of the foals was 11,604 euro.
Complete results list here.