F.O.C.U.S.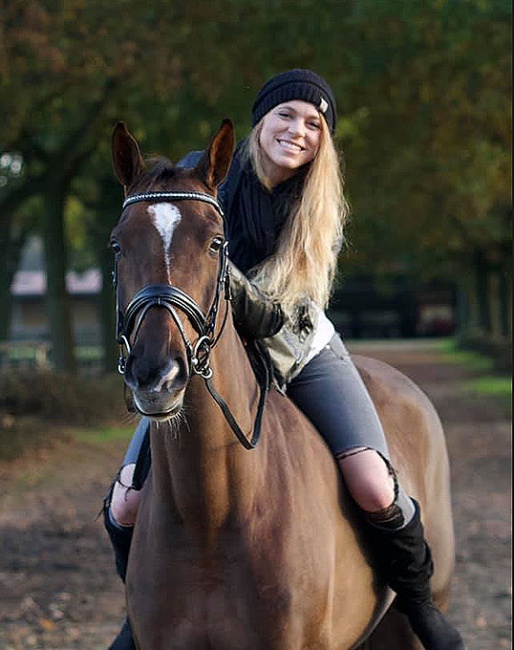 Young dressage professional Brandi Roenick is one of America's most decorated youth riders with gold medals achieved at four North American Junior/Young Riders Championships. Her early leap into sportive success should have set flight to her riding career, but instead she slid into an abyss of self-doubt and depression.
The pressure of expectation stifled her development.  Dark clouds gathered over her head and caught her brain in a fog she could not shake off. Roenick drifted towards the edge of existence in depression and suicidal thoughts. She had to muster all her courage not step into the abyss of obliteration. 
A Family of Athletes
The 27-year old Roenick comes from a family of athletes with the love of horses passed on by her mother Tracy, a dressage rider in her own right. Father Jeremy is National Hockey League All-Star.
Jeremy and Tracy were high school sweethearts who married in 1992. Brandi is their first child, born in 1994, and brother Brett followed in 1997. The family moved across the country as Jeremy switched hockey teams, but ultimately settled in Scottsdale, Arizona.
Jeremy's accomplishments in hockey sport put Brandi in a privileged position with easier access to good horses and training. The family is well acquainted with the atmosphere and prickles of high performance sport though and made sure that Brandi never felt entitled to her success in the saddle. Still, the presupposition of her becoming an Olympian had its effect.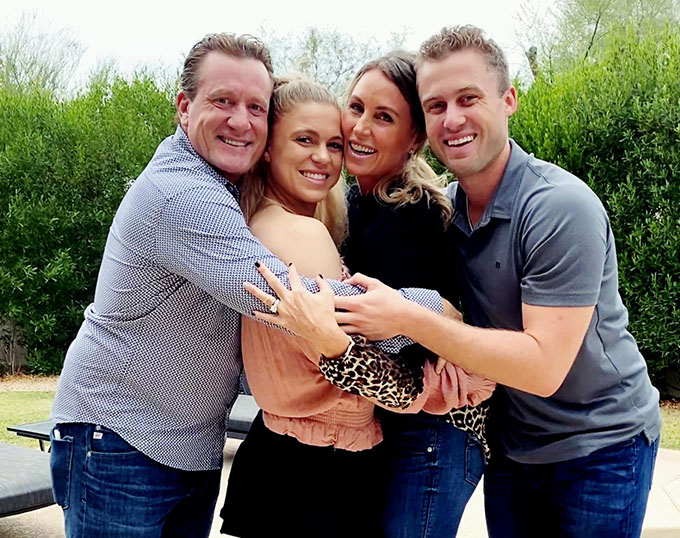 "Having a professional athlete as your parent can be stressful," Brandi said in a 2011 interview. "They expect a lot from you because of their accomplishments, but my dad just wants me to try hard and do my best." In 2013 she wrote, "being the daughter of a celebrity figure of course is extremely exciting and comes with many amazing opportunities and fun filled adventures. Also, being a celebrity's daughter comes with many downfalls."
Brandi first sat on a horse when she was 3 and got her first rascal pony at the age 4. He taught her confidence as he took off every day. She started dressage at the age of 6 and by being homeschooled, she had plenty of time to ride from an early age on.
Decorated American Youth Rider
Brandi's career-starting horse was Pretty Lady, an NRPS bred mare by Iglesias x Sit This One Out xx, which she got as a 10th birthday present in 2004. The feisty chestnut was only 7 at the time and quite inexperienced. Tracy trained her first, before an 11-year old Brandi began showing her in 2006. The start had its bobbles as the mare did not instil confidence with her redhead behaviour.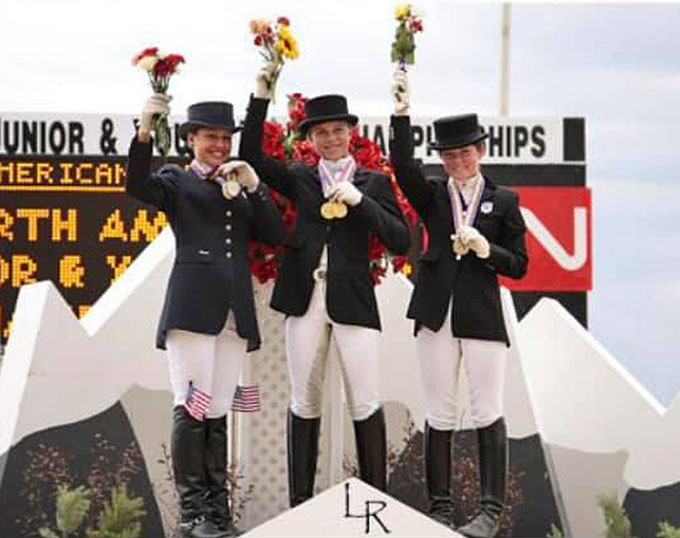 Brandi Roenick and Pretty Lady gelled in the end and won the 2008 U.S. Junior Championships. They went on to collect double gold at the 2008 North American Junior Riders Championships. At age 13 she had become the youngest gold medallist at the NAJYRC, ever. 
With Pretty Lady sidelined due to an injury in 2010, Brandi saddled her mom's Dutch warmblood gelding Nobel (by Rohdiamant x Renville) and piloted him to team gold at the 2010 North American Young Riders Championships, placing 17th in the individual test. They pulled out from the 2010 U.S. Young Riders Championships though. That year Brandi had begun commuting between Scottsdale and San Diego to train with Olympian Steffen Peters and his wife Shannon. 
In 2011 she was back aboard Pretty Lady and won silver at the 2011 U.S. Young Riders Championships, followed by team gold and individual silver at the North American Young Riders Championships. In 2012 she rode the mare to another title and gold medal at the 2012 U.S. Young Rider Dressage Championship 
Daunting Magic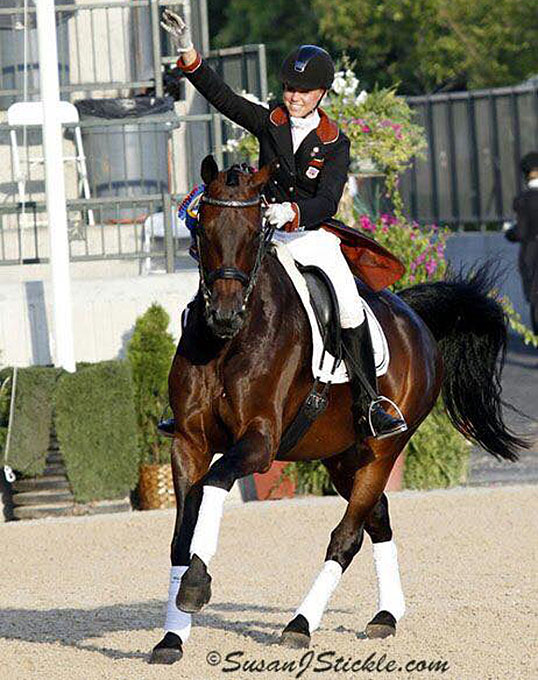 In 2012 her parents leased Jen and Bruce Hlavacek's Westfalian gelding Weltino's Magic (by Weltino x Diamond Boy), who would be the perfect schoolmaster for her. The horse's fame achieved under Steffen Peters as 2011 Pan Am team and individual gold medalist and holder of three world record scores at small tour level turned out to be more daunting than expected.
Brandi felt she had massive shoes to fill, but overcame scrutiny and jealousy from her peers by proving herself in the saddle of Weltino's Magic. One of the steps she took to prove her commitment was moving away from her family in December 2012 to permanently base herself in San Diego with Peters, to live, learn and train.
Only three months into their partnership Brandi and Magic won triple gold at the 2012 North American Young Riders Championships, an achievement that should have filled her with pride, but which left a bitter aftertaste as for many of her fellow competitors considered the victory to be evident on such a quality horse.
"Mentally, they (ed.note: produced horses like Weltino's Magic) are a constant test every day that you have to nail a 99% or better on," she said in 2013. "It takes hard work and serious motivation to be able to put yourselves in shoes as I did with Steffen."
Dark Clouds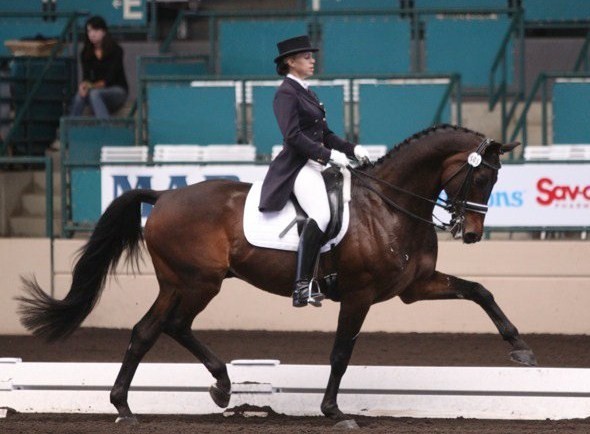 In 2013, the lease on Weltino's Magic was extended for another year and Brandi showed him and Pretty Lady at CDI's in Burbank and Del Mar through April. Her last international in her career, so far, was the CDI Del Mar on 26 - 28 April 2013, where she competed Pretty Lady in the senior small tour classes, taking out a second place in the Inter I freestyle with 71.208%.
Although she consistently placed in the top five that spring, Roenick saw her self-confidence falter as felt increasingly criticised by her peers. Brandi took up an online blog in which she bared her heart.
"Dressage is supposed to be about fun, not going into a blood war out to kill everyone," Brandi wrote. "They were my friends all the way up until the medal podium, then never spoke to me again." She also admitted that, "yes I have talked horribly about some people, I have said things that I look back on and want to put a bar of soap in my mouth and apologize to those people."
Her journal in the spring of 2013 prefaced a mental collapse that was building in her mind as the self-imposed pressure to go for Rio was biting off more then she could chew. At the time she described her vision of riding in Rio in lyrical prose: "I have dreamed of this moment since I was a little girl, now it's my turn. My turn to prove who I am, what I have worked for. To shove all those who doubted me in my past. (...) Even if I just screw up so bad, I made my goal… I'm here at the Olympics, thats all that matters." (...) People were all over, cameras flashing, cheering, USA banners streamed across the crowds with my name on it. This was it, This was my moment, everything I have worked for."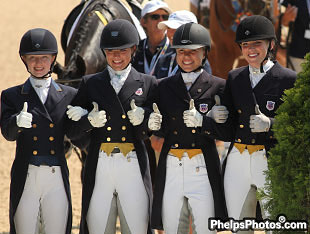 Roenick felt a growing need to explain herself for her privileged position, fencing off criticism with words like "we have skin tougher than a brick wall." The self-destructive thought process crept into sentences like "there are times when I don't deserve all the love and attention he (her father) gives me. There are times too, when I don't deserve my ass on a horse's back."
She searched for vindication and acceptance through her hard work ethic: "Money doesn't buy being humble, talent, drive, sportsmanship, happiness you name it. You have to just make your own luck."
Mental Breakdown
Brandi went to Germany in the late spring of 2013 to train with Johann Hinnemann and acquired Andrea Kersten-Muller's 7-year old Oldenburg mare Apassionata (by Sir Donnerhall I x Friedenfurst) as a Grand Prix prospect. She found the horse in Johannes Augustin's barn.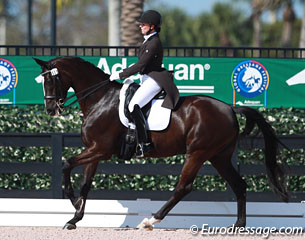 A new horse in her life should have lifted her spirits and kindled hope for the future with the 2015 Toronto Pan American Games on the horizon, but instead she started to crack. When the decision was made that Steffen would take over the ride on Apassionata, Brandi  quit riding. 
"I was really struggling with suicide, depression, and anxiety during this time," Brandi told Eurodressage.  "I battled really hard with depression and everyone turned their back on me to it and kept pushing me, telling me that I shouldn't be depressed and I was just "sad"," she explained. "For years I was struggling and riding, but literally dying inside. Instead of helping me when I was struggling, people just took me as being troubled."
Brandi clearly marked that the pressure of riding a horse produced by an established Olympian was too much to cope with for her.
"When Steffen took Apassionata to her first show and scored in the 80's I went to my parents that day and told them I wouldn't ride again as I wanted the journey and I would have never been able to get those scores and the expectation that then came with her," she told Eurodressage. "After riding Magic I really didn't want to sit on another horse produced by Steffen.  I wanted it to be me and mine."
Troubled Waters
She spent the next three to four years in troubled waters.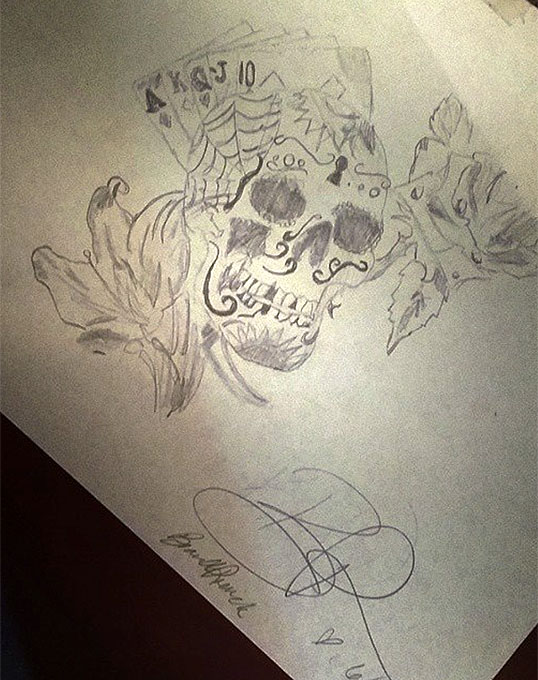 "I moved out with 20$ in my pocket and tried to figure out the "real world"," Brandi reminisced. "The only place I had to go was to my ex-boyfriend, who told me I could stay with him. And for four years I was with him and doing what people would say "normal life, with a normal job, meeting amazing people whom i love to this day. I grew up a lot in this time even though I was really lost in my head and struggling."
She had enrolled in college in Southern California to study psychology, but she stopped her major. She then switched to Law Enforcement Administration at San Diego's Mesa College, but her brain was not in the right place. 
"I was not mentally stable enough to study psychology, nor to join the police academy, so I didn't go to college anymore," she said.  Brandi tried out a string of projects to ground herself, but none of them provided the balance she needed. 
From October 2014 till May 2015 she worked in a car dealership in San Diego, then moved to Panama City, Florida, where she tried to return to horses with her own, small riding business - Dynamite Sport Horses - with a few clients. It was the first time she started riding again in two years and got an off the racetrack Thoroughbred. She tried this for about a year and a half, before she moved back to the West Coast. 
"I ended up being  in a toxic relationship with my ex-boyfriend and had major mental breakdown and a suicide episode," Brandi confessed. "I moved back home to the West Coast and tried normal work, like bartending, but I only had another mental suicide episode."
Rock Bottom, Germany Her Salvation
Brandi hit rock bottom in 2017 and finally realised she needed professional help.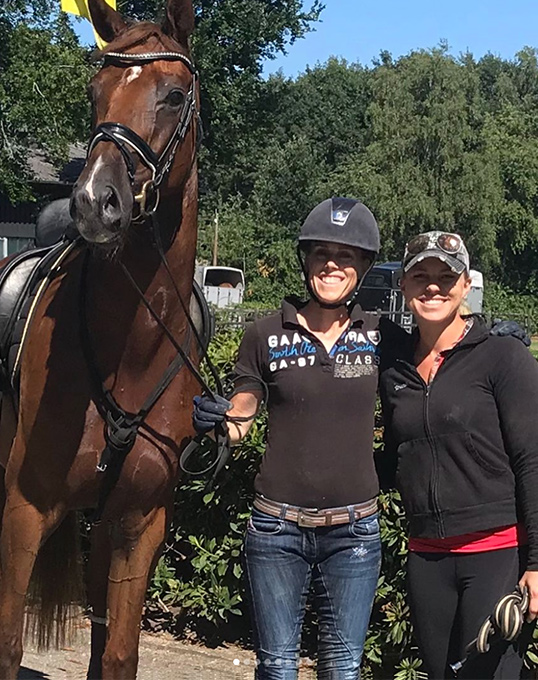 "It took me a long time to ask and get help," she said. "Then when I did, my life changed dramatically and bigger opportunities opened for me. So I guess I am grateful that I went through my trauma, I grew and learned from it. I ended up going to rehab at the Meadows in Arizona for suicide, depression, and anxiety and was in the program for a year."
The dark chapter in her young life turned out to be an important stepping stone for growth and a new start.
"I might have missed an unbelievable amount of opportunities from quitting but in the end, it wouldn't have meant anything in the state of mind I was in, the hurt, betrayal and sadness I felt," she said. 
When she finished the program her friend Ashleigh Luca got in contact and asked if she wanted to get back in the saddle
"I started riding some horses with her and that's when my close friend Andrea Winkeler (née Müller-Kersten), who I had bought Apassionata from, contacted me and asked me to come to Germany," she said.
Germany turned out to be Brandi's salvation. She arrived in January 2018 and started working for Andrea and Wilhelm Winkeler. What was only supposed to be for one month turned into a year. In 2018 she began competing in Germany with Andrea's now 8-year old Oldenburg bred Bachelor (by Belissimo M x Sir Donnerhall) and Horst Immoor's now 7-year old Oldenburg Dream Catcher (by Don Clemente x Don Frederico).
Assistant Trainer at Schockemöhle, Personal Triumph
Brandi heard of a riding position that had opened at Paul Schockemöhle's stallion station in Mühlen and scheduled an interview with head rider Isabel Freese. With was a leap into the unknown, became her second home. She has been with them for almost three years now.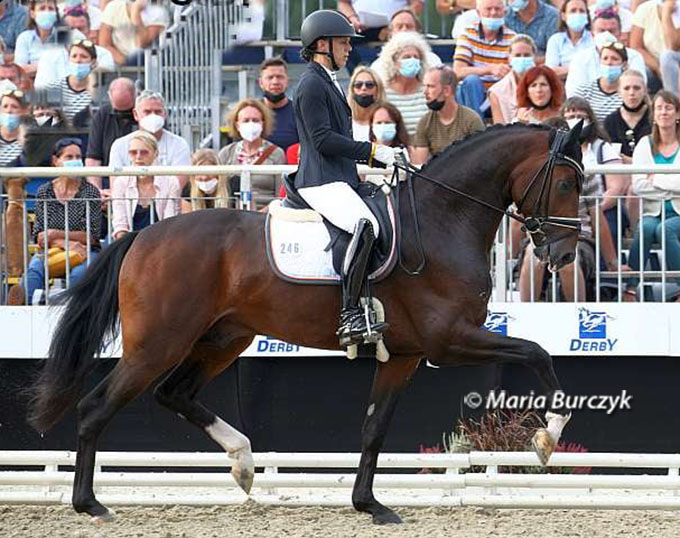 "They have put so much work into me," said Brandi. "They have really grounded me in my riding and have taught me very key items for the future of my career. As an American and coming out here 4 years out of the saddle and coming out of a very hard rehab program was very hard for me and I felt as if I did not fit in."
Brandi was able to mean on Schockemöhle's wingman Joseph Klaphake for support.
"Klappi really has pushed me and has believed in me," said Brandi. "I owe so much of my success out here in Germany to him. He is my mentor and I will forever be grateful for the trust and opportunities he has given me."
Brandi now has an incredible string of Paul's horses to ride, including the licensed sire Feinrich (by Furst Heinrich x Sir Donnerhall) and youngsters Total Diamond PS (by Totilas x Sir Donnerhall), De Sondro PS (by De Niro x Sir Donnerhall), Quantastica PS (by Quantensprung x Totilas),  Furst Charmeur PS (by Furstenball x Charmeur), Sonegro PS (by Soiree d'Amour x Negro), Furstenrausch PS, and any more.
Aboard Debutant PS (by Deparon x Zonik) Brandi accomplished a spectacular feat and personal triumph: winning  the 2021 Oldenburg Young Horse Championship in Rastede and finishing fourth at the 2021 Bundeschampionate in Warendorf.
Stay With the Company
Brandi found new love and a steady partner in German Christoph Vonderhaar, who has been her rock away from home.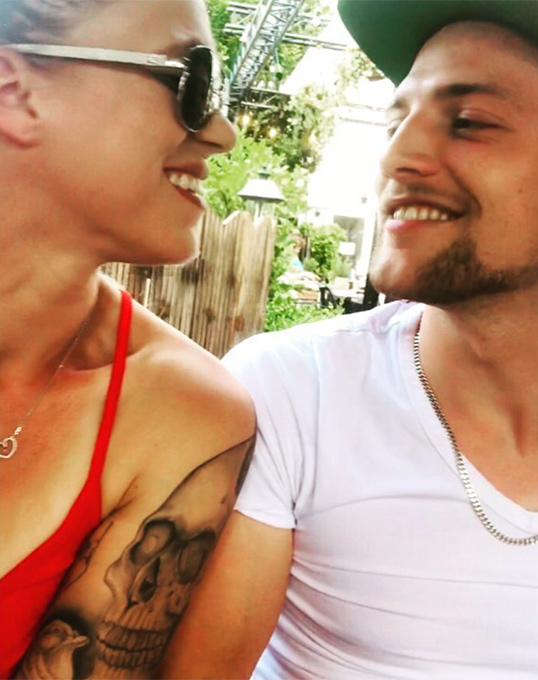 When asked what her plans for the future are, she says she plans "to stay with the company," although some day she will return home. 
"I will plan to return to Wellington not to California and take the knowledge I have gained out here and start my own business back home," she said. "I have been here for almost four years now. I love my horses and my job. The people I work with I learn from every day. It's a great place for a young professional to grow their knowledge for the future of their careers."
In the past two pandemic years, Brandi has been tunnel focused on improving her riding. 
"I am solely focusing on bettering my riding the best I can and allowing my horses the time to properly develop with no stress or pressure," she explained. "Whatever the future brings I will let time tell me that. But for now, I take it day by day and just make sure that I am taking every step to be better for myself, my horses and the future of my career. Whether that be here in Germany or back in the US in Wellington. For now, I am just grateful and lucky to have the opportunity to be back in the saddle riding such wonderful and talented horses."
Text by Astrid Appels
Photos © Private, Sue Stickle, Astrid Appels, Mary Phelps, Maria Burczyk
Related Links
Weltino's Magic Passed Away
Weltino's Magic Undergoes Double Colic Surgery
Apassionata Acquired for Brandi Roenick as Grand Prix Prospect
Roenick and Tetreault Win 2012 North American Young Rider and Junior Freestyle Championship
Roenick and Uhlir Capture North American Young Rider and Junior Individual Gold Medals
Roenick, Uhlir, Davis Win 2012 U.S. Youth Riders Championships
Pan Am Champion Weltino's Magic Leased to Brandi Roenick
Leibler and Lahey Grab Individual Test Gold Medals at 2011 NAJYRC
Region 5 Young Riders and Region 1 Juniors Win Team Gold at 2011 NAJYRC
Peters Maintains Lead, Leibler and Cyprus Claim 2011 U.S. Young Rider and Pony Rider Champion's Title
Canada/BC and Region 5/6 Win Team Gold at 2010 North American Junior/Young Riders Championships
Brandi Roenick Wins Individual Gold at 2008 North American Junior Riders Championships
Region 5 and 7 Win Team Gold at 2008 North American Junior/Young Riders Championships