KWPN Select Sale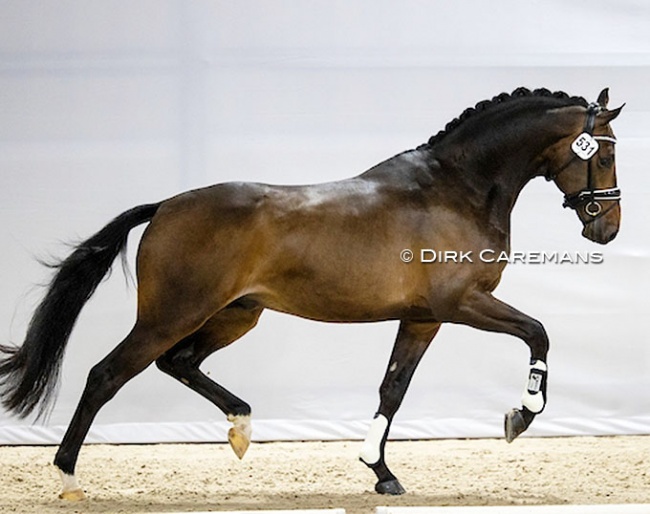 The newly licensed Olympus VDT became the expected top seller of the 2022 KWPN Select Sale, the official auction following the KWPN Stallion Licensing. 
The KWPN Select Sale took place online and the bidding closed on 7 January 2022. 
The collection included just 8 dressage bred colts of which three got accepted at the 2022 KWPN Stallion Licensing in Ermelo last weekend. They will be eligible to do the performance test to obtain a KWPN breeding permit. 
Dutch Biddings, Sold to Denmark
Olympus VDT (by Blue Hors Romanov x Ferro) was the most coveted stallion.  A tough duel between various Dutch bidders drove the price up to 140,000 euro. Olympus VDT, like his half-brother My Toto VDT two years ago, became the most expensive dressage horse in the KWPN Select Sale.
The breeder and seller of Olympus VDT,  Ad van den Tillaart, confirmed to Horses.nl that the Danish company Helgstrand Dressage bought the horse, even though the online bidding system showed only Dutch bids in the final duel.
Olrava, Second Top Seller Dressage
The non-licensed stallion Olrava (by Just Wimphof x Ferro) sold for 42,000 euro and will stay in The Netherlands.
None of the dressage horses in the KWPN Select Sale sold abroad, despite some foreigners bidding. 
The licensed Onesie Fomia (by All at Once x Farrington) sold for 34,000 and the nameless, licensed Trakehner bred colt by Schwarzgold x Partout fetched 30,000 euro
The non licensed stallions Omega (by Springbank II x Krack C) sold for 30,000 euro, Onyx W (by Vitalis x Diamond Hit) for 22,000 euro, Outstanding (by Maracana x Charmeur) for 17,000 euro and One Straight T (by For Gold x Everdale) for 17,000 euro. 
The second most expensive horse in the collection was jumper Olano (by Manchester van 't Paradijs), who sold to Ukraine for 120,000 euro.
Related Links
Four Premium Colts, Thirty-Nine Accepted at 2022 KWPN Stallion Licensing
It's almost time for the KWPN Select Sale!
Lacklustre 2019 KWPN Select Sale with 70,000 euro Top Price
Gobarde E, Price Highlight of the 2014 KWPN Select Sale
Ferdinand, Price Highlight of the 2013 KWPN Select Sale Stallion Auction
Zagreb (Blue Hors Zack) Achieves Record Price at 2007 KWPN Select Sale
Welcome Sir, Price Highlight of the 2006 KWPN Select Sale
Valeron, Price Highlight at the 2005 KWPN Select Sale
UB40 Price Highlight at 2004 KWPN Select Sale
Record Numbers at 2002 KWPN Select Sale