Opinions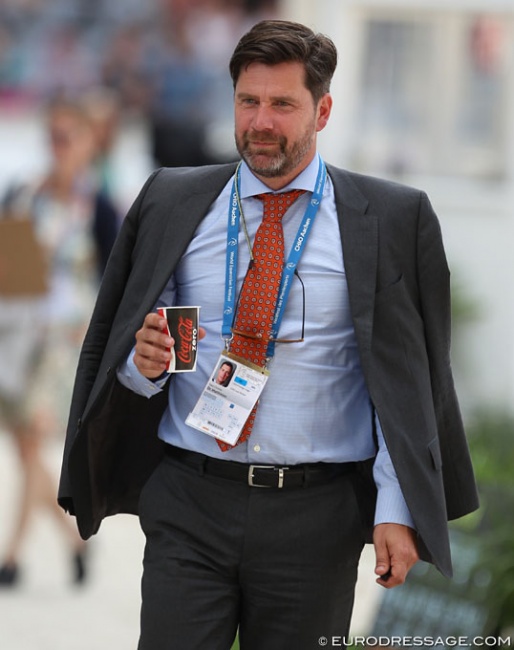 Guest columnist of this week is Hans-Christian Matthiesen, Danish 5* judge and president of the International Dressage Officials Club (IDOC). Traditionally Matthiesen writes and end-of the year review and mission statement for the next year. 
Here is his end-of-the-year message to the IDOC members, issued on 31 January 2021
"We need to Take More Part in Decision-Making Process"
Dear Members, Dear Officials, Dear Colleagues and Friends,
I would first like to wish all of you the very best as we begin the new year of 2022.
As the COVID-19 pandemic continues to spread worldwide, I would like to offer my best wishes to everyone affected.
We can take pride in the fact that since the pandemic has brought the world to a (half)halt in 2020 and forced us to keep our distance from family, friends and one another, the work we have done has helped people to stay connected and hopefully made the difficult times a little easier.
Needless to say that 2021 was also a year when the world was significantly shaken by COVID-19. This pandemic spread throughout the world in the blink of an eye and is still raging in many countries and regions. Many people around the world are affected by it, including travel restrictions for all officials and limitations on sports activities.
Last year, to prevent the spread of COVID-19, new behavioral patterns have taken root, among them online seminars. The technologies of today have drastically changed our way of looking at education and working style to deal with this crisis. They are also significantly changing our dressage sport.
Ingmar de Vos (President, FEI) pointed out in his speech to the General Assembly that "debate and consultation are key to a healthy and forward-facing sport. This is what makes our [FEI] strength and this is why the FEI is highly regarded from a governance perspective. We have very high standards in terms of how we want our sport to be managed, and reliable processes that underpin our decision-making process." I think everybody can agree to that. Nonetheless, I want to point out the format and problems with this decision-making process, about which several other stakeholders club have also raised concerns.
Indeed, the sport and the level of the sport differ quite significantly throughout the world. Yes, most of the sport is centered in western Europe, but does that mean that most of the decisions should be made in that order (more activity = more responsibility = more votes)? Over the last years, EEF has proven to be a strong interest group. There is no doubt that the decisions must be made where the expertise is – that goes for countries, but also stakeholder clubs. "Debate and consultation" is good, but not always enough. As a stakeholder club, we need to take more part in the decision-making process and feel that our input and feedback is taken seriously. After all we are the experts and represent all the Officials. Officials are often very organized and involved in most aspects of the sport and national federations. That's why we should be more directly involved in the process, and not only as consultation. It is only together, the FEI and the stakeholder clubs, that we can navigate the sport in a positive direction. Horse welfare and education are key factors, and developing a more efficient and easy organizing system is important for the future.
As the former chairman for the Dressage Technical Committee pointed out to the FEI General Assembly, 2021 was a difficult year in terms of Covid and the outbreak of Equine Herpes Virus; many competitions were cancelled, and some made very difficult to manage.
Fortunately, the Olympic Games in Tokyo took place. Seen from an organizing perspective, it was a huge challenge, but the team in Tokyo did a tremendous job and secured the best possible conditions for horses and athletes. The level of dressage was outstanding and so was the performances of the Officials!
The new Olympic format was exciting, but so are the discussions about the format for the coming Games in Paris. Many discussions and arguments have been put on the table, some of them in the name of "horse-welfare" which is not always accurate or appropriate. I hope the stakeholder clubs' feedback will be taken into consideration when the decision is made: the new format still needs polishing! Not only for the Olympic Games, but also for other big championships like the upcoming World Championship with its huge number of participants!
A relatively new group – JAG (Judges Advisory Group) – has been implemented by adding a number of experts to the already existing JSP (Judges Supervisory Panel). The JAG is an important tool for the DTC (Dressage Technical Committee) and FEI Headquarters to consult and lean on – but it is also essential that they listen to and accept decisions and opinions from the JAG, otherwise these measures make no sense.
Today, the dressage judges are still waiting for the outcome of the work with the former "Code of Points/CoP" now "Key Observations & Scores/KOS". With the help of the working group, JAG/JSP and stakeholder groups, we now have a rather huge document that needs more work and further feedback from the level 4 judges (formerly 5*). The expectations from the outside world run high, but we as officials must see "KOS" (CoP) work in real life in order to implement and work with them. There is no doubt that the Code of Points is already a useful tool in education and combination with the already existing handbook and guidelines. Hopefully the future will also bring us a revision of the handbook and a video handbook.
In most of the world, many federations have struggled to maintain a high level of activity in 2021. Nevertheless, many federations managed to organize competitions and championships under different and adapted circumstances. In some regions, they even managed to take it a step further than "normal". Indeed, it was a landmark year for India where the first ever CDI was successfully held in Bangalore in October despite the prevailing circumstances. This was followed by two more CDI's in 2021 which form a series of five culminating in March 2022. The Indian NF is using these International competitions to select their team for the Asian Games in Hangzhou, China, in September this year. Officials in the region were home bound. 
In the rest of the world, the same positive tendency was seen. Many more CDIs were organized than in 2020, more than double actually: e.g., Eastern Europe from 53 events in 2020 to 103 events in 2021 (before Covid: 2019: 138 events). Same tendency in Western Europe. In Northern America, the US managed to keep an almost normal number of CDIs, though most of them without spectators. Canada is still under a lot of restrictions and only managed to organize one 2* CDI with Canadian officials only. Latin America managed to organize only a few CDIs and smaller numbers of national competitions with mainly national officials.
In the Steward department, we have worked hard to maintain the level of educational activities. Many in-person meetings (IPMC) as well as the online versions (EVMP) were held. More level 2 stewards are brought in to be chief steward at CDIs in the US, but US stewards are not invited to officiate in Europe.
Life still goes on, even through a pandemic, and the beginning of a new year is a great time to reflect on the past one. I'd like to give all of you a "standing ovation" through the mail for all you and your colleagues have accomplished this past year.
Congratulations also to all our new colleagues, who worked hard to get into the education system. It might seem hard and difficult to get into the system with the required experience, sit-ins, and shadow judging etc., but the level at the last exam in Le Mans, France, was very high and promising for the future. It is very important to give all new candidates the best opportunities to develop in our education system and keep it fair and equal for all parts.
I, too, miss the energy that comes from being at a competition together with a group of colleagues and having the opportunity to share with them and learn from each other. The reality is that it will probably take a little while longer before this is possible again. However, you've all shown what we can achieve when we work and think as a team, even when we can't be together physically.
So, I want to thank you all for the hard work and commitment you've shown over the past year. Our combined strength is what makes us successful as a sport.
Don't hesitate to contact me or your regional representative, if you have any concerns, problems, or ideas, that you feel are important for the sport and the future of Dressage.
Thank you to Daniel Göhlen and his team from BHO for always accepting the wildest ideas and challenges with our online education.nThank you to my colleagues, the IDOC Board members and Olivier Smeets for always keeping me up to date: without you there would be no IDOC.
"My New Year's Resolution is to be more optimistic by keeping my cup half-full. Cheers!"
Hans-Christian Matthiesen
President