F.O.C.U.S.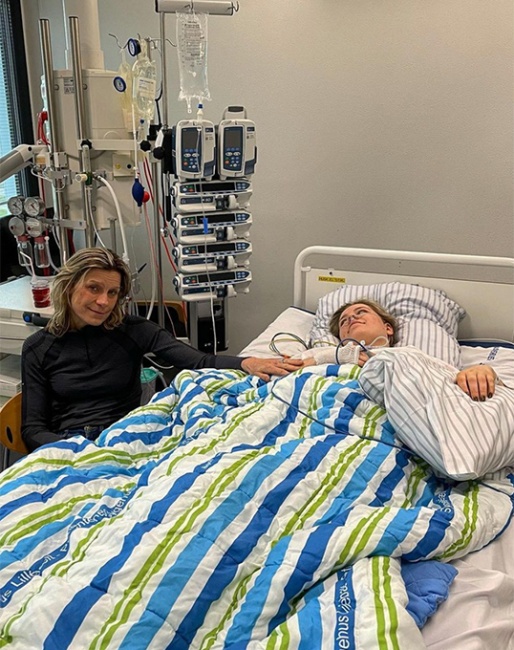 Danish Young Rider team member Maria Mejlgaard Jensen saw her 2021 competitive season turn to dust after a riding accident that cancelled out her  entire year. With intensive physiotherapy, the 20-year Maria fought her way back into the saddle and hopeful for the 2022 competition year. 
From Highs to Lows
Maria started the year 2021 on a high. She had come home from representing Denmark at the 2020 European Young Riders Championships on the 13-year old KWPN stallion Antango (by Ampere x Jazz), finishing with team bronze and ranking 10th in the individual test. She also placed fourth, just off the podium, at the 2020 Danish Young Riders Championships.
Maria is young professional dressage rider who joined her trainer of 11 years, Martin Husmann, as an assistant rider after graduating from high school. For 2021 the goal was set to reclaim that team spot for the European Championships in Spain, but at the start of the spring season that target evaporated. 
At the end of May 2021 she was thrown off a spooking horse. 
"He ran to the indoor arena and jumped inside," Maria told Eurodressage. "I lost my balance and fell over its neck. My back was the first to hit the barrier."
Maria was transported to the hospital and diagnosed with a broken spine, six broken ribs and a punctured lung. 
Road to Recovery
Her road to recovery has been  a long laborious path. She stayed in the Intensive Care Unit for several days before spinal surgery was carried out. After the operation she stayed another 10 days in the hospital before being allowed to go home to continue her rehabilitation.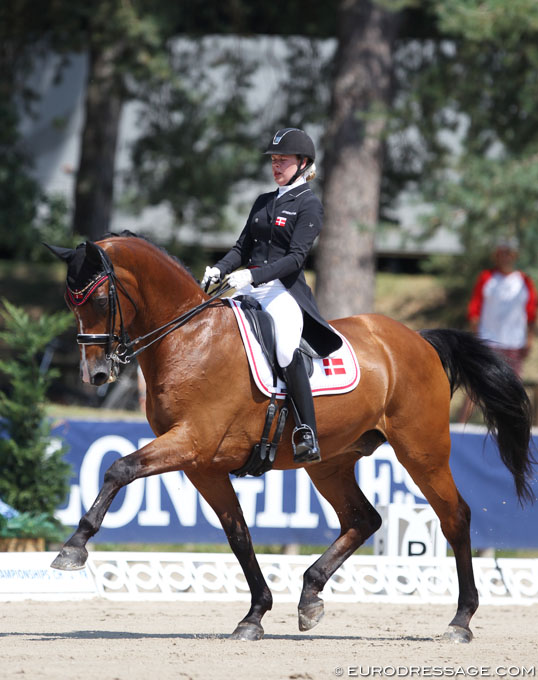 "I was told that I wasn't allowed to begin any kind of rehabilitation three months after surgery," she explained. "As I work semi-professionally with horses at the moment, it was very hard for me to let go of them, so every short little walk I could do, it was to the stable, say hi to the horses, and then back in bed."
After three months the first round of ridden physiotherapy began.
"In that way I could come back on top of the horses as soon as possible in a responsible way," she said. "Even though I wasn't scared or nervous to be back on horseback, my body was completely unstable as I've only been laying down for the past three months. When I finally began to feel a little better I started to do short rides - only in walk though - on my old horse Uno, as I know him in and out."
The 21-year old Dutch warmblood gelding Uno IV (by Olivi x Nooitgedacht) is a five-time Danish team Championship horse. He took Maria to the 2018 and 2019 European Junior Riders Championships and her elder sister Michala to the 2011 and 2012 Junior Euros and 2016 Young Rider Euros.
Back on Antango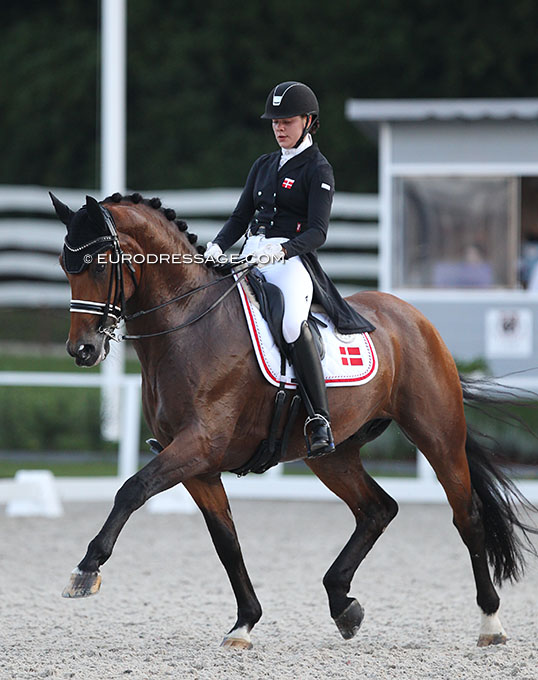 Maria's number one in the barn is Antango, who was originally a breeding stallion at Gerd Sosath's in Germany before he sold to the French stallion station Haras du Feuillard and then to Denmark. 
Two months ago, Maria's body was ready again for a more serious ride.
"I had my first riding lesson with my trainer Martin Hussmann at the beginning of December," she said. "I am still not completely back in shape yet, but I try to do everything I can to have the best possible recovery such as physiotherapy, personal training, acupuncture, Bemer-treatments and mental training."
Mental Impact
Maria admitted that this adversity compromised her mental health. Very ambitious to make it on the team and do well in international dressage sport, she literally was beaten down by this major physical set back. 
"The accident took hard on my mental health," she confessed. "I am used to always have a busy schedule and I thrive the best by having a lot of things to do at all times, so laying in a bed all the time for three months wasn't my thing at all. Luckily I really did find out that I have so many amazing people behind me, that stand by my side and support me - also when I'm in a bad place. I had family and friends including my trainer, the Danish team coach, the young riders and long distance friends coming to the hospital to visit me, and I received an unreal amount of chocolate, flowers and greetings. I think that this was a huge part of why I kept on going and it still is."
Empowered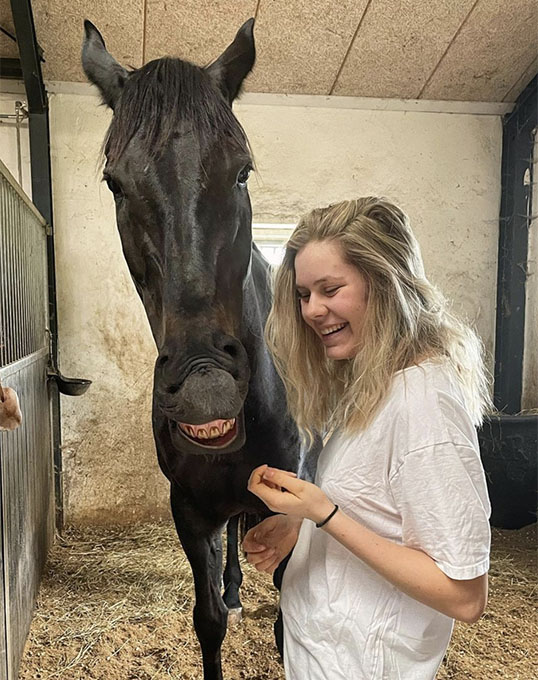 Maria feels empowered by her entire support system and will not let this adversity undermine her goals for the future. 
"I have a lot of dreams for 2022, but for now my plan is to work my way back in the competition arena and show myself that I can get back in top shape even with a major set-back like this," she concluded. "Where that takes me, only time will tell, but everything is possible."
The Danish equestrian federation and team trainer Dennis Fisker expressed their belief in Maria by submitting her to the YR-squad for 2022.
Photos © Astrid Appels - private
Related Links
Danish Youth Squads for 2022 Announced
Van Peperstraten Secures Dutch Team Gold at 2020 European Young Riders Championships
Danish Teams for 2020 European Youth Championships Announced
Yde Helgstrand and Rørbæk Silfen Win 2019 Danish Junior/Young Riders Championships
Andersen and Henriksen Win Gold at 2017 Danish Junior/Young Riders Championships