Podcasts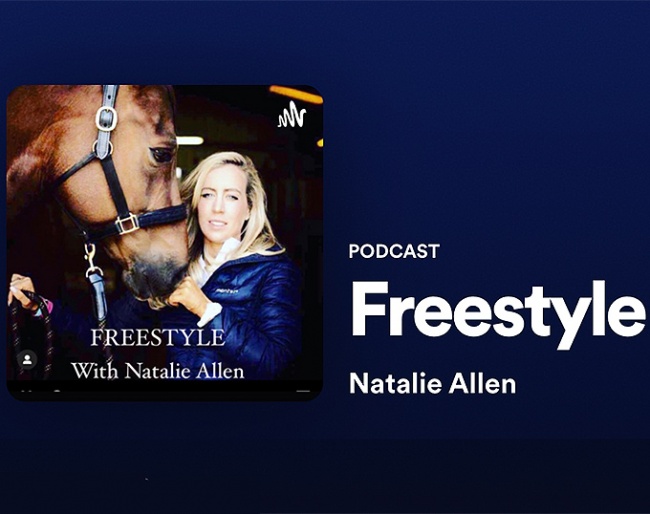 British international dressage rider Natalie Allen has launched her own podcast series titled "Freestyle by Natalie Allen." Her latest podcast, sponsored by NAF, features none other than 2021 European reserve champion and Danish Olympic team rider Cathrine Dufour. 
Dufour follows in a succession of numerous internationally renowned dressage riders, including Olympic champion Jessica von Bredow-Werndl, that have  shared their journey talking open heartedly to Allen.
Natalie Allen
Natalie Allen is a former British youth team rider who piloted DHI Langar at the 2003 European Pony Championships and Rapino at the 2005 European Junior Riders Championships. In 2007 she took over the ride on Jessica von Bredow-Werndl's Under 25 ride Duke. In 2015 she campaigned Casual (by Carano x Midt West Ibi Light) at international shows in Europe.
Allen is excited about having more action time in the competition arena next year. She wants to debut her 12-year old Fichellio at Grand Prix level, having trained him since he was 3. She will also be moving the licensed stallion Diamond Cut (by Diamond Hit x Wolkenstein II) up to small tour level and 7-year old Johnnie Walker BH to Advanced Medium level. Her diamond in the rough to be polished for the future is the 4-year old NRPS licensed stallion Montgomery C (by Johnson x Ferro)  which she will carefully produce along the way. 
Allen runs her own private dressage yard in Stratford-Upon-Avon and trains with Carl Hester.
Podcast "Freestyle by Natalie Allen"
During the corona lockdown in 2020, Natalie got inspired to produce her own equestrian oriented podcast with a particular focus on dressage.
"I was listening to lots of non-equestrian podcasts and wondered if I could try my own podcast within dressage," Natalie told Eurodressage. "I know lots of riders and each rider has a unique and interesting story to share, so I thought, why not?!"
Her series of podcasts, which are available on Spotify, iTunes and Anchor, include interviews with Olympic and celebrity riders that talk about their journey to the top. Allen finds out what motivates them and shares their unique and individual stories with the world.
The podcast series includes interviews with Jessica Bredow-Werndl, Marlies van Baalen, Laura Tomlinson, Michael Eilberg, Charlie Hutton, Judy Reynolds, Jacqueline Brooks, Lara Butler, Sophie Wells, Amy Woodhead, Ryan Shannon, Isobel Wessels, as well as veterinary dental specialist Chris Pearce, and Tom Hunt, the dressage to music composer.
"Jessica Bredow-Werndl has agreed to do another episode focusing on her recent Olympic and European gold medal success," Allen added.
Latest Episode: Cathrine Dufour
The latest episode in the series features Danish Olympic rider Cathrine Dufour.
"We have a light-hearted chat about her rise to the top on Cassidy," said Natalie. "It's a fun episode. Cathrine also agreed to do another episode in the future which is exciting my plan is to follow up on some of the riders."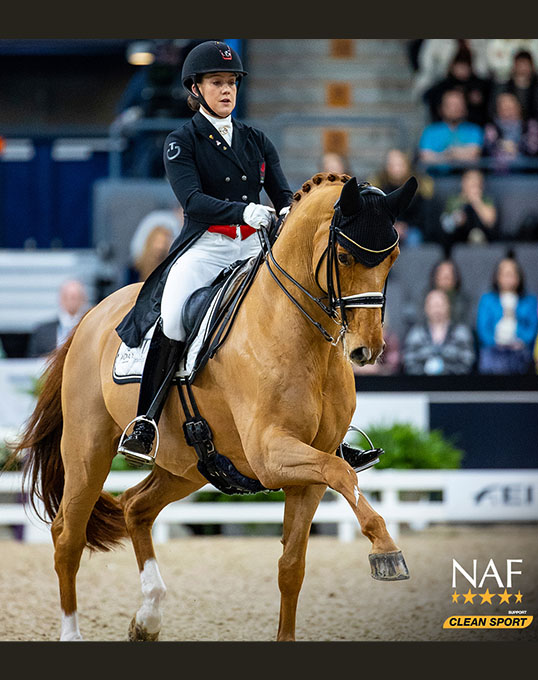 Next riders in the pipeline are Dutch young horse specialist Kirsten Brouwer and Olympian Ashley Holzer. 
"There are a few other people that I can't quite reveal as yet," she said cheekily. "These are friendly, entertaining and informative conversations focused on the individual journey. Great to listen to while driving, at the gym and whilst running, etc."
Sponsored by NAF
Natalie is excited to say that her latest episode is sponsored by NAF. Alongside being passionate about the sport of dressage, Dufour and Allen are both part of NAF's team of supported riders. 
"Cathrine and Natalie both have the health of their horses at the forefront of their minds and this aligns with the NAF ethos that everything we do should be 'for the good of the horse'," said NAF brand manager Ellie Muskett.
"The partnership with NAF is key in helping the horses to perform at their very best of the world stage and the horses benefit from NAF's premium range of Five Star supplements and applications. All of the ingredients selected by NAF are done in compliance with the FEI guidelines for Clean Sport."
More information about Natalie Allen on Instagram, Podcasts on Spotify, or discover the range of products by NAF here. 
Related Links
British 2008 Under-21 Short Listed Riders Announced
McGivern's Walero Returns at 2008 CDI Addington
British Dressage Sponsors Its World Class Talent Riders
Woollen, Daley and Munday Win British Dressage's Talent Search
Former British Team Pony DHI Langar Passed Away
Scores: 2003 European Pony Championships
British Pony Team Announced for 2003 European Pony Championships