Trakehner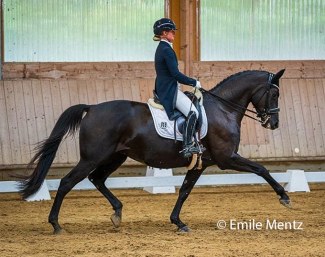 The young riding horses in the 2021 Trakehner auction of sport horses and foals sold for modest prices. Foal, on the other hand, went like hot cakes and the price highlight was an in utero foal. 
Twelve foals and six riding horses were presented at auction on Friday 15 October 2021. The auction was a hybrid format with online, phone and live bidding. 
Dalera Line
The top selling lot was an in utero foal by Imperio out of a SPS Dallenia (by Millennium x Handruk), who is closely related to Olympic champion Dalera BB: the granddam of the embryo is the dam of Dalera. For 60,000 euro this foal sold to a "stud near Munich".  Although the buyer's name is not disclosed, it would come as no surprise if Jessica von Bredow-Werndl's yard Aubenhausen near Munich or her sponsor Beatrice Burchler-Keller were the buyers.
The team of Aubenhausen with Jessica and Burchler-Keller was in Neumunster and highly celebrated there. Dalera BB's sire Easy Game was named Trakehner Stallion of the Year and Dalera's dam Dark Magic was named Trakehner Mare of the Year.
Fahenna, Top Selling Foal
Fahenna (by Integer) became the top selling foal in the collection, selling for 21,000 euro to Schleswig-Holstein.
Odin (by Kwahu) fetched 20,000 euro.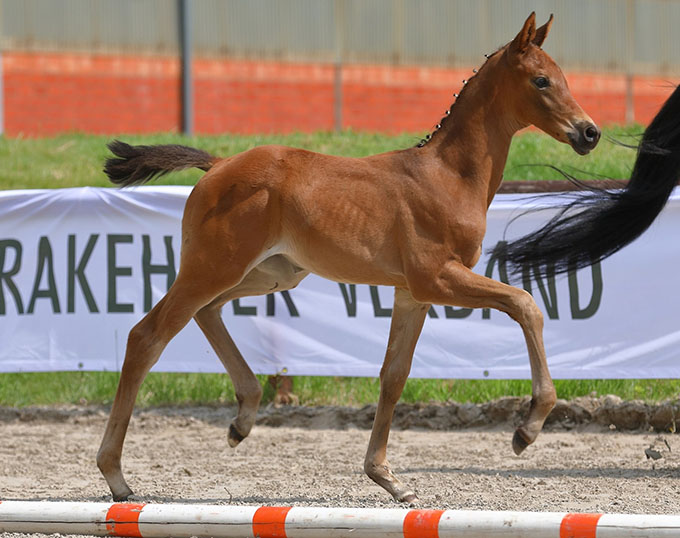 Two horses move to the U.S.A.: Danish Diamond (by His Moment) for 14,000 euro and Hier Bin Ich (by Bourani) for 8,000 euro. A Canadian bought Viva Espanja (by Zauberdeyk) for 9,000 euro. 
Instertreue (by Tempelhof) for 12,000 euro, Priamos (by Zauberdeyk) for 11,000 euro, Kalliope (by Freiherr von Stein) for 10,250 euro. 
Riding Horses
The six sport horses sold for for an average price of 27,416 euro. 
The most expensive riding horse was the 4-year old Donaunacht (by Helium x Redecker) which found a new owner for 31,500 euro.
Herbstgoldene (by Donaudichter) sold for 29,000 euro, Helis (by Eisfreund) for 28,000 euro, Magic Silver (by Hopkins) for 27,500 euro, Oka-Felizienne (by Scaglietti) for 27,000, and Krilon (by Sir Oliver) for 21,500 euro.
All horses will stay in Germany
Related Links
Danish Breeders Nissen Sell Three Price Highlights in 2020 Trakehner Mare and Foal Auction
Inzaghi and Iniesta, Price Highlights of 2018 Trakehner Foal Auction
Greenwich Park, Top Seller of 2018 Trakehner Sport Horse Auction
Instagram Top Seller at 2016 Trakehner Elite Foal Auction
Hopkins, Top Seller at 2014 Trakehner Sport Horse Auction
Standing O' Vation, Top Seller at the 2013 Trakehner Elite Sport Horse and Foal Auction
Herzrouge and Cote d'Azur Shine at 2012 Trakehner Mare and Dressage Championship