Klosterhof Medingen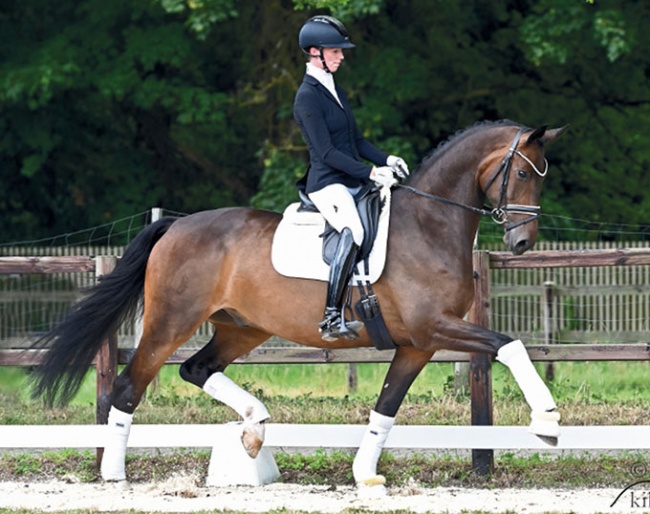 The Trakehner gelding Premier Cru became the price highlight of the 2021 Klosterhof Medingen auction on 18 September 2021.
Annual Auction for Loyal Clientele
The auction is organized annually by the Wahler family and caters to their loyal clientele with offspring, normally for their own breeding stallions, but this year there was a mixture.
The collection included 21 horses and 32 foals. The average price for a horse was 98,300 euro and for a foal 14,300 euro.
The majority of the horses sold regionally in north Germany, only three horses and four foals move abroad!
Seven Over 100,000 Euro
The 4-year old Premier Cru (by Helium x Le Rouge x Donaufischer) sold for 360,000 euro. Bred by Beate Heise, the bay was the reserve champion at the 2021 Trakehner Young Horse Championships in Munster, but did not compete at the Bundeschampionate. He sold to the north of Germany
The second most expensive horse was the 8-year old Sazou (by Sezuan x Brentano II), who fetched 250,00 euro.
The 2021 Bundeschampionate fifth placed finalist Quelindo (by Quantensprung x Werlindo) sold for 220,000 euro. He moves to Baden Wurttemberg. 
The 7-year old Charmeur (by Christ x Latimer) sold for 150,000 euro. 
The Oldenburg licensed stallion Garrett (by Glamourdale x Zonik) sold for 170,000 euro. 
Diaval (by De Niro x Furst Romancier) sold for 130,000 euro, Questico (by Quantensprung x Floriscount) stays in Hamburg for 100,000 euro. 
American buyers purchased Frida Kahlo (by Furst Fohlenhof x Spörcken) for 80,000 euro, Malik (by Morricone x Donnerhall) goes to Portugal for 40,000 euro, Quincy (by Quantensprung x De Niro) sold for 38,000 euro to Canada. 
In My Mind Foals Sell Like Hot Cakes
The most expensive foal was the Oldenburg registered filly Imperia (by In My Mind x Light and Easy), who sold for 38,000 euro.  She is bred by  Aloys Wieghaus. She's from the first crop of In My Mind (by Ibizi) who is owned by Helgstrand but leased to the Klosterhof.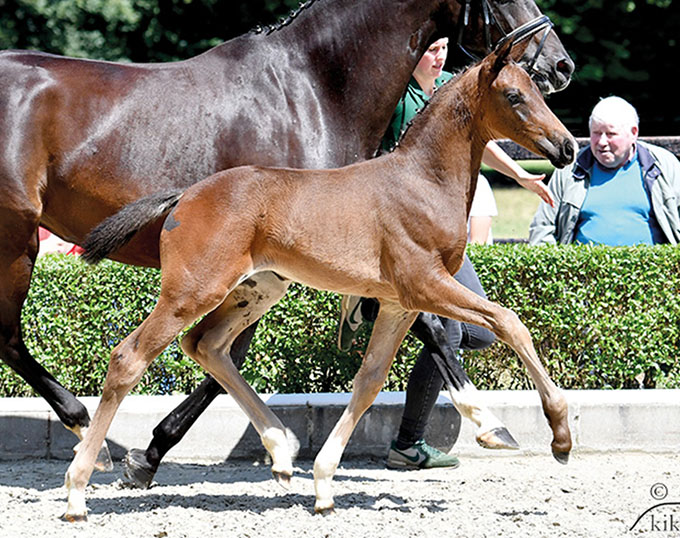 The In My Mind foals were selling like hot cakes at this auction: Inola (by In My Mind x De Niro) sold for 28,000 euro, Indiana Jones (by In My Mind x Desiderio) for 25,000 euro, Intello (by In My Mind x Danone) for 17,000 euro.
The second most expensive foal was Q-Neun (by Q-Sieben x De Niro), who found a  new owner for 35,000 euro.
Divo (by Danone x Rubin Royal) and Quality Time (by Q-Sieben x Dauphin) move to Australia for 15,000 and 12,000 euro, Valetta (by Va Pensiero x De Niro) and Victorian (by Va Pensiero x De Niro) to Costa Rica for 13,000 and 11,000 euro.
Photos © Kiki Beelitz