Opinions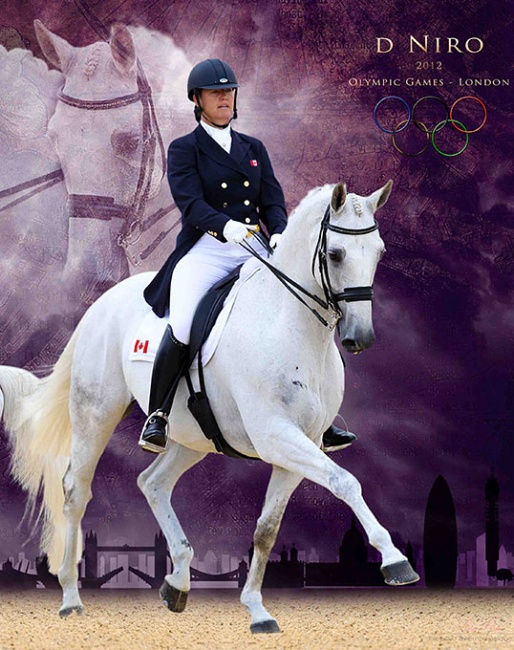 Jacqueline Brooks is a FEI dressage rider, having represented Canada at two Olympic Games (2008, 2012), two World Cup Finals (2007, 2013) and she won team silver at the Pan American Games (2003). She is a regular international competitor at CDI's in North America.  She was the inaugural recipient of the annual John Perry Memorial Award for outstanding sportsmanship.
In reaction to the news that the British Prime Minister and Culture Secretary have decided to provide £232 million to support Team GB athletes in preparing for the Paris 2024, Brooks shared the following thoughts:
Funding Begets Success
Funding is how nations support their potential medal winners achieve the results they are capable of! We have so many talented riders and horses. This is the answer to the question "why aren't we doing better on a global scale?" It's time to borrow this amazing funding idea and use our lotteries to fund Canadian dreams, not just those of the athletes', but also those of the proud citizens living the journeys with them here at home.
Exposure in Florida and Europe
Since dressage is not a mainstream sport in Canada, there is a lack of exposure to it. To see it really performed at the highest levels you have to at least be able to spend time in Florida. But to really be competitive on a world scale, you would have to be able to compete in Europe as well. This is where many Canadian dreams of Olympic glory are cut short.
Most Canadian Elite athlete's "funding" comes from their own equestrian coaching and training businesses, or for the lucky few, from someone with a genuine interest in the sport who has the financial means and desire to own top level horses. There is a direct consistency with the fact that those that are either able to bring their businesses to Florida, or are sponsored by those people who can afford to send their riders and horses, are the ones making the teams. It is proving very difficult to be able to stay in Canada and make a team. And for many that is their financial reality.
Funding Further Down the Line
Top riders are truly talented and there are some truly talented riders that have yet to reach the top. Funding would definitely help those riders because funding begets success. The money needs to be dispersed not exclusively at the top, but further down the line.
Any success has funding behind it. As it is just the lucky few that have resources that are able to gain the kind of success that begets funding for the rest. I would suggest that finding funding for all will increase our chances of success. Talented athletes are helped to reach the pinnacle of their potential with proper funding. Often we fall just short of the necessary coaching or competitions to really get to the top. Any help at that point would help.
Sending Athletes to Florida and Europe
Funding to allow more of our athletes opportunity to compete outside of Canada would directly result in more depth in our team selection. The funding for sending athletes to Europe would definitely directly translate to better results. This would be effective on many levels. Sending our up and coming athletes to major completions in Europe as spectators would change how they see the sport and their end goals. Sending current elite level riders on European tours to be able to compete with the sports best is the only way we are going to be able to lift out results to the next level.
Our current Olympic Team made the decision to keep their horses in Europe, after the Olympic Games in Tokyo, to compete in the Nations' Cup in Aachen, all at their own expenses. They decided that, with or without funding, this type of experience would be their best chance to move up to the next level. This is exactly where they need and deserve support. They are our current National Team and are representing our country as a team so it is frankly embarrassing our country isn't supporting them financially.
Olympic Lottery
When we choose a sport like Equestrianism, we do need to understand it will have to be primarily self-funded. However helping all Canadian elite athletes long enough before the Games to have an impact on our ability to win medals for our country can be nothing but a good thing. For Great Britain it appears to be working. The idea of bringing back an Olympic Lottery to allow people the choice to support or not support the athletes seems ideal, and oh so Canadian.
On 12 July 2021 the Canadian Olympic Foundation launched the "Team Canada 50/50", the first coast-to-coast-to-coast 50/50 raffle. Purchasing tickets for the Team Canada 50/50 is a way to support Canadian Olympians on their path to the podium. Net proceeds from each provincial raffle will be invested directly into the respective provincial and territorial sport system, helping athletes to pursue their Olympic dreams. Each winner will take home half of the final jackpot and the other half will be invested into the winner's province or territory. This is a great start but is a one time solution. Weekly lotteries are already part of our culture. Adding this option would generate continued income and give Canadians an ongoing option to support.
Support Wins Medals
However, I don't think this is exclusively a Canadian issue. I think for many countries struggling to crack the medal level you would see the same issues with exposure to competitions at the most elite level, and a lack of access to training at that level. The dream of being able to develop and compete at the highest level in your own country would be nice, but is unrealistic in a country such as Canada. We are such a large country geographically our riders are spread too far from each other. Using any available funding to bring them together would be much wiser spent sending them into more competitive environments such as Europe or Wellington.
The bottom line that currently in Canada, under the Own the Podium program, you win funding by earning medals, in my opinion, is flawed. Funding equals support, and support wins medals.
- by Jacqueline Brooks