Stallion at Stud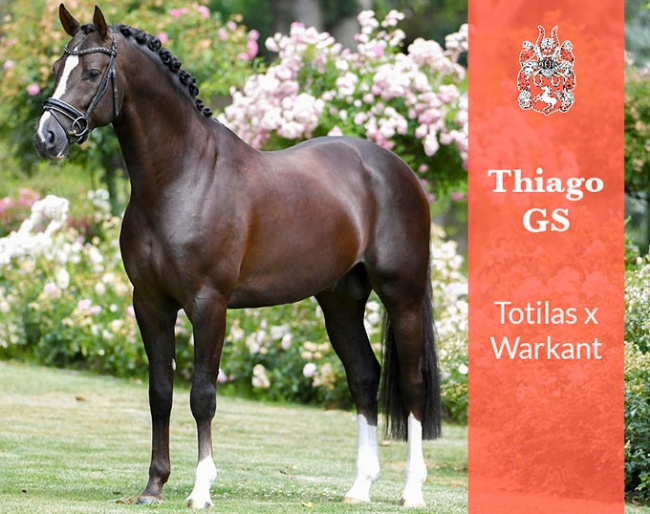 Name: Thiago GS
Breed: Oldenburger
Approved for DSP, Hanover, Oldenburg, Westphalia
Year of birth: 2013
Sire: Totilas
Dam: Elite mare Wahajama
Dam sire: Warkant
Height: 167 cm
Stud fee: 900€ incl. VAT (300 insemination fee/ 600€ gestation fee)
Thiago GS – a special stallion in every aspect. Not only because Gestüt Schafhof bred him themselves, but also particularly since they had a close relationship to both of his parents (Totilas – Wahajama-UNICEF), too.
Thiago is an athletic stallion with a wonderful character. He has an incredible attitude for the sport, an inspiring willingness to always portrait himself in the best possible way and he knows exactly how to put himself into the spotlight. It comes with no surprise, that he is 'the favourite one' to so many people.
Career
Thiago GS was licensed at the South German Riding Stallion Licensing in 2016, where he was named as the only premium stallion.
In 2017, he completed his 14-day performance test in Adelheidsdorf and the stallion sports test part I and II in Münster-Handorf with highest scores.
Thiago immediately won his first dressage horse ability competitions in 2018, he qualified for the Bundeschampionat of five-year-old dressage horses and finished second in the final qualifier in Warendorf. Meanwhile, he is placed several times at S-level with Matthias Alexander Rath and the family is excited for this year's season with him. Besides, who has had the joy to see him live, knows what we mean with 'putting himself into the spotlight'.
Offspring
Thiago GS presented his first offspring at the South German stallion licencing in January 2021 (Thiago GS x Donnerhall). His first offspring under the saddle are standing out due to their amazing rideability and their impressively shoulder freedom.
Bloodlines
Thiago was practically born with the high disposition for dressage sport due to his famous parents.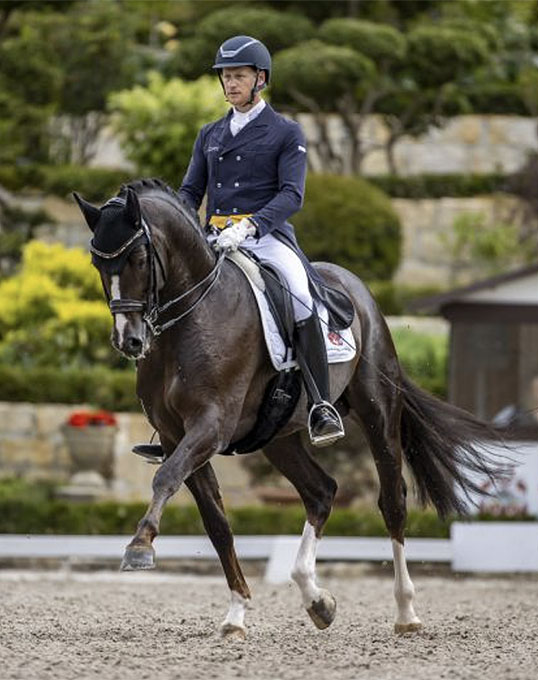 His legendary sire Totilas does not need any further introduction. He was double European Champion in Windsor in 2009, won three gold medals at the World Equestrian Games in Lexington in 2010 and set a series of world records.
His dam Wahajama-UNICEF was quite a legend for herself, too. She was one of the most successful international Grand Prix dressage horses of her generation with Ann-Kathrin Linsenhoff, winning more than EUR 100.000 in prize money. At the age of three, she was reserve champion at the Bundeschampionate, which she went on to win at the ages of four and five. She always expressed herself in an unbelievable way and had an extraordinary temperament combined with a strong character, which Thiago GS inherited.
Wahajama- UNICEF's sire Warkant (Hanoverian Stallion of the Year in 2002) has produced many exceptional dressage horses with collective winnings of more than one million euros.
No doubt, that Thiago GS is a fascinating stallion with a bright future ahead of him.
For more information, please visit Gestüt Schafhof on Facebook and Instagram or check out their new website on www.gestuet-schafhof.com
Contact info
Gestüt Schafhof
Schwalbacher Straße 1
61476 Kronberg i.Ts.
gestuet@schafhof.com
+49 (0) 6173 921614
www.gestuet-schafhof.com