Stallions at stud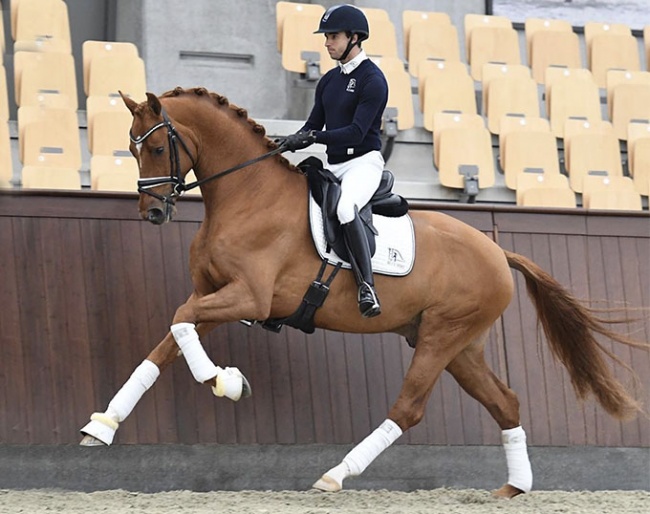 Blue Hors stud, one of Denmark's leading dressage stallion stations, is proud to present its 2021 stallion roster with several highly interesting new comers to the line-up. 
A young guard of licensed stallions is supporting the crew of proven Blue Hors sires such as Zack, Don Olymbrio, St. Schufro, and Farrell. 
Some of the spectacular new comers and young breeding stallions are
by Veneziano x Dimaggio x Sandro Hit
The bloodlines behind this very special boy combines the most impressive sons of the important stallions Vivaldi, Donnerhall and Sandro Hit. Stallions who have all proven themselves in both breeding and sport. And besides that, he is also quite handsome
Take a look at Valenzo's impressive canter! Two of these huge extended strides and he has already reached the end of the arena.
By Vivaldi x Sandro Hit x Brentano II
Viconte is the result of combining two of the strongest bloodlines of performance stallions in more recent history of dressage horse breeding. The combination of Vivaldi from The Netherlands and Sandro Hit from Germany makes Viconte a "Best of Both Worlds" stallion, bringing together the absolute top of breeding and sport. 
by Blue Hors Zack x Florencio x Donnerhall
"The special thing about Zackorado is that you can ride him full power one moment and then bring him down to a relaxed walk the next," said his rider Cristian Tudela. "He will do anything you ask him. He is so nice and so uncomplicated."
by Toto Jr x Turbo Magic x Flemmingh
"I expect that he will improve rideability and that his foals will inherit his good looks," said Blue Hors breeding director Martin Klavsen. "He has a lot of talent to pass on and he finds the collected work particularly easy. He will undoubtedly be good at it."
by Dream Boy x United x Jazz
A premium licensed stallion at the 2020 KWPN and Danish Warmblood Stallion Licensing. He stood out as the most powerful mover of the licensing. He possesses three very good gaits, and his powerful hindlegs places him in a league of his own and with a bright future. He was the second highest scorer in the performance test. 
by Gotcha-Utopua x Jazz x Flemmingh
Livius is a top modern stallion of exceptional quality and very interesting bloodlines. He has an amazing character, impressive movements and produced a very promising first crop of foals in 2020. 
by Sezuan x Blue Hors Romanov x Blue Hors Don Schufro
"He's a picture perfect stallion made from a mix of the very best bloodlines," said Klavsen. KWPN licensed and performance tested with a score of 87.5 points. Sired by the triple Young Horse World Champion Sezuan. He is the full brother to Dutch team horse Zonik. Santiano is very ridable and carries himself with tons of balance and talent. 
by For Romance II x Desperados x Wolken-Hit
"He is a stallion with a great deal of confidence. He is very uncomplicated and meers his tasks head on," said Klavsen. "He can eat and relax on the road as easily as at home. He is always in balance. The grooms love him, because he is so sweet and easy to handle."
Discover the full Blue Hors stallion roster at www.bluehors.dk