Hit & Run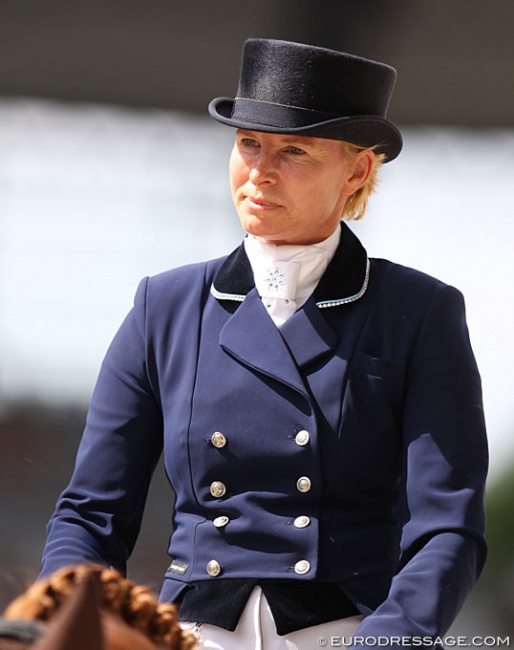 In corona times we are all ordered to stay at home, self quarantine, and do social distancing. With more time on your hands to spend online, Eurodressage launches a "Hit & Run" interview series so that you get to know the world's most famous dressage riders and personalities more closely. 
German Grand Prix rider Nadine Capellmann made her debut on the German senior Grand Prix team in 1997. Her career making horses were Gracioso, Farbenfroh and Elvis. She has competed at the European Championhips in 1997, 1999, 2001, 2007 (3x team gold, 1x team silver and 1 x individual bronze). She rode at the 2000 and 2008 Olympic Games (2x team gold), and at the 1998, 2000, 2006 World Equestrian Games (3 x team gold). With Farbenfroh she was the 2002 World Champion. Her current Grand Prix horse is the Ukrainian bred Forpost. 
Hit & Run - Nadine Capellmann
What is your earliest memory? 
Riding with my father, Kurt Capellmann.
Which person alive do you admire the most and why?
Isabell Werth. The way she can "read" horses, work on their weaknesses and play with their strengths is just awesome.
When were you the happiest?
At my wedding
What is your biggest fear?
I do my very best not to be afraid.
What was your first thought today?
What a beautiful blue sky!
What is your most annoying character trait?
I've gotten better recently, but I'm still always late.
Which trait do you dislike the most in other people?
Dishonesty
What is your dearest possession?
My home. It's my family home, and now the 3rd generation lives there with horses and dogs.
If you look into the future, what do you see?
A CHIO in 2021. Not only because I have a close personal connection with that show but also because the moment it can take place again will mean that we have found a way to deal with the Corona virus (and hopefully that we will have lots of new knowledge to deal with similar situations in the future).
What makes you unhappy?
People I cannot get along with.
What is the love of your life?
The people who are close to me.
What was the best choice you ever took in life?
Getting Farbenfroh.
What's your guilty pleasure?
When my dog, Lilly, wants to play ball, everything else must wait.
What do you owe your parents?
Everything. My home, my upbringing, my education, my beginnings as a rider.
Who can sit next to you at your dream dinner table?
The Mentalist.
What was the worst job you ever did?
I'm lucky enough not to have made such an experience.
What was your biggest disappointment in life?
I am a dressage rider. I don't get disappointed easily.
What would you change if you can go back into the past?
Nothing
Name one thing that would improve your quality of life?
I would love to be in a warm place in winter.
What is your biggest achievement?
Becoming double World Champion with Farbenfroh in Jerez in 2002.
What is the most important life lesson you have learnt?
To take nothing for granted - especially with horses; every new horse means a completely new beginning.
Where would you like to be right now? 
Where I am
What's your favourite scent?
The rose briars in my garden.
Which character would you dress up in for Halloween?
Halloween is not my cup of tea, I dont like to dress up.
To whom would you like to say sorry?
If I have to say sorry, I do it directly and in person.
What does love feel like for you?
Feeling perfectly safe with another person.
When are you most relaxed?
At home reading a book, or on the beach.
What super power would you like to have?
To end injustice and inequality.
When did you last cry, and why?
The police and firefighters in Aachen recorded a song early in the Corona crisis to give people hope. They'd drive through the streets with loudspeaker trucks and play that song. The song was "Und immer wieder geht die Sonne auf", originally by Udo Jürgens. That song was part of my freestyle with Farbenfroh. I was out grazing with a horse when I first heard it sounding through the hills that surround our farm. I was so moved ... and all the horses were listening, too.
When were you closest to death?
In a car accident.
How do you want to be remembered?
As a good friend, a good mother, a good horse woman.
Related Links
Nadine Capellmann, Dancing with her Horses at Home
Girasol Sold to Nadine Capellmann
Nadine Capellmann is a Mom
Nadine Capellmann Retires Elvis from Competition
Nadine Capellmann and Jurgen Koschel Part Ways
Frank Mohr's Lancelott Sold to Nadine Capellmann
Elvis and Nadine Capellmann Shake Up 2006 CDIO Aachen
Martin Schaudt No Longer Training Nadine Capellmann
Nadine Capellmann's Gracioso Passed Away
Nadine Capellmann, World Champion Dressage
Capellmann and Husenbeth, 2002 German Dressage Champions