Hof Kasselmann Online Auction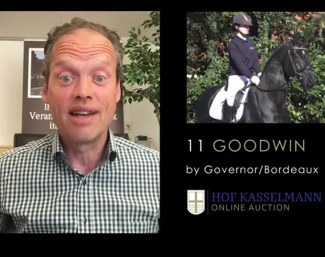 Hof Kasselmann's Online Auction boasts a collection of 12 carefully selected young dressage horses. Check out the collection and get read to bid as the auction starts on 21 May 2020.
This is a unique opportunity to buy a diamond in the rough and develop it into a future Grand Prix star!
The auction commences on 21 May 2020 at 07:00 am (CET) and concludes on 23 May 2020 from 03:00 pm (CET). 
Visit https://www.hofkasselmann-auction.com
Auction Horse in the Spotlight: Goodwin
by Governor x Bordeaux
Of course the outstanding dressage bloodlines of Totilas are not missing from our Online Auction Collection. Here we are presenting his grandson Goodwin, sired by Governor x Bordeaux x Donnerhall x Erbherzog. His grand-dam is the Grand Prix horse, Donnerfee. Annika shows this black stallion under saddle.
Auction Horse in the Spotlight: Faisal
by Furst Jazz x Diamond Hit
The three-year-old stallion Faisal represents the famous bloodline of Fürst Romancier out of the first year of Fürst Jazz. His dam Loxandra (Diamond Hit x Argentinus) is a proven producer, having already foaled three licensed stallions.
Customer Service is Key
The online market is constantly evolving. Nevertheless, we would like to assist you, as usual, personally with advice and guidance when choosing your ideal sports partner. 
Feel free to contact our sales team by phone, WhatsApp, FaceTime or Skype and let yourself be introduced to your preferred candidate. We would be happy to give you an insight into our everyday situations: tacking up, walking in hand or into a live training sessions. 
All auction horses have been examined clinically and X‑rayed by Dr. Steinmann, Pferdeklinik Mühlen. We will be happy to send them to you on request!
We also provide our proven After-Sales-Service following the auction, which includes the organisation of horse transport world-wide; the insurance covering the entire purchase price; the comprehensive veterinary documentation; and if required, the ongoing training of the horse or the new horse and rider combination by one of our highly qualified instructors.
Auction Timing
The start of the auction is May 21st, 2020, 07:00 a.m. (CET). The auction will expire on May 23rd, 2020 from 3 p.m. (CET). 
If you have any questions about the individual horses or would like additional information, please do not hesitate to contact us: 
Francois Kasselmann 
Phone: + 49 (0) 171 – 496 986 5 
Email: f.kasselmann@psi-sporthorses.de 
Ullrich Kasselmann 
Phone: +49 (0) 171 – 412 375 5 
Email: Info@psi-sporthorses.de 
Register today on the Hof Kasselmann Online Auction page and create an active profile. 
All further information about the Hof Kasselmann Online Auction can be found here: www.hofkasselmann-auction.com.