Guess Who!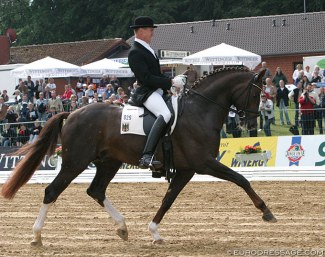 Eurodressage posted a quiz "Guess the Grand Prix Horse" on its Instagram Stories account on Saturday 25 April 2020 and it was a massive success. 
Ten photos of young horses competing at the 2004 World Championships for Young Dressage Horses in Verden were posted and a multiple choice was given with the names of Grand Prix horses. Readers had to guess which youngster was a future Grand Prix horse. 
The quiz was very popular and many followers gave it a try. Although we did not check all results, we noticed straight away one person scoring 10/10: Dutch Grand Prix rider Hans Peter Minderhoud!
Hans Peter was at the 2004 World Championships himself competing Florencio and they won gold. We didn't feature his horse (as Florencio never made it to Grand Prix) and we didn't want to make it that easy, but Minderhoud clearly recognized his competitors at that show 16 years ago !
Here is a photo gallery of the other 9 horses we featured in the quiz. 
By the way, might be nice to re-read this article:
Do the World Young Horse Championships Lead to Grand Prix Success? Yes!
Photos © Astrid Appels - No reproduction allowed