TV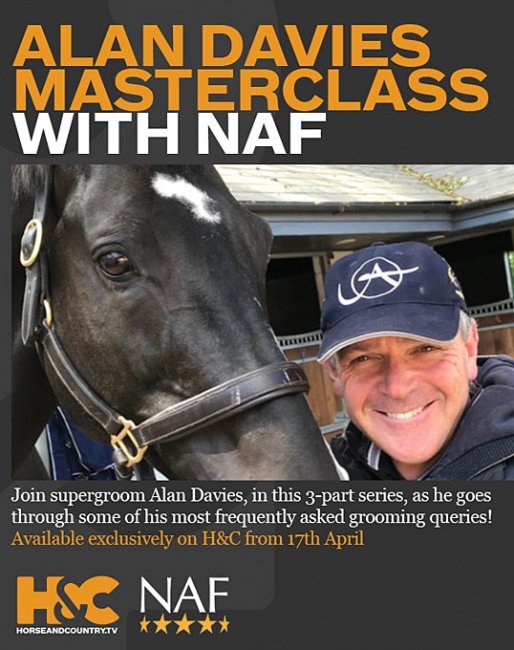 Super groom, Alan Davies, provides a new and insightful view into his life as one of the most well-known grooms in the world, in a new three-part series from Horse & Country.
Well known for many years as groom for Carl Hester and Charlotte Dujardin's horses, he has a wealth of knowledge to pass on and in – Alan Davies Masterclass with NAF – Alan offers practical advice in answer to viewers' questions.
Many know Alan's charge, the legendary Valegro, and he also gives a brief insight into how he made sure Valegro not only looked his best but was also fit and healthy ready to compete at the highest level.
Horse & Country Exclusive
Exclusive to Horse & Country, each episode is packed with top tips, advice and guidance from Alan as he passes on his vast experience and skill.
In Episode 1, Alan meets Utopia at home, the stallion that Carl rode at the London 2012 Olympics as part of the gold medal winning British team. He also chats about the importance of a consistent feeding routine, individual horse's diets, and the benefits of forage - as both a fibre provider and to keep horses content and relaxed when in the stable.
In Episode 2, Alan talks to the Horse & Country team about the main man – Valegro – who is still a star of the stable yard and the horse that helped to make the sport of dressage what it is today. During this second instalment, Alan also focuses on the art of mane pulling and plaiting for competitions. He is highly regarded for his fantastic turn-out skills and having the team's horses looking immaculate as they head into the arena.
The third and final part of the series will see Alan discuss the difference between grooming when the horses are at home, and the changes and additions he makes when heading to a competition. Viewers are also shown how to correctly wash off and cool a horse down after exercise.
First Episode Airs 17 April 2020
Produced by Jenny Rudall, this new and exclusive series from Horse & Country is sure to prove both entertaining and educational.
Episode 1 airs from April 17th with a weekly episode released on H&C Plus. Episode 1 is also available on H&C Free, for viewers without a subscription, from April 17th.
Visit www.horseandcountry.tv to subscribe.