Bits 'n Pieces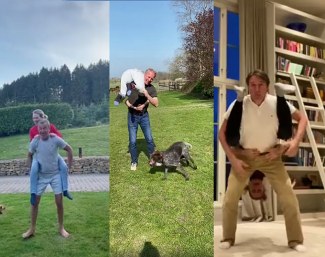 With the majority of Europe on lockdown because of the Corona crisis, a new social media couple challenge,, called #koalachallenge, has gone "viral" and has hit the dressage world.
With plenty of time for some fun, couples gets intimate in this challenge that also makes you crack up laughing!
Testing strength from one partner and flexibility from the other, this couple challenge involves some twisting and turning into three poses without being dropped to the floor. 
Check out some well known dressage riders trying it out!
Swedish Tinne Vilhelmson and her husband Jan Silfven said that  "even older couples can do this" and they certainly make it work with ease:
German dressage young horse couple Ulf and Eva Möller complete the mission while providing some comic relief:
German stallion owner Ingo Pape and his wife, British Grand Prix rider Susan Pape, accepted the challenge:
German horse dealer Fabian Schulze and his partner, Carina Bachmann, succeeded as well, talking their way through it :
Beatrice Buchwald  and her partner Jens Hoffrogge also gave it a go:
Good job from Christoph Koschel and his wife Patricia who complete the Koala challenge even though she kicks him in the nose in the process:
Victoria Max-Theurer and her partner Stefan Lehfellner add a fun tune to the challenge: 
Andreas Helgstrand and his wife Marianne smoothly accomplish the task:
Andreas and Marianne do the Koala Challenge twice and take it to the next level!!
German Grand Prix rider Lisa Müller and her husband, German national team soccer player Thomas Müller, joined the Challenge:
Steffi Wiegard, Isabell Werth's long-time show groom, also gave it a try but laughs are preventing her from achieving the mission:
More dressage riders completed the challenge, but their videos are not set to be embedded on a website.  Sandra Kötter and Andreas Senge posted their challenge here and Michael Klimke also succeeded in twisting and turning his wife Rebecca. Holga Finken and Saskie Lieben-Seutter cheated only a little bit at the end ;) We also loved Borja Carrascosa and Alexander Brenninkmeijer's attempt!
You Accept the Challenge?
Eurodressage challenges its readers to give it a try as well. Post your videos on our Facebook page in the comment section here. 
#lockdownlol  #koalachallenge