Bits 'n Pieces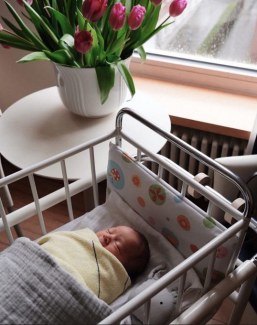 German based Russian FEI rider Alena Starr and her husband Alex Lukyanchuk welcomed their first child, a baby girl named Kristina, on 2 March 2020. Starr gave birth to the girl at the St. Franziskus clinic in Münster, Germany. The couple runs W Stables in Riesenbeck, Germany. Alena's top horse is Foreign Affair which she has been competing at international small tour level. Her last CDI was in Cappeln in July 2019.
Anna Nolte of Hofgut Rosenau has sent her 9-year old stallion Gotcha Utopia (by Ziesto x Uphill x Darlington) back to Holland. The KWPN stallion moved to Germany in 2015 as Nolte's future hope, but ended up competing in just two classes, an L-level test in June 2016 and an M-level test in October 2017. The stallion had not sold to Nolte, but it was a collaboration between the Dutch stallion owner Van Norel and Nolte. 
The Austrian horse family Jöbstl has added yet another pony to their collection. They purchased the 12-year old FEI Dressage pony Wilky May (by White Gold B x FS Giacomo). The pony is bred by Astrid Scholz, and has had a series of riders, starting with Eva-Maria and Florian Tüpker in 2011, Carolin Schrader in 2014, Inga Gigodot in 2015, Lucie-Anouk Baumgurtel in 2015 and 2016, Ann Kathrin Voss in 2017 and in 2018 and 2019 he was a pony for Ariane Gröning. The pony will now continue his career in Austria with Fanny and Florentina Jöbstl.
Belgian stallion owner and breeder Rob van Puijenbroek has lost his 6-year old J'aime Chagall (by Chagall x Ampere). In the morning of 28 March 2020, the chestnut  passed away while he was playing in his paddock, most likely from an aneurysm.  "From a playfull, happy and energetic horse to passing away in only 10 minutes. We can't believe he's not with us anymore," said a saddened Van Puijenbroek.
German Under 25 team trainer Sebastian Heinze and his wife Lena Marie became first time parents of a baby boy named Phil. The couple got married in 2018. Lena Marie is a show jumping rider.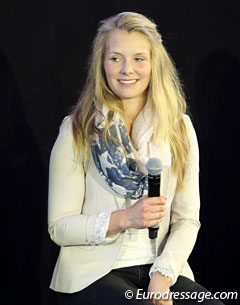 German professional young horse rider Sina Aringer has accepted a job of assistant trainer at Eva Möller's yard Sudenhof in Hagen, Germany, as part of the Helgstrand team. Aringer was previously working at Stefan Borgmann's breeding and training facility in Ostbevern, combining it half time since November 2018 with her own business in Warendorf. Aringer, who gave birth to a baby in May 2019 and had almost a year off being a mum, returned to riding recently. "Now since this month i am working half time for them and half day for myself at home," Aringer told Eurodressage. "So it's just a fresh start and I'm really happy to be there." Aringer (28) started as a professional at Hof Kasselmann.
Former German international young rider Ella-Alea Maulhardt has joined the team of Sabine Rueben, who heads the dressage training at Gestut Sprehe. Maulhardt had a brief career as an international young rider; showing Don Gasparo at the CDI's in Saumur and Moorsele in 2013. 
The corona crisis has a firm grip over the entire world, but it has also brought the best out in man. ANCCE, the Spanish PRE studbook association, offered the use of its Genetic Molecular Laboratory and coronavirus detection equipment to the authorities of Spain. "In keeping with the measures adopted to manage the State of Alarm, and to guarantee that the National Healthcare System has all access to all of the goods and services available in Spain to successfully battle against the coronavirus, ANCCE has made its Genetic Molecular Laboratory available to healthcare services for the detection of the SARS-Cove-2 virus, which causes the COVED-19 infection. Our goal is to bring together resources in the light of the healthcare crisis generated by this coronavirus. The current situation of emergency requires additional efforts on behalf of us all. Undoubtedly, it is our obligation to contribute to the extent of our possibilities. We must come together and make our resources available to the authorities to help stop the coronavirus pandemic."