Spain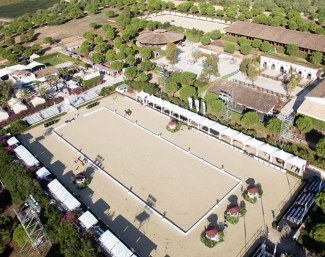 Finca es Fangar, a 1000 hectare estate in Mallorca, Spain, has been put up for sale by German-Swiss entrepreneur Peter Eisenmann. The asking price is a reported 100 million euro. 
Es Fangar is in Felanitx, Mallorca, and comprises a top notch equestrian centre as well as a vineyard and has been home to the three CDI's in 2015 and 2016. 
Es Fangar
The Gstaad (SUI) based Peter Eisenmann purchased the property in 2002 from Spaniard Pedro J. Bonín for 13.8 million euro. He renovated the property thoroughly.
In 2008 a legal battle took place between Eisenmann and his neighbours because the entire estate was fenced off, barring entry to public roads. Annually the locals would hold a march to obtain passage rights on these roads. The fight dragged on for eight years, according to the Mallorca Newspaper. Two years ago 8 million euro was invested into developing the winery. 
The sale of the property follows the bankruptcy of Eisenmann SE in July 2019 to facilitate "strategic restructuring." Eisenmann SE is a manufactory for paint shops in the car business in Solingen, Germany, and has 27 branches in 15 countries,  employing over 3000 people. The difficulties began in 2016 when a US client went bankrupt and a Chinese takeover fell through in 2017. Eisenmann also collaborates with Tesla for its paint shop.
The 77-year old Eisenmann is no longer actively involved in the corporation that his family founded almost 70 years ago. With his wife Sabine, he has one son David and three daughters, Alexandra von Krauland, Countess Katharina Dijon von Monteton, and his dressage loving youngest, Franziska Eisenmann, who is married to Matthias Alexander Rath, step son of German millionaire Ann-Kathrin Linsenhoff. 
The CDI Mallorca was an exquisitely run 5 * international dressage competition which was attended by famous riders such as Isabell Werth, . The planned editions in 2017 and 2018 were cancelled due to conflicting dates with other FEI sanctioned events.
Related Links
Balearen Tour Canceled for 2018
The 2016 Balearen Tour in Mallorca: a Shooting 5* CDI Event in the Dressage Firmament
2015 CDI Mallorca: Champagne and World Class Facilities - Dressage Meets Dancing With the Stars
2015 CDI Mallorca: The Winner Takes It All
Mallorca, the New Paradise with a CDI4* Invitational
The Countdown is on for Another Show in Spain: the CDI4* Invitational in Mallorca Tops it All