Hanoverian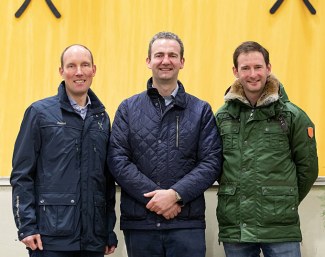 The Hanoverian breed society announced today, 5 February 2020, that it has lifted the suspension on auctioneer Bernd Hickert. He will return to duty at the next Spring Elite Auction on 17 - 18 April 2020.
Hickert got suspended by the Hanoverian society after some upheaval over not accepting/seeing a bid from Paul Schockemöhle/Andreas Helgstrand for the newly approved Confess Color at the 2019 Hanoverian Stallion Licensing Auction. The stallion ended up being sold to Rebecca Gutmann of Gestut Bonhomme in Werder, Germany, for 1.89 million euro.
"Schockstrand" issued a statement on the turn of events following the auction to which the Hanoverian society replied with their own statement. In November they temporarily suspended Hickert while they would internally review the situation.
A video of the lowdown of the bidding process on Confess Color has been removed from Youtube. 
Today the Hanoverian Society announced the reinstatement of Hickert. 
"We want to stick to the system with two auctioneers and have continued to express our confidence in Bernd Hickert's work," said chairman Hans Henning von der Decken. "The Hannoveraner Verband will continue to organise successful auctions on this basis and Bernd Hickert will auction together with Frederik De Backer as usual."
Hickert commented that, "I am aware that the Hannoveraner Verband had to bear a great burden after the aforementioned auction. I would have preferred to spare the association this. I am all the more grateful for the trust and am pleased that we are now continuing together again. I wanted to do very well at the auction - but for a moment I lost my usual style."
At the Verden Auctions in November and January Johann Harms had taken over the management of the auctions alongside Belgian Frederik De Backer.
"The Hannoveraner Verband would like to thank him for his spontaneous acceptance and problem-free cooperation. We would also like to thank Frederik De Backer for bridging the break of his colleague with us and for auctioning the large collections on his own," says Wilken Treu, Managing Director of the Hannoveraner Verband.
Related Links
Bernd Hickert Suspended as Auctioneer of the Hanoverian Society
Hanoverian Society Takes Position on Sale of Confess Color
Statement from Schockemöhle/Helgstrand on the Sale of Confess Color
Von und Zu Crowd Favourite, Confess Color Sells for 1,890,000 euro at 2019 Hanoverian Licensing