Australia
The sale of Grand Prix horse Scolari in September might not have meddled with Simone Pearce's 2020 Olympic team campaign after all.
The German based Australian has declared with FEI co-ownership of two horses - Denightron and Destano - before the FEI Olympic ownership deadline of 15 January 2020.
Shruti Vora's Olympic Dream
Denightron is a 14-year old Danish warmblood gelding by De Noir x Don Schufro.
Owned and trained in India by Shruti Vora, Denightron was discovered by the Mumbai based amateur rider at Per Skjaerbaek's Priess Stutteri in Denmark. The new pair started competing in Europe in 2018 at small tour level.
In an attempt to qualify as an individual for Olympic Group G (South East Asia, Oceania), Vora moved to Germany and rented boxes at Tecklenborg yard in Appelhulsen, Patrik Kittel's former base. 
She started as a complete amateur on an amateur horse - neither having ever ridden Grand Prix - in a brave Olympic campaign of scoring points for the Olympic Dressage List from which individual riders would be picked for Tokyo.
Shruti and Denightron jumped to Grand Prix level in April 2019 and competed actively at no less than 13 CDI's in an 8-month time period. She rode at Ebreichsdorf, Wiener Neustadt, Mariakalnok, Achleiten, Fritzens, Cappeln, Verden, Donaueschingen, Ornago, Fot, Oldenburg, Randboel and Stuttgart.
While her scores improved during the summer and autumn, they were not enough to write history for India as an Tokyo qualified individual.
Olympic Dream Passed on to Pearce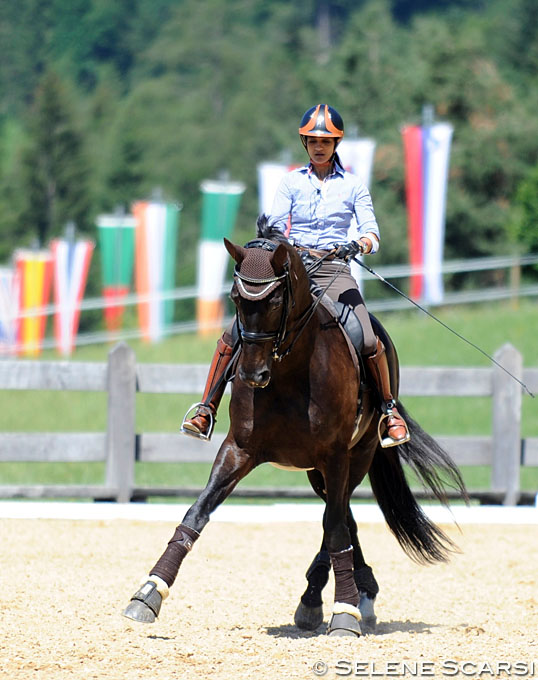 Vora ended her Olympic effort at the beginning of December and returned home to India to rejoin her family. The horse stayed in Germany with Simone Pearce and already then the rumour went that the Danish gelding would become Pearce's Olympic team hopeful.
Eurodressage asked Vora about her plans with the horse in December. At the time she denied any Olympic aspirations: "Denightron is simply in Simone's care as I have had to go back to India." She also referred to it as "a short term solution."  Pearce told Eurodressage, "from my perspective I don't have any real plan to qualify for the Olympics at this point."
However one month later the collaboration has made a 180 ° turn and had a change of heart: the Olympics might be the dream after all.  Simone Pearce became listed on paper as a co-owner of Denightron on10 January 2020. The FEI rule on Olympic horse ownership reads: "Only Horses owned by Owner(s) having the same nationality of the Athlete (i.e. not leased horses) can participate at Tokyo 2020. The Owner of the Horse and its nationality must be entered in the FEI Database by 15 January 2020."
On 18 January 201, Shruti Vora told Eurodressage: "f I couldn't get that seat, I will be proud if an Indian horse makes it. That's history enough for the sport. (The) option is still open though."
Destano from Hagman to Pearce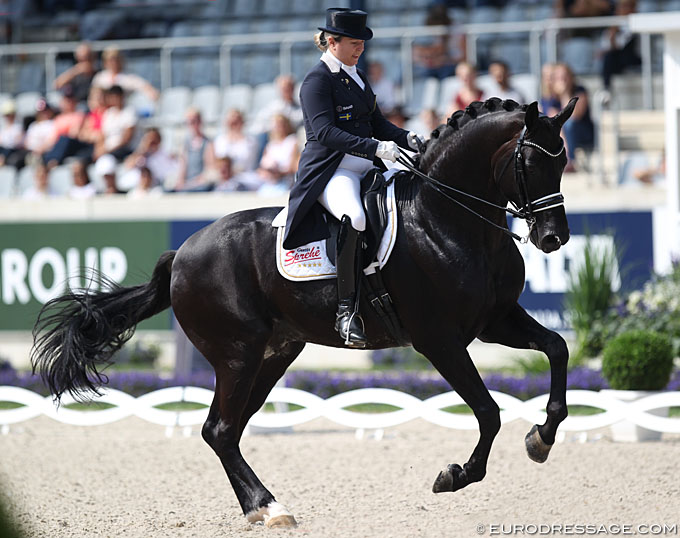 Simone Pearce might also have a second iron in the fire for her Australian Olympic team selection campaign: Destano.
Destano is a 13-year old Hanoverian licensed stallion by Desperados x Brentano II. He is owned by Pearce's employer Gestut Sprehe.  On 9 January 2020 the FEI registered co-ownership by Pearce on paper in the FEI database. 
Destano made his international Grand Prix debut in June 2019 under Swedish Michelle Hagman-Hassink, who also works at Gestut Sprehe. 
Hagman and Destano have competed at the CDI's in Kronenberg, Aachen and Oldenburg with upper sixty and lower 70 percentage scores. 
"Simone will start to compete him soon and we are happy that it's going well so far," said Sabine Rueben, who heads the dressage performance stable of Gestut Sprehe. "But being humble and waiting how it's going in the show ring and then taking decisions is the plan. To keep the chance alive to qualify we decided to do this ownership thing."
Photos © Petra Kerschbaum - Selene Scarsi - Astrid Appels
Related Links
Grand Prix Horse Scolari Sold to Japan
FEI Sends Out Reminder for Olympic NOC Certificate of Capability and Horse Ownership
Destano, 2011 Oldenburg Hauptpremium Winner
Michelle Hagman Relocates to Gestut Sprehe, To Ride Millennium
Simone Pearce Injured in Riding Accident
Simone Pearce Sells Wladimir O.A. to the U.S.A.