2019 PSI Auction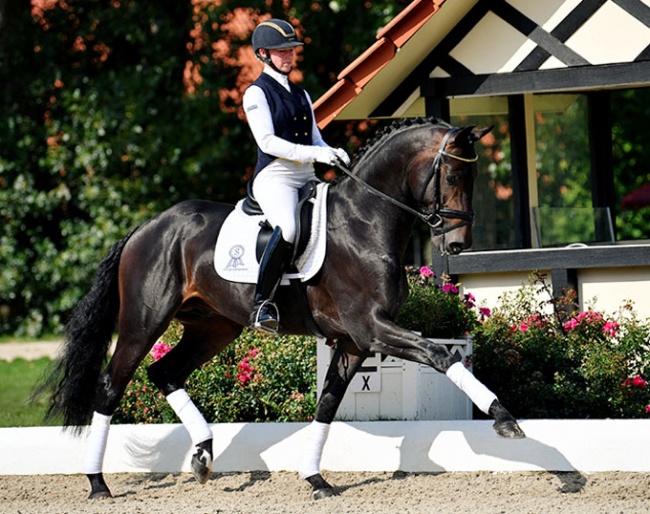 The Oldenburg Licensing Champion Morricone (by Millennium x Rubin Royal) is making himself heard of with several sons getting recognized as premium stallions at the Licensings in Oldenburg and Westfalen. 
Yesterday a Morricone x Just Perfect became a premium stallion and sold for 165,000 euro at the Westfalian Licensing. One week ago a Morricone x San Amour got premium at the Oldenburg Licensing and sold at auction for 120,000 euro to renowned stallion owner Gerd Sosath.
Ullrich Kasselmann and Paul Schockemöhle know which bloodlines will be coveted by dressage and breeding enthusiasts and it is no accident that there is a Morricone son in the collection for the 2019 PSI Auction on 9 December 2019.
Auction Horse in the Spotlight: Mentalist
Mentalist is by Morricone out of Marchessa (by Furst Romancier x Sevillano xx)
At only three years of age, Mentalist has a relaxed disposition, is easy to handle and copes well with an electric show environment as he has already placed at the 2019 Oldenburg Young Horse Championships in Rastede in the 3-year old stallion class. 
Though Mentalist still has a lot of maturing ahead of him, PSI is confident that this eager student will capture your attention and heart. He is sure to read your mind.
This long-legged bay stallion with an outstanding, supple canter with a clear 3 beat rhythm and scope. He has massive ground cover in walk, not losing clarity in rhythm and in trot he is elegant and sure footed
This is a clear star for the future. 
Discover the 2019 PSI Auction collection
Discover the complete collection of outstanding young dressage and jumping horses at www.psi-auktion.de
For enquiries and further information please do not hesitate to contact us: 
- Ullrich Kasselmann (+49 5401 89 200)
- Francois Kasselmann (+49 171 496 98 65)
- Insa Hansen (+ 49 172 455 62 16)
- Hartmut Lammers (+49 175 650 55 80)
- Ulrich Henschke (+49 171 704 04 77)
Follow PSI on Facebook and Instagram and explore the latest news around this year's collection of dressage and show jumping horses.