Oldenburg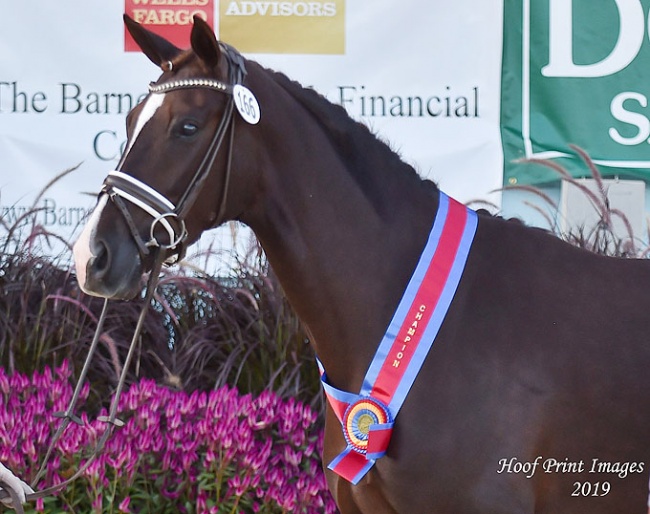 The 3-year old Danish warmblood mare Gjenganger became the Grand Champion of the 2019 Devon Breed Show on Thursday 26 September 2019.
Devon hosts one of the biggest annual sport horse breeding shows in the U.S.A. and takes place over three days before the international dressage competition in Devon, PA, U.S.A.
The Devon breed show takes three days and includes breed classes but also under saddle materiale classes. The horses are divided into classes by breed, but also by age.
The Grand Championship is the culmination of the show, bringing together the champion and reserve champions of the two biggest classes: The Young Horse and Mature Horse Championship.
Mature Horses in the Spotlight
The Stallion Championship featured three stallions and was won by the Oldenburg bred Floristdanzo 121 (by Floriscount x Sir Donnerhall II). He's bred and owned in the U.S.A by Cara Kettenbach. Martha Mitchell's 4-year old Trakehner Bel Esprit (by Schiffon x Maizauber) was the runner-up and Anne Sparks' 4-year old Hanoverian Party Line HU (by Pik L x Leonberg) placed third. 
The Mare Championship featured six pairs and was won by the 10-year old Hanoverian Scantolina (by Scolari x Weltmeyer), owned by Quinnten Alston and Jonathan Clark, and bred by Jan-Peter Hartlef. The runner-up was the 10-year old Hanoverian Sophistokate (by Scolari x Rotspon), owned by Francine Gentile and bred by Dorotea Tiemann. The third placed mare was Mary Alice Malone's 12-year old Friesian Yfke fan Fjildsicht (by Harmen 424 x Nanno 372), bred by W. Wijbenga. 
The Mature Horse Championship included the top two of the Mare and Stallion Championship, but it was won by Scantolina and had Sophistokate as runner-up. 
Youngsters Shine in Devon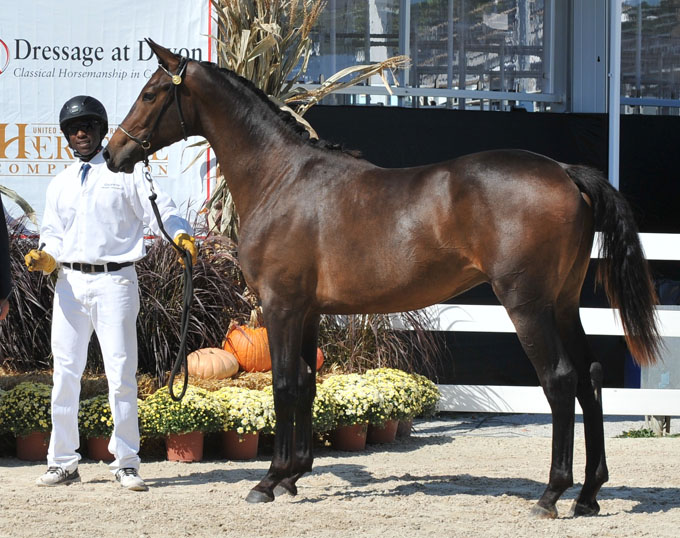 The Colt/Geldings Championship had seven participants listed and it was Judy Reggio's KWPN yearling colt Newport Jazz WRF (by Everdale x Jazz) that received the winner's sash. He edged out Lehua Custer's 3-year old Oldenburg bred Fortunato H2O (by Floriscount x Rascalino), bred by Kendra Hansis, and Jen Vanover's 3-year old Oldenburg MW Bodacious (by Borsalino x Rohdiamant), bred by C. Miller.
The Filly Championship had six young mares contesting for the title and it was Alice Tarjan's 3-year old Danish warmblood mare Gjenganger (by Grand Galaxy Win x Don Schufro), owned by Alice Tarjan. The runner-up was the 2-year old KWPN filly Margot ISF (by Sir Sinclaire x Oskar), bred and owned by Mary Alice Malone. Mo Swanson's 3-year old Oldenburg mare Dhomaine Chandon (by Dheputy x Fabriano) was third.  
The Young Horse Championship had the top two of the Filly and Colt/Gelding Championship running for the overall title and it was Gjenganger moving into the winner's circle and Newport Jazz WRF as runner-up
Gjenganger Named 2019 Devon Grand Champion
The 2019 Devon Breed Show Grand Championship was therefore contested by Gjenganger, Newport Jazz WRF, Scantolina, and Sophistokate.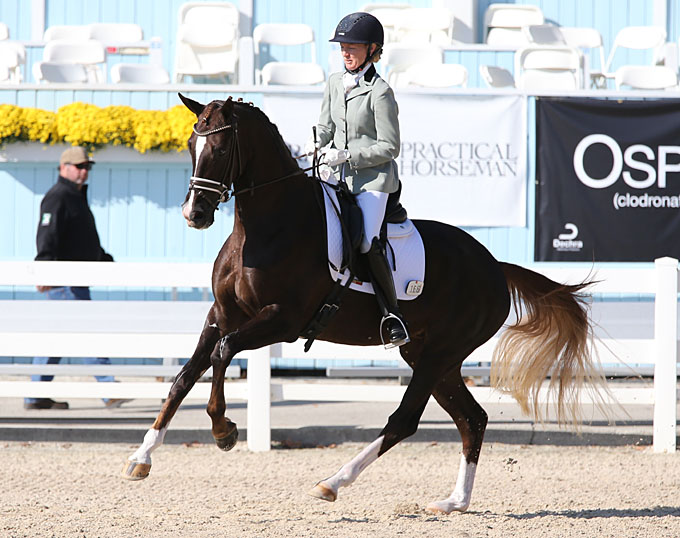 Alice Tarjan's American bred Danish warmblood mare Gjenganger became the overall winner and grand champion. The young dressage mare also won the 3- year old Materiale Class with a score of 83.10, as well as the Filly Championship and the Young Horse Championship.
This is the second year in a row that Alice Tarjan had the Devon Grand Champion. In 2018 her Oldenburg bred Summersby II (by Sezuan x Sandro Hit) won the title. Alice bred Gjenganger herself in the U.S.A. selecting Grand Galaxy Win as a sire and putting him to her Danish warmblood mare Donna Dee (by Don Schufro), which Tarjan bought from Danish Vicki Nedergaard after seeing Donne Dee advertised for sale on Eurodressage. 
"I can't believe we won it two years in a row! I was completely surprised and not expecting it, I just wanted to get her out a little for the experience. I'm thrilled," Tarjan told Eurodressage. "She will probably do young horse (classes) next year."
The reserve grand champion was Francine Gentile's 10-year old Sophistokate (by Scolari x Rotspon), who also won the prospects-in-hand class with 79.250 points. 
Photo © Hoof Print Images - Bob Conklin
Related Links
Summersby II, Grand Champion of the 2018 Devon Breed Show
Danae MF, Grand Champion of the 2017 Devon Breed Show
Stenagers Welina Reclaims Title, Named Grand Champion of the 2016 Devon Breed Show
Stenagers Welina, Grand Champion of the 2015 Devon Breed Show
Danseuse MF, Grand Champion of the 2014 Devon Breed Show
Sanibelle, Grand Champion of the 2013 Devon Breed Show
Beatrice VDL Named 2012 Devon Breed Show Grand Champion
Rheporter Claims 2011 Devon Breed Show Grand Champion's Title
Rabiola Renews Grand Champion's Title at 2010 Devon Breed Show
Rabiola Scores Hattrick at 2009 Devon Breed Show
Quarterback Offspring In the Ribbons at 2009 Dressage at Devon
Coverage of 2001 Dressage at Devon