Westfalian Auction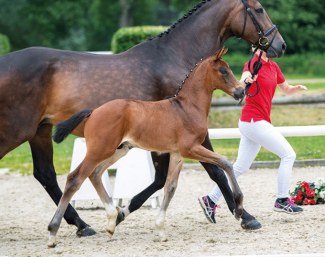 During the annual "Westphalian Week" beginning on 24th July 2018, the Westphalian foal auction will take place in Münster-Handorf. A total of 127 foals, which are  separated into dressage and show jumping bred foals, will be put to the hammer.
For the first time in 2018 the collection has been divided into a show jumping and a dressage lot.  Each will be up for auction on two different days for the first time in Münster-Handorf adjusting to the forward-looking and practical orientation of the association.
With the established embedding of the foal auction within the "Westphalian Week" sport and breeding are linked in one event. All auction candidates show pedigrees with renowned bloodlines or have modern sires that have seen the international arenas all over the world. But the exceptional damlines are just as demanded by buyers from Germany and abroad.
Show-jumping Foal Auction on 25 July 2018
The lot of 35 show-jumping bred foals will be auctioned on Wednesday 25 July at 4 pm. in the large show jumping arena at the Westphalian Pferdezentrum by auctioneer Bernd Richter. Earlier that day the collection of show-jumping bred foals will be presented at 11.30 am.
The whole Wednesday will be streamed via www.clipmyhorse.tv live.
Dressage Foals and Riding Ponies Foals on 28 July 2018
Auch der komplette Auktionssamstag wird live bei www.clipmyhorse.tv übertragen. The Saturdays of this year "Westphalian Week" will be dedicated to the 78 dressage bred and the 14 riding pony foals. The public presentation will start at 1.30 pm in the large show jumping arena just before the auction will take place at 4 pm. in the dressage arena. The complete Saturday will also be streamed live online via www.clipmyhorse.tv .
You will find the whole collection with photos and videos via www.westfalenpferde.de 
Wednesday 25 July 2018
11.30 am Presentation of Show Jumping bred Foals
04.00 pm Auction of Show Jumping bred Foals
Livestream via www.clipmyhorse.tv
Saturday 28 July 2018
01.30 pm Presentation of the Dressage bred and the Riding Pony Foals
04.00 pm Westphalian Foal Auction of Dressage bred and Riding Pony Foals
Livestream via www.clipmyhorse.tv
Admission to both events is free.