2018 CDI Hamburg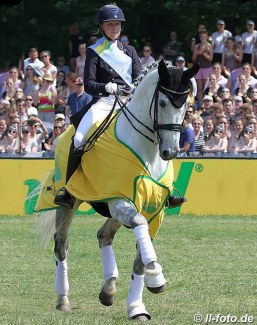 The German based Finnish Grand Prix rider Emma Karnerva has won the 2018 Hamburg Dressage Derby on Sunday 13 May 2018 after being the high scorer in the Finals with horse change. 
The Hamburg Dressage Derby has been taking place since 1955 and has a long-standing tradition on the German equestrian calendar. Open to riders from all nations, the Derby is decided via the Grand Prix, which serves as a qualifier for the finals. The top three of the CDI Grand Prix move on to the Finals with Horse Change, in which each rider has to do the Short Grand Prix on each other's horse.
Finnish Emma Karneva and Australian Kristy Oatley battled it out against German Jan-Dirk Giesselmann and it was Kanerva who was most consistent on all three horses. She achieved her best score on her own ride, Gert Saborowski's 14-year old Hanoverian Heartbreaker (by His Highness) with the second highest score of 73.967%. Kanerva has only been riding the grey briefly. He was previously shown by Holga Finken and Mandy Zimmer. On Giesselmann's Real Dancer she produced the third best score of 73.133% and with Oatley's Qualia she rode the 7th score of 67.600. Her total of 214.699 points brought her the highly coveted Hamburg Derby Winner title. 
"It feels amazing," a beaming Kanerva told Eurodressage at the end of the day. "I can't even really believe that I won such a competition. I think it takes time to realise what just happened." Emma had never done a horse change finals before but thought it was a interesting challenge. She would definitely consider riding the Derby again. "It was really interesting and exiting and I would definitely do it again. For me it took a bit more time to find the connection with Kristy's horse but both were nice to ride and they did a great job even if it was really hot and they had to do the test 3 times."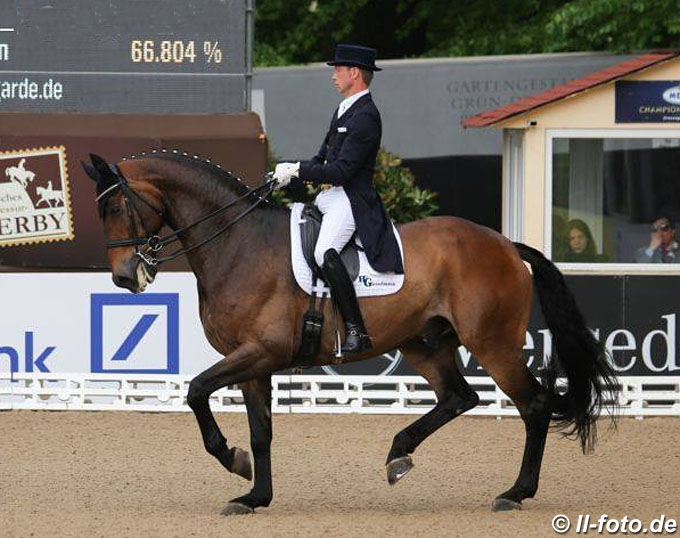 Jan-Dirk Giesselmann achieved the highest score of all on his own horse, the 14-year old Hanoverian Real Dancer (by Rubin Royal x De Niro) with 74.233%. With Heartbreaker he was sixth on 70.333% and he finished 8th on Qualia with 66.100%.
The Hamburg based Kristy Oatley rode her best round on Heartbreaker, finishing fourth with 71.100%. On Real Dancer she produced the fifth best score of 70.400% and with her own 13-year old Oldenburg bred Qualia (by Quando Quando x Donnerhall) she finished 8th with 66.100%.
Oatley won the CDI Grand Prix on Friday with her top horse Du Soleil (by De Niro) on a score of  72.543% but she opted for Qualia in the horse change finals. 
Photos © LL-foto
Related Links
Emile Faurie Wins 2017 Hamburg Dressage Derby
Borja Carrascosa Wins 2016 Hamburg Dressage Derby
Anabel Balkenhol Wins the 2015 Hamburg Dressage Derby
2014 Hamburg Dressage Derby: a Scandinavian Show Down
Fabienne Lutkemeier Wins the 2013 Hamburg Dressage Derby
Scores: 2011 CDI Hamburg
Scores: 2008 CDN Hamburg
Scores: 2007 CDN Hamburg
Scores: 2006 CDN Hamburg
Scores: 2005 CDN Hamburg
Scores: 2004 CDN Hamburg
Scores: 2003 CDN Hamburg
Scores: 2000 CDI Hamburg