Portugal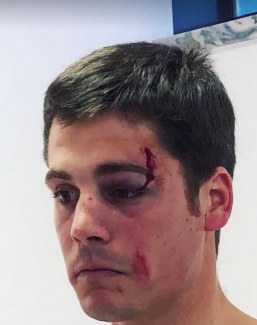 The Portuguese Equestrian Federation (FEP) has issued a statement concerning the brutal attack on Portuguese Grand Prix team rider Vasco Mira Godinho on Sunday 18 March 2018. 
The father and brother-in-law of 2012 Portuguese Olympian Gonçalo Carvalho viciously attacked Gondinho round 3 PM at the stables near the parking lot at the 2018 CDN Estoril. They beat him up with a rod. Vasco had to be transported to the hospital with severe bruising to his face and a laceration of his eye brow. 
The incident was witnessed by several people and show officials had to call in the police to escort Gonçalo Carvalho off the show grounds, whereas his two family members had run away.
Portuguese and international equestrian media have reported on this malicious assault after Christine Jacoberger, owner of Godinho's top horse Bariloche JGR, went public, condemning this outright cruel behaviour towards a Portuguese team rider and human being.
The FEP technical delegate as well as the president of the ground jury at the 2018 CDN Estoril both filed reports with the FEP about the incident.
FEP Issues Statement
On 21 March 2018 Luís Manuel Cidade Pereira de Moura, the president of the Portuguese Equestrian Federation, has issued a statement.
Pereira de Moura expresses his heartfelt sympathy and solidarity for Godinho and wishes him to make a speedy recovery. "We will make available all the support necessary in the judicial action against his aggressors, so that the whole case can be judges and those directly responsible as well as their partners punished in a severe and exemplary manner."
"These events do not represent the human quality of the equestrian community," said Luis Manuel. "The FEP will calmly seek to maximize its efficiency and commitment to all legal means available so that the investigation, which is already in process, can produce conclusive results as soon as possible."
The FEP is aware that this incident is not the first in which aggression has happened and speaks of a climate of "destabilization" in Portugal of which "the events of 18 March were one more manifestation."
Carvalho Denies Involvement
On 21 March 2018 Portuguese Grand Prix rider Gonçalo Carvalho issued a statement published on Equisport.pt.
Carvalho listed 11 points in which he described the situation at the show grounds on Sunday 18 March and he denies his involvement in the incident as he was coaching a student at the time of the attack.  
"I did not know what was going on. I was confronted by officials of the equestrian centre who evicted me and my wife and 8-year old son (in a panic!) from the show grounds," said Carvalho, adding "I want to make it clear that I did not participate in any kind of disrespect or aggression at any time!"
He reiterates in point 8: "I say again that I was not present so I do not know what happened, but I hope that the truth is revealed by the authorities and if there are guilty persons, that they are punished, those who hurt."
He further states that he regrets his good name is involved in this "controversy" and that it has been tampered with by the press, who wrongfully quoted him without contacting him.  "I will take to the last consequence all those who have tried and undermine my good name, defaming, insulting and even threatening me as a professional and a lawful citizen."
He concludes his statement with well wishes for Gondinho's speedy recovery.
"Ambassador of Ethics in Sport"
Carvalho signed his press release with his name and title of "Ambassador of Ethics in Sport"
After representing Portugal at the 2012 Olympic Games in London, Carvalho was named Ambassador of Ethics in Sport by the governmental institution National Plan for Ethics in Sport (NPES) in 2013.
The National Plan for Ethics in Sport (NPES) is an initiative of the Constitutional Government of Portugal, promoted by the Youth and Sports Secretary of State. It is headquartered in the Portuguese Institute of Sports and Youth, and streamlined by the NPES Coordination Office.
"The NPES aims to encourage all Portuguese citizens, particularly children and young people, to experience ethical values such as respect, honesty, tolerance and solidarity in sports and sports practice," NPES stated.
Eurodressage contacted Carvalho on 20 March for a statement, but the rider opted not to reply.
Related Link
Portuguese Team rider Vasco Mira Godinho Assaulted