Books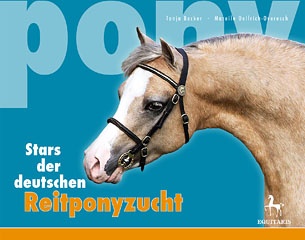 2006 to 2016 – the fifth edition of the book series "Stars der deutschen Reitponyzucht" (Stars of German Pony Breeding) has just been released and celebrates its 10th anniversary. The very first edition was still named "Ausgewählte Reitponyhengste Deutschlands" (Selected German Pony Stallions), but right from the start it was liked by breeders and pony friends all over the world.
During this time more than 500 stallions in glossy prints as well as all relevant data of their pedigree, performance and inheritance have been collected. All in all it is an extensive compendium of the German pony bred and therefore often named the "Pony-bible".
Several top stallions honour us also in the new book. And for all of you who want to get to know the details, we have additionally included illustrated portraits of the star sires Casino Royale K WE, Danny Gold T, Dimension AT, For Kids Only, Lukas, FS Mr. Right, Proud Rocketti, Kantje's Ronaldo and the heirs of Mentos from Stud Hof Zwoelf Eichen as well as of the highly successful Studs Kastanienhof und Schierensee.
ISBN 978-3-00-052869-9
Format 26 x 21cm, hard cover, 150 pages
Prize 29.80 Euro incl. VAT (plus postage)
Please order by phone 0049-4441-9056-195 or E-Mail gesina_groemping@equitaris.de
For further information please visit our website: www.equitaris.de