Eurodressage Market - Services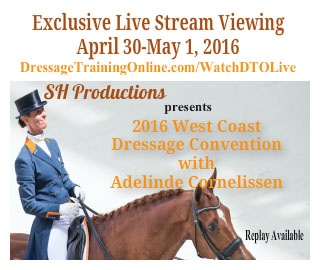 DressageTrainingOnline.com announces that they will exclusively host the live stream for the upcoming blow out of the year Dressage event which is the 2016 West Coast Dressage Convention with Adelinde Cornelissen. This event takes place April 30-May 1st, 2016 in Langley, British Columbia and tickets can be purchased here.
If virtual attendance is necessary, watch the live stream and its replay here.
This SH Production features the acclaimed Adelinde Cornelissen. Adelinde is the individual silver medalist London 2012, team silver medalist London 2012, 10 x european champion medalist, 3 x world champion medalist. Adelinde will ride and teach. Featuring Grand Prix demonstration by Elite British Dressage Rider Alice Oppenheimer and Canadian Olympian, Leslie Reid, plus young dressage horse foundation training demonstrations, Q&A question panel session with all presenters! Additionally there will be a breeding presentation, where Emma Jane Blundell will be coming all the way from the UK to discuss her process at her beautiful stud and speak on the future of dressage breeding.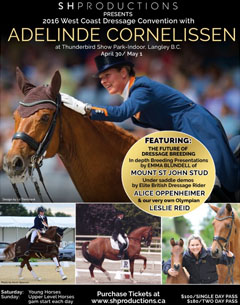 DressageTrainingOnline.com is bringing select Dressage events to Dressage world as part of it's dedication to offer training tools and resources to the Dressage community worldwide. "Conventions and competitions definitely fall under the training hierarchy and give an added flavor to what we already offer, thus we are pleased to begin to take on this new endeavor. We seek to offer only select events however and always with an added training spin above and beyond what can be found elsewhere. " states, CEO, Reisa Bonetti-Sullivan.
For viewing the West Coast Dressage Convention with Adelinde Cornelissen via live stream or as a replay, click here.
To purchase tickets to attend the event live, click here.
Visit DressageTrainingOnline.com for video training tools and resources to enhance and expedite one's learning. Featuring training content from over 50 of the world's top trainers and judges.