Eurodressage Market - Books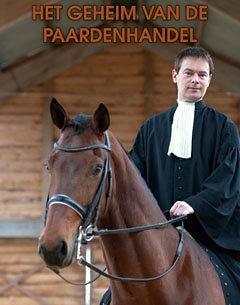 Dutch equine lawyer Stephan Wensing, horse enthusiast and engaged in the complex legal field of the horse industry since 2000, has published his second book "Het Geheim van de Paardenhandel" (The Secret of Horse Dealing). Wensing takes his readers on a journey through the courtrooms of previously settled lawsuits in which equine law issues, specifically the purchase and sale of horses, took center stage.
In 2005 Wensing published his first book "Pleidooi voor het Paard". Seeing the enormous growth of the Dutch horse sector over the past 10 years has inspired Wensing to write a book that reflects the current factual and legal intricacies of the European Horse Market.
Wensing's new book "Het geheim van de paardenhandel" represents an invaluable guide to the practical application of the law in relation to horses for horse-owners and professionals within the horse industry alike as well as a reference work for legal practitioners who find themselves involved in cases concerning horses. The mysteries surrounding the purchase of horses are solved by way of legal analysis of selected cases, thereby making a throughout account of their background and surrounding circumstances.
His book thereby follows a path that explores the question that often lies at the heart of each of such disputes, namely "Is the previous owner obliged to take back the horse?" the answer to such question will inform the reader about current horse dealing practices but also give him/hr an insight into the extent of a seller's and/or purchaser's liability/obligations when it comes to the purchase of horses. The book hereby touches on subjects such as veterinary issues, the status of the contracting parties, consumer protection as well as the issue of non-conformity of a horse with the purchase agreement.
The book highlights the fact that equine law issues often transcend national borders. For example, Europe knows uniform rules that protect consumers. With over 500,000 participants in 2016, equestrianism ranks as one of the most popular sports in the Netherlands. Moreover increasing media coverage has raised the profile of horse sports and generated more interest in owning and riding horses. The Netherlands has become the number one on the World ranking list of sport horse breeding and trading: its horses are internationally bought and sold, and are a guarantee for a significant number of medals won at the Olympics or international championships.
As a result the Dutch Equine sector has grown into a full sized organised sector with a professional status and is still developing. "Het Geheim van de Paardenhandel" is bi-lingual in Dutch and English. An elaborate English summary of each chapter is included within the book therefore seems indispensable for anyone finding himself involved in any shape or form with the European horse dealing business.