2015 Klosterhof Medingen Auction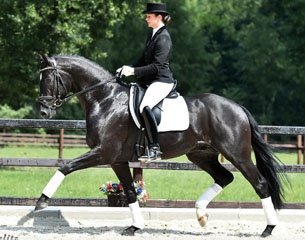 The 3-year old Hanoverian stallion Descadero H became the top selling horse at the 2015 Klosterhof Medingen auction in Bad Bevesen, Germany, on 26 September 2015.
The black stallion (by Danone x Hohenstein x Donnerschwee) sold for 250,000 euro to the Hamburg based Mrs Boeckmann-Heinrich, who sponsors dressage rider Kathleen Keller. She also owns dressage horses Daintree and Dick Tracy, which she also bought at Klosterhof Medingen.
The second most expensive horse was the 7-year old Westfalian stallion Sound of Silence (by San Amour x Limes x Pablo) who sold for 165,000 euro to Mathilde Blais-Tetreault from Canada, who is a student of Christilot Boylen.
High Five 160,000 euro to a German customer.The 5-year old Hanoverian bred Delacroix (by De Niro x Don Crusador x Lindberg) sold to The Netherlands for 80,000 euro and the 4-year old Hanoverian bred Calandro (by Contendros Bube x Stedinger x De Niro) to Norway for 75,000 euro.
The most epensive foal at the auction was the colt Q7 (by Quantensprung x Fidertanz x De Niro) which moves to The Netherlands for 65,000 euro. The chestnut filly Debinette (by De Niro x Dimaggio) became the second most expensive foal, selling to Denmark for 30,000 euro. Diamonfire (by De Niro x Wolkentanz I x Wanderbusch II) sold to a Westfalian client for 25,000 euro.
Eighteen riding horses and thirty-one foals were up for auction at the 2015 edition. The riding horses sold for an average price of approximately 64,000 euro, the foals for 12,600 euro.
Photo © Kiki Beelitz