Irish Dressage News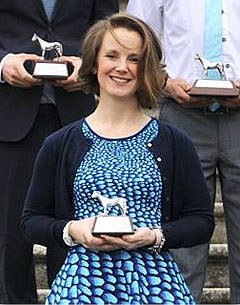 Irish Grand Prix rider Judy Reynolds and Irish pony team trainer and Grand Prix rider Anne Marie Dunphy were the recipients of two Irish Field Awards during a special ceremony held at the K Club in Straffan, Co Kildare on Monday 9 February 2015.
Judy Reynolds received the most prestigious dressage award, the Irish Field Dressage Rider of the Year Award. Representing Ireland at the 2014 World Equestrian Games in Normandy, France, the German based Judy Reynolds scored more than ten top 10 placings at international level on Vancouver K, with whom she was also crowned the 2014 Irish Dressage Champion. In December Judy became the first Irish rider to get through to the Freestyle of the World Cup qualifier at 2014 CDI-W London and is qualified for the 2015 European Championships in Aachen.
This is the second time that Reynolds has received the Irish Field Award. The first time was in 2008.
Anne Marie Dunphy received the Irish Field Star of the Year Award. Dunphy expressed that she is "delighted" with the recogniation. 2014 saw the launch of the first Horse Sport Ireland High Performance Pony Dressage program which resulted in Ireland fielding a dressage team at the 2014 European Pony Championships in Millstreet. And on a personal level Dunphy competed her horse Urbanus in his first year at Big Tour and won three national Grand Prix competitions. "Onwards and upwards," she added.
Photo ©  Carol Dunne/Dressage Ireland
Related Links
Judy Reynolds Is Irish Field Dressage Rider of the Year 2008
Anna Merveldt Wins 2011 Irish Field Award
Judy Reynolds Wins 2014 Irish Dressage Championship