2014 Klosterhof Medingen Auction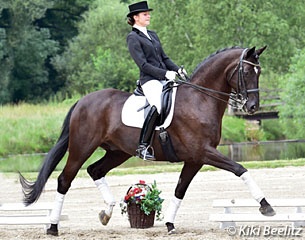 The Autumn Auction at the Klosterhof Medingen is one of the most successful events on the German horse market.  The 25th edition is approaching rapidly on 26 and 27 September 2014 and the gorgeous, tradition filled Klosterhof will be the center for dressage horse buyers from all across the globe. The outstanding 2014 collection of highly talented dressage horses includes 22 riding horses and 35 foals.
Loyal to its motto "the best you get directly from the source," Klosterhof Medingen offers exceptional De Niro offspring in the auction this year. Where else will you find a De Niro if not at the home of the legendary sire, Klosterhof Medingen.
The riding horse collection features horses aged four to ten; carefully trained young talents as well as established dressage horses on their way to top sport level.
Catalog number 1 is straight away an eye-catcher in the collection: the Trakehner Licensing Champion Iskander (by Le Rouge x Hohenstein), which has been successful at M level. Cat. nr 2 is the 5-year old gelding De Luxe (by De Niro x Sion x Figaro), who has world class potential. He has already won and placed highly in dressage horse tests at A and L-level. Cat. nr 3, Friesenball is an offspring by the highly coveted breeding stallion Furstenball.  Cat Nr 5. is the 6-year old Devino (by Dancier x Wolkentanz x Eistanz) who has all the assets to become an international calibre horse.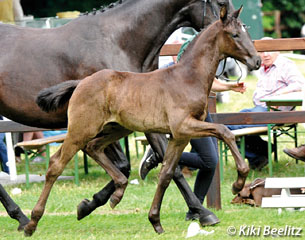 The Klosterhof Medingen Auction also includes trained and more established dressage horses for clients who want to jump right into the highest levels of the sport. Cat. nr 8, Honduras (by Hohenstein x Akut x Werther) won the Intermediaire I with 71.9% at this year's Horse & Classic in Hamburg.  He's the perfrect junior-young riders horse and is showing a clear talent for Grand Prix. The breeding stallion Danone is a much talked about sire as he produced three offspring that qualified for the 2014 Nurnberger Burgpokal Finals so far. The mare Dadiva (by Danone x Sion x Tin Rocco) is catalog nr 15 and a 4-year old Danone offspring with a very active hind leg. Catalog number 22, Fontenay (by Fidermark x Rubinstein x Regress) is another S-level winner in the auction collection.
The same level of quality is guaranteed in the foal collection, which features Germany's most wanted dressage bloodlines. Sires such as De Niro, Fidertanz and Quantensprung highlight the collection while the dam lines include some of the most elite mare lines in the country.  Catalog nr 11, Danciero (by De Niro x Lancier) is a full brother to the Celle State Stud owned sire Dancier, which is one of Hanover's top producing breeding stallions at the moment.
For more information about try outs and horses in the collection, fee free to contact Klosterhof at:
Time Schedule
Saturday 20 September 2014 - 18h00 : First Presentation of the Auction Horses - Streamed Live here
Friday 26 September 2014 - 16h00: Presentation of the Foals
Friday 26 September 2014 - 19h30: Gala Presentation of the Auction Horses and Grand Prix Kur to Music
Saturday 27 Seotember 2014 - 15h00: Start of the Auction