Eurodressage Market - Magazines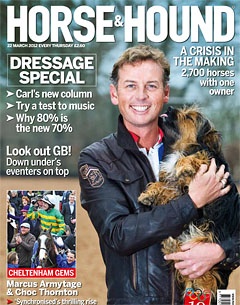 Horse & Hound, Britain's leading equestrian magazine, is now available digitally to subscribers around the world.  H&H's new digital magazine allows horse lovers around the world to read every page of the weekly magazine on computer or tablet
the instant it is published each Thursday — and for the same price as in the UK.
This week is the dressage special, which includes:
Carl Hester's brand new column
An exclusive interview with Edward Gal and Hans Peter Minderhoud
Upcoming stars – horses you should know about
A look at why and how 80% is the new 70%
Guide to dressage to music: it rocks
"We know from our travels that H&H is a magazine admired around the world," said H&H dressage editor Alice Collins.  "Now, at last, horse lovers anywhere can read our new issue on a computer or tablet the moment it goes on sale and enjoy news, features, veterinary pages, top-level sport and equestrian insight that is relevant to everyone."
A year's subscription costs £74.99 (plus VAT) for 52 issues. And a single issue costs £2.49 (plusVAT). Pages can be printed out and subscriptions can be bought as a gift.
The digital issue reads like the paper copy — with a page-turning device that lets you flick through as you would a magazine.
American-based Briton and H&H magazine subscriber Samantha Clark said:  "No one was happier than me to hear that H&H had 'gone digital'  and I bought a digital subscription immediately. I love it because I can stay current with everyone in England and finally look forward to Thursdays again. Old habits die hard! I still love getting the paper version in the post, but I'm lucky enough now to enjoy the best of both worlds."
 
To subscribe visit: www.horseandhound.co.uk/digitalsub