Eurodressage Market - Magazines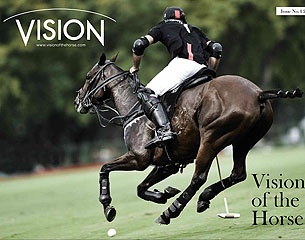 Re-live the sights, sounds and atmosphere of the winter indoor season in the fourth edition of Vision of the Horse, the online magazine which has brought a new look to equestrian reportage this season. Conceived by celebrated photographer Kit Houghton, Vision combines a mix of still and moving imagery that let the pictures tell the story. 
Aside from memories from Geneva, Lyon and Olympia shows, the latest issue has lavish coverage of Argentine Open polo and visits to the Haras de Hus (with Kevin Staut) and Portugal's vibrant Golega Horse Fair.
Previous issues are archived and include behind the scenes and mini tutorials with Isabell Werth, Zara Phillips, Rodrigo Pessoa and Eric Lamaze, reportage from the London 2012 test event at Greenwich Park, Aachen, the European championships in Rotterdam, Madrid and Luhmuhlen and much, much more.
Viewers from 92 countries are now regularly logging on, and getting to understand the gizmos that set Vision apart.  Dwell on a mono page and a video will automatically run; check out also the virtual tour of Clayton and Lucinda Fredericks' horsebox in issue two.
You can follow Vision of the Horse on Facebook and Twitter.
Your feedback in genuinely welcomed and can be sent to info@visionofthehorse.com. 
Enjoy!