Eurodressage Market - Books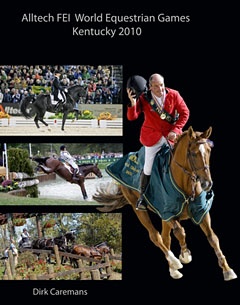 The perfect gift for all of your equestrian sport loving friends and relatives has just arrived. Belgian international equestrian photographer Dirk Caremans has published a unique book which makes you relive the 2010 Alltech FEI World Equestrian Games through images and interviews.
Renowned photographer Dirk Caremans, assisted by collegues like Leanjo de Koster, Arnd Bronkhorst, and Cealy Tetley, takes you behind the scenes and into the show ring to discover the action, excitement and emotions riders and spectators experienced at the 2010 World Equestrian Games in Kentucky.
Alltech FEI World Equestrian Games Kentucky 2010 is filled with over 460 beautiful colour images of top international riders and horses performing at the most demanding level in all seven FEI endorsed disciplines. If you are a rider, or just love the beauty of horses you will love this book.
Author Kim Kreling has contributed detailed portraits in Dutch, French, English and German of all 2010 World Champions, extensively illustrated with  photos of the riders' journey to gold. The athletes give you insight in their own experience and joys at Kentucky. The 2010 WEG is a championship that will be long remembered.
Alltech FEI World Equestrian Games Kentucky 2010 is a large hardback book with 240 pages packed with inside information on all the
top equestrian stars. There is nothing like it on the market.
You can order this beautiful book online via www.mediaboekservice.nl for 49,00 euro!!! or by contacting the author, Dirk Caremans
You can also acquire this book at the 2010 Mechelen Christmas Horse Show (CDI-W/CSI-W) in Mechelen, Belgium, at Lieven Hendrickx' booth in the trade fair.