Eurodressage Market - Videos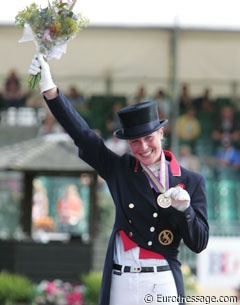 Taken from some of the fabulous training videos produced by the popular video website Horse Hero this first selection of four Horse Hero dressage training DVDs show dressage superstar Laura Bechtolsheimer
and her father Dr. Wilfried Bechtolsheimer working her horses at home.
The DVDs are jam-packed with intimate footage of Laura and her horses and show clear explanations of her training methods. Video topics include lungeing and long-reining the young horse, the start of collection, de-mystifying lateral work, developing a new Kur, and some very special lessons with legendary dressage trainer Klaus Balkenhol, plus much more. A wonderful insight into Laura's training philosophy – not to be missed!
Priced at £17.99 inc VAT (£5 discount for a set of four), the Horse Hero DVDs are a great way to enjoy dressage during the winter months or indeed at any time of year! In fact, Horse Hero users say they watch the online training videos many times over and the videos have been instrumental in improving their riding, whatever level they and their horse are working at. The DVDs are available in the Horse Hero Shop which can be found via the home page of Horse Hero:www.horseheroshop.com/prods/showcat.asp?cid=2956
Fiona Price, Horse Hero's Managing Director says about the DVDs, "It's been awesome making our dressage videos (part of a catalogue of nearly 300 videos we have made on since launching over a year ago). They provide a privileged and unprecedented insight into the thinking and training methods used by top riders and I know our videos are watched over and over again by users, who tell us their riding has improved as a result."
She continues, "Working with Laura has been amazing. We have filmed her at various intervals throughout her rise to medal glory over the past year. She is a gifted communicator who gives crystal clear explanations. She is extremely down to earth with her horses and has a great sense of humour - a real inspiration and role model. Working with Laura also shows what life is really like for a top equestrian athlete."
Laura Bechtolsheimer says, "Making videos with Horse Hero has been fun and educational for me, as well as my horses. By showing the work we do with our lovely horses we aim to share our learning and experience with those who want to progress their horses in a sensitive and understanding way. Being open about our methods and the training philosophy (which I share with my father), is a key part of the videos. I hope our openness is appreciated and that by including the less than perfect moments, we can show in a more realistic way how to work through problems with horses and achieve greater harmony."
For full details of the DVDs, more images and video trailers visit the Horse Hero shop.