Irish Dressage News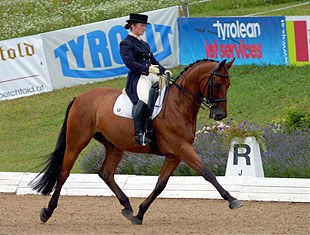 Judy Renolds is The Irish Field Dressage Rider of the Year 2008.  This is her first rime to win this accolade.  A native of Kilteel, County Kildare, Ireland but now based with Johann Hinnemann in Germany, 27-year-old Judy had a remarkable campaign in 2008.
She finished on a high when becoming only the second Irish rider to be awarded the German NF Deutsche Goldenes Reitabzeichen (The Golden Riders Medal) after two wins in Kreuth, Bavaria in December. This accolade is awarded to riders who have won 10 Prix St Georges and/or Intermediaire I classes in Germany.  The only previous Irish recipient was Anna Merveldt.  Judy completed her 10 wins in the period March to December 2008.
Apart from these superb results Judy won her first international class when placing first in the Prix St Georges class with Remember at the CDI-W show in Lipica last June. Later that month she travelled to the CDI3* in Achleiten, Austria where she placed third in the Prix St Georges and second in the Intermediaire I, both on Remember. In September she placed third in the Intermediaire I Kur with Remember at CDI3* show in Saumur, France.
Judy was presented with The Irish Field Dressage Rider of the Year award by Siobhan English, Editor of The Irish Horse World at the awards lunch in Tattersalls, Fairyhouse, Ratoath, Co Meath, Ireland  on Monday, March 23, 2009.
Previous winners of The Irish Field Dressage Rider of the Year Award (first awarded in 1997) are as follows:-
1997 – Yvette Truesdale
1998 – Heike Holstein
1999 – Katy Price
2000 – Anna Merveldt
2001 – Anna Merveldt
2002 – Anna Merveldt
2003 – Heike Holstein
2004 – Anna Merveldt
2005 – Heike Holstein
2006 – Anna Merveldt
2007 – Heike Holstein
Related Links
Heike Holstein Wins Irish Field Award for Third Time
Anna Merveldt Steffens Wins Irish Field Award for the Fifth Time
Merveldt Steffens Wins Her Fourth Irish Field Award
Anna Merveldt Steffens Wins Irish Field Award
Anna Merveldt-Steffens Wins Irish Field Award For Second Time
"Irish Field" Hattrick for Anna Merveldt-Steffens