2003 End of the Year Fun Shots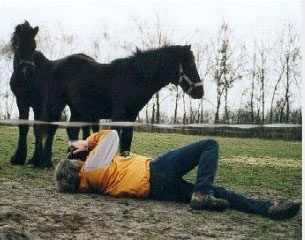 Photography has always been central to the layout of the articles and coverage on Eurodressage.com. Since the website was established, Eurodressage has run in a tight alliance with Europe's and America's best photographers which include Dirk Caremans, Mary Phelps, Arnd Bronkhorst and more recently David Charles, Roz Neave and Jacques Toffi.
To end a very successful online year for www.eurodressage.com, we would like to offer you a fun shot a day during the Christmas holiday. These photos either taken by our in-house photograhers or picked up from the internet for them to gain exposure in our site.
Monday December 22, 2003: The Ground is The Limit
In a way (equestrian) photographers are freaks. They wake up early in the morning, stay up late at night, go out in the rain, or are fried by the sun to capture the right frame and to wait for the right light.
Taking that ultimate shot takes stamina and perseverance from photographers and Dutch photographic epitome Arnd Bronkhorst proves that for him not the sky, but the ground is the limit.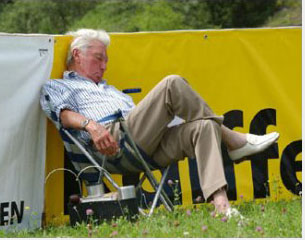 Tuesday December 23, 2003: Dry-sage
A word JJ Hathaway -- Mary Phelps' wonderful husband who will be cloned on request -- taught me is "dry-sage." It is the alternative spelling for dressage, which probably points at the true meaning of word for a non-afficionado.
Even the great dressage masters sometimes embody the exact meaning of their passion. At the CDI Fritzens in Austria, George Theodorescu is showing what dry-sage really means.
Wednesday December 24, 2003: Scratch that Back!
If you scratch my back, I'll scratch yours. A healthy, close partnership between rider and trainer is essential to become a scoring duo in the competition. There are many renowned duo's in the world of dressage, but the most famous one is without a doubt that of Anky van Grunsven and Sjef Janssen.
I always thought it was Anky who "suffered" the most by being trained by Sjef. Apparantly I am wrong.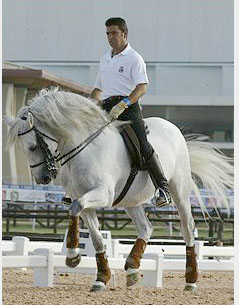 Thursday December 25, 2003: Hair Everywhere
It is still a peculiar sight to see Andalusians in a warmblood dominated dressage world. Not only do their looks make them stand out from the sleek warmblood sport horses, but their movements are also quite different. Excelling in the piaffe and passage, but having major difficulties with the extended trot, Andalusians have a tough time facing their competition.
Nevertheless, these white masters of the Real Escuela in Jerez de la Frontera have proven to stand a chance in the ring, as they won the team bronze medal at the 2002 World Equestrian Games. Pictured right is Ignacio Rambla schooling his licensed stallion Granadero. What struck me in this photo was the "hair everywhere"
Picture copyrighted Dirk Caremans
Friday December 26, 2003: Saint Tropez in Austria
Sometimes it's very hard to identify riders, when they are not dressed in white breeches, a shadbelly, and a top hat. At the CDIO Aachen we already witnessed that haute coûture and design accessories are "in style" amongst riders, but at the CDI Fritzens, one got the impression to be in Saint Tropez instead of the Austrian Alps.
Pictured right is "beauté" Anja Plonzke, owner of Gestut Tannenhof in Wiesbaden, Germany. Organizers of the CDI Fritzens, Mr and Mrs Haim-Swarovski, are clients of Plonzke, having recently bought her Grand Prix horse Chopin.
Anja Plonzke was dressed up in style for the CDI with whip and cigarette in hand, which exemplifies the typical top female German dressage rider.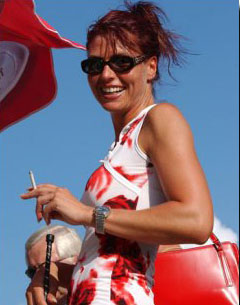 Saturday December 27, 2003: I wish I was...
I wish I was an elephant. Then I could get to to the greenest leaves at the top of the tree.
Hey, what's that stench? It must be dog's droppings.
Who's that mare.. Senorita, mas fina, who's that mare?
.....(open to suggestions ;)
Photo by Arnd Bronkhorst
Sunday December 27, 2003: Foals' Paradise
On Mary Phelps' and JJ Hathaway's 2003 Euro Tour in May and June, they hooked up with the Holly Simensen, chairwoman of the North American Oldenburg Society, to do some wonderful farm visits in Germany's Oldenburg county.
At the Ahler's barn, the 2003 crop of foals was out in the field to enjoy the wonderful spring sun. Dam and foal were feasting on the fresh, lush green grass, but took a moment to pose for Mary. This is probably one of the nicest photos taken during that farm visit.
Photo by Mary Phelps