U.S.A.
American Olympic dressage team rider and medal winner Carol Lavell has passed away on 27 March 2023. She was 79 years old. 
Better and Better
Carol Lavell (née Cadwgan) was born 8 April 1943 in Newport, Rhode Island.  She grew up in Strafford, Vermont, near Huntington Farm.
Carol's equestrian career began in eventing. She worked as a summer camp counsellor at Hitching Post Farm.
Her first famous horse was the thoroughbred Better and Better which she bought as a youngster from Vince Dugan and trained to preliminary 3-day level, before selling him to the Marra family for Michael J Plumb to ride. Plumb took Better and Better to the 1976 Olympics as a 7-year-old and won team gold and individual silver.
Gifted
Carol's career making and defining dressage horse was Gifted, an 1980 born gelding by Garibaldi II x Lombard x Diskant which she bought at a dealer's yard in Germany as an untrained 4-year old. In discussing the horse with her trainer Michael Poulin, he called the horse "gifted" and that became his name.
The Hanoverian gelding didn't make a winning first impression," Lavell told Jennifer Bryant in a 2014 interview.  "He was unfriendly to be around. He bit and he kicked," Lavell recalled. But he came from "very famous bloodlines"—and "he came with enormous self-carriage. Big horses don't normally move like that." In Gifted's size and heft, "He was a throwback to traditional German breeding. He looked like he might be one, too, except when he moved."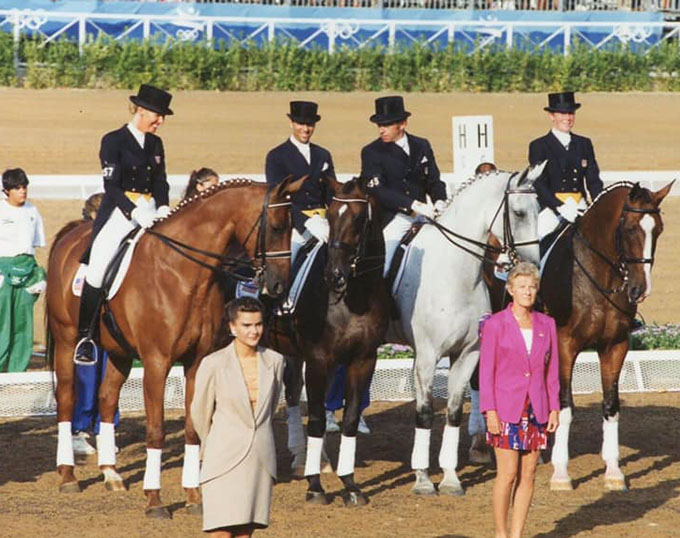 The pair won silver at the 1987 Pan American Games, earned team gold at the 1999 North American Dressage Championships, represented the USA and placed 11th at the 1990 World Equestrian Games in Stockholm. In 1991 they became the U.S. Grand Prix Champions and reclaimed that title in 1992.
Their highlight year was 1992. Carol and Gifted were fourth in the 1992 World Cup Final in Gothenburg and won team bronze at the 1992 Olympic Games in Barcelona, alongside Robert Dover (on Lectron), Charlotte Bredahl (on Monsieur) and Michael Poulin (on Graf George). She finished 6th individually. 
In 1993 the pair placed fifth in the World Cup Finals in 's Hertogenbosch. They returned on the U.S. team for the 1994 World Equestrian Games in The Hague where they got team bronze and were 9th in the Kur to Music
In her "Gifted" years, Carol was named 1990 and 1992 U.S. Olympic Committee Female Equestrian Athlete of the Year; received the prestigious USET Whitney Stone Cup in 1993; and was named 1992 American Horse Shows Association Equestrian of the Year.
Gifted last competed at the 1996 Palm Beach Dressage Derby in Loxahatchee after which he was retired from sport.  
Much Ado
Lavell returned to the competition ring three years later, in 1999, with a new horse, the KWPN bred Much Ado (by Quattro out of Varla (by Abgar)), who is bred by H. Jongboer in The Netherlands and which Lavell scouted as a foal in the field at Jan Greve's farm.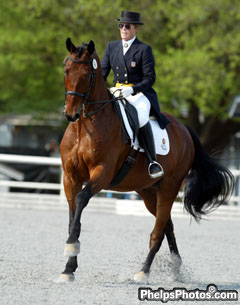 She took the dark bay gelding from training level to Grand Prix. The pair competed, for instance, at the 2003 CDI Raleigh and at the 2003 U.S. Small Tour Championship, which served as team selection trial for the Pam Ams. She finished second in it.
Lavell returned on the U.S. team with Much Ado and won team gold at the 2003 Pan American Games in Santo Domingo, where they had to battle the elements in their team test. A torrential rainstorm started and horse hydroplaned through most of the test in the sodden footing. Carol competed for the U.S.A. alongside Jan Ebeling (on Feliciano), Pierre St. Jacques (on Lucky Tiger), and Kristina Harrison-Naness (on Kantor). Lavell was 6th individually.
Carol and Much Ado also rode at the 2005 CDI WEF Dressage Classic in Wellington and in the 2007 U.S. Small Tour Championships. 
Their final show - for both horse and rider - was Welcome Back to White Fences in February 2008.
Carol and her husband Tom Lavell spent those years between her family's farm in Vermont, a summer residence in Asheville, North Carolina as well as at Michael Poulin's place in DeLeon Springs, Florida. They finally retired in Loxahatchee, Florida. Tom passed in 2020.
Carol Lavell Advanced Dressage Prize Fund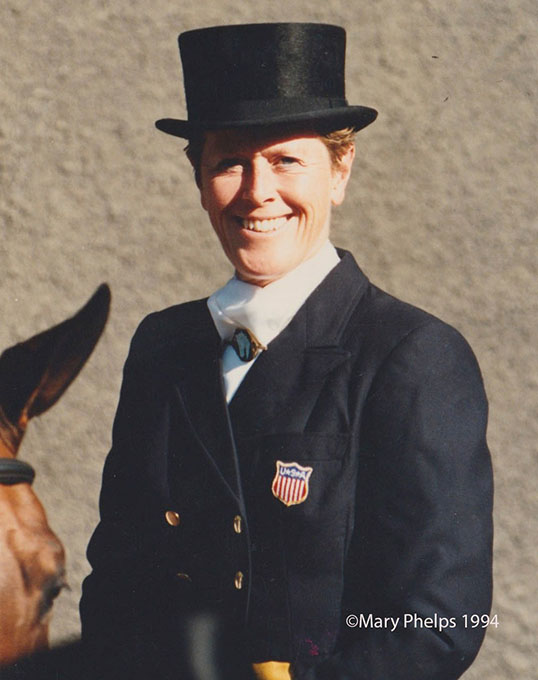 Carol Lavell also gave back to the sport. In 2009 the Carol Lavell Advanced Dressage Prize Fund was established in special remembrance of Carol's mother, May Cadwgan, and in honour of her father, Gordon Cadwgan, a well known investment banker. 
The fund provides financial assistance for coaching and training to talented, committed, qualified riders with plans to reach and excel at the elite, international standards of high-performance dressage.
At that time, Carol stated that "the road to the top is very difficult: some ways are bumpier than others, some are more crooked, and some are dead ends. My Olympic dream came true only because my road was paved with many generous supporters who gave not only dollars, but also tack, equipment, and even discounted transportation. I hope this Prize will smooth the bumps for those deserving riders and horses on the road to their dreams."
Since that time, the Prize Fund has awarded 21 grants totalling $525,000 in support of U.S. High-Performance teams.
Riders who received the Carol Lavell training grant include Shawna Harding, Heather Mason, Adrienne Lyle, Brian Hafner, Kathleen Raine, Olivia Lagoy-Weltz, Laura Graves, Sabine Schut-Kery, Courtney King Dye, Lehua Custer, Kristina Harrison-Antell, Emily Miles and Jennifer Williams amongst others. 
"Give Credit Where Credit is Due"
In the last few years of her life, Carol battled against Alzheimer's. She passed on 27 March 2023.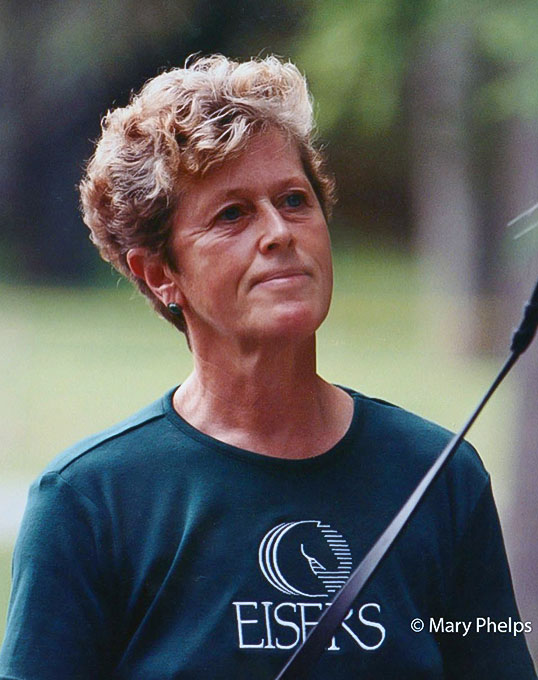 The news of Lavell's passing has led to an outpouring of messages in honour and memory of Carol on social media.
Yvonne Barteau posted, "below is something she wrote, Godspeed Carol. You were loved, admired, and appreciated more than you can know."
Give credit where credit is due,
Don't take credit when it's not about you.
Remember the dressage world is very small,
Fame comes to those who stand very tall.
Honor those who give you their time,
Boosting you so your star can shine.
When and if you climb to glory,
It's now time to write a new story
About sharing , giving, helping, support,
It's now your time to give back to your sport.
Photos © Mary Phelps - Susan Stickle - private
Related Links
Dressage In Florida 2003 Winter Season Wrap Up
Scores: 1990 World Equestrian Games
1990 World Equestrian Games Stockholm - Rembrandt Takes Triple Crown
Scores: 1992 Olympic Games
Scores: 1994 World Equestrian Games
Miles and Williams are the $25,000 Carol Lavell Advanced Dressage Prize Winners for 2022
New Equestrian Fundraising School Opened in the U.S.A.