France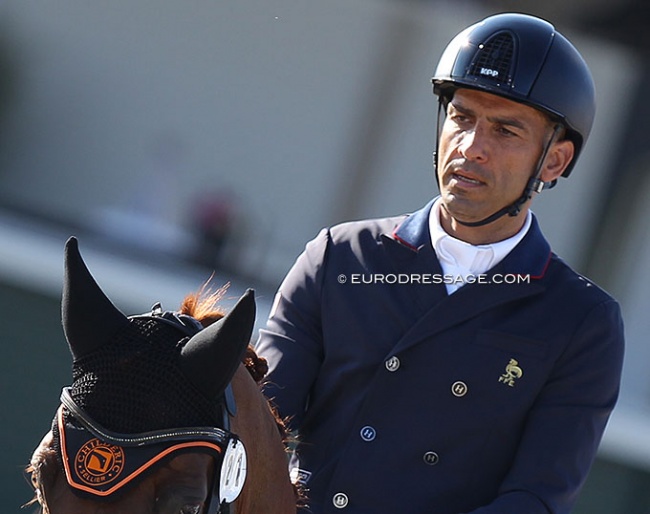 French dressage team captain Jean Morel has openly questioned the decision to eliminate Alexandre Ayache from competition at the 2022 CDI-W Madrid on Friday 25 November 2022.
The French rider Alexandre Ayache was entered to compete in the World Cup qualifier at the Madrid Horse Week aboard Abdulkarim Barake's 10-year old Danish warmblood mare Holmevangs Jolene (by Johnson x Continue).
Pink Foam, No Blood
In the warm-up for the Grand Prix the FEI steward detected pink foam and prevented the combination from entering the main arena for the Grand Prix test. Ayache lodged a complaint to the organizers of the Madrid Horse Show, supported by the French Equestrian Federation. The appeal was without success. 
In an interview with GrandPrix Replay, Jean Morel explained that the situation in Madrid was confusing as there was pink foam, but no blood. 
"No one found blood, it was complicated, and in the end, because there was doubt, the officials decided that the mare could not start the Grand Prix," Morel told GrandPrix Replay. "Unfortunately there was no veterinarian in the paddock to examine if there was a problem. As this is a stage of the World Cup, the whole program is timed, and Alexandre's time has passed when the officials made their decision."
The FEI has several rules in place to prevent a rider from competing if the welfare of the horse is in jeopardy. The "FEI Code of Conduct for the Welfare of the Horse" states that "Horses and athletes must be fit, competent and in good health before they are allowed to compete."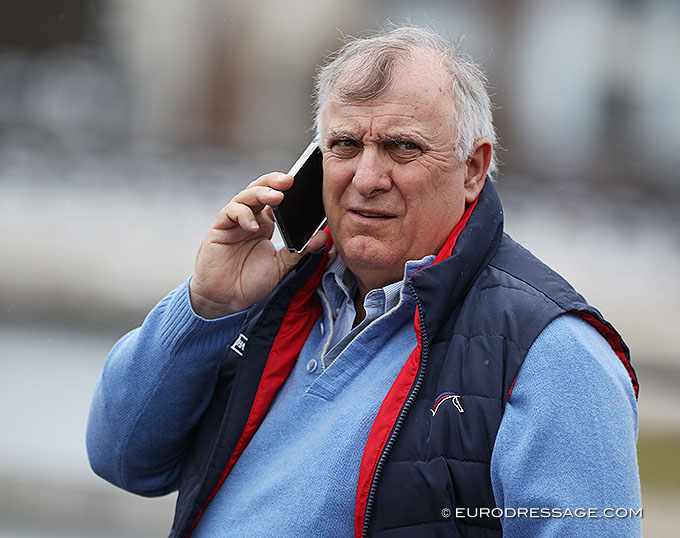 Morel explained that, "we do not agree with the course of things: when we say that a horse is injured, it must be confirmed by a veterinarian, but there was none, and no one could find any blood. In the end, we were told that in case of suspected bleeding, it is allowed to prevent a combination from taking part in the competition. We understand this, but we find this point of regulation too harsh."
Decision of a Veterinarian, not a Steward
Morel believes that the FEI rules should be changed and that a veterinarian and not a steward should decide if a horse is allowed to start or not. 
"If blood had really been detected in Jolene's mouth, it would have been perfectly normal for her not to be able to start, but this is not the case. It's unfair for a rider who has agreed to travel 1,300 kilometres, especially since we put his mare to work last week in Nice and she was in great shape. We would like the rules to be adapted so that an arbitrary decision based on suspicion cannot prevent a rider from taking part in an event. We consider that such a suspicion must be at least supported by a veterinarian, a person skilled in the art, before leading to an elimination."
Morel concluded, "such a situation is not easy to manage for the stewards, on whom there is real pressure. In our view, this situation demonstrates that there is a gap in the regulations. A solution must be found so that animal welfare is absolutely respected, but without sanctioning a rider on a simple suspicion."
Source: GrandPrix Replay
Photos © Astrid Appels
Related Links
Scores: 2022 CDI Stockholm
French Equestrian Federation and Senior Team Trainer Jean Bemelmans Part Ways