German Sport Horse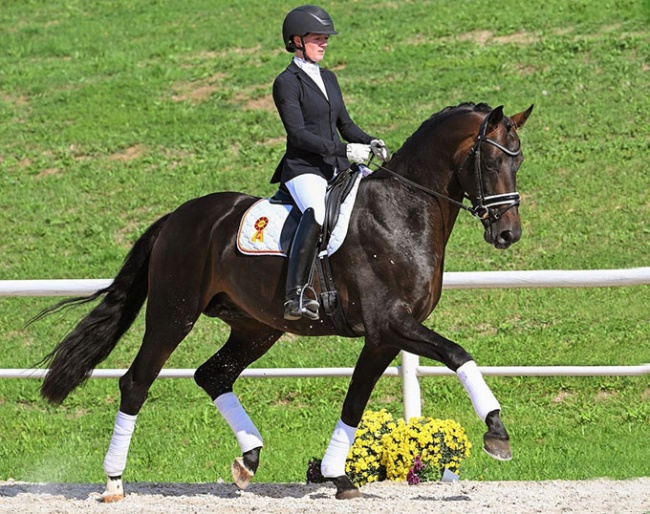 At the 2022 German Sport Horse (DSP) Saddle Licensing in Marbach, four stallions were licensed and the KWPN bred Omega became the price highlight of the subsequent auction. 
A small collection of eight dressage and show jumping bred stallions was presented under saddle for licensing and four received a positive verdict.
Two Premium Stallions
Two dressage bred stallions received the premium label: Blasius (by Benicio x Sarkozy), bred and owned by Franz Galneder, and the KWPN bred and registered Omega (by Springbank II x Krack C), bred by Adri van Erp.
The other two licensed stallions were show jumpers
Omega, Auction Price Highlight
The German dressage rider Yara Reichert, who owns and competes Springbank II, purchased Omega for the top auction price of 90,000 euro. 
According to Horses.nl, the 3-year old Omega has already been auctioned three times in his life: as a foal in Borculo for 5,500 euro and after being rejected at the 2022 KWPN Stallion Licensing for 30,000 euro. He was twice bought back by breeder Adri van Erp. At the DSP Stallion Licensing, presenter Falk Gfrörer was listed as owner of the horse.
A collection of 37 horses was sold in this auction, including some of the young stallion. The average price was 26,765 euro. 
Premium stallion Blasius sold for 54,000 euro to Bavaria and the non-licensed Sole Mio GH (by Secret x Fidertanz) found a new owner for 50,000 euro.
Furstenreich R (by Fursten-Look x Dancier) for 49,000 euro, Bel Marone (by Benicio x Lanciano) fetched 35,000 euro, and Secret's Symphonie (by Secret x Zonik) sold for 31,000 euro.
The DSP did not disclose to which countries the individual horses sold.
Licensing Results - Auction Results
Related Links
Shaolan, Best Seller of Auction at 2019 Marbach DSP Saddle Licensing
Three Stallions Approved at 2017 South German Saddle Licensing in Marbach
Cosmopolitan, Top Seller at the 2017 Marbach Sport Horse Auction
Thiago Stands out at 2016 South German Saddle Licensing in Marbach